Port Royal bites back
Updated: Oct 31, 2020 09:34 AM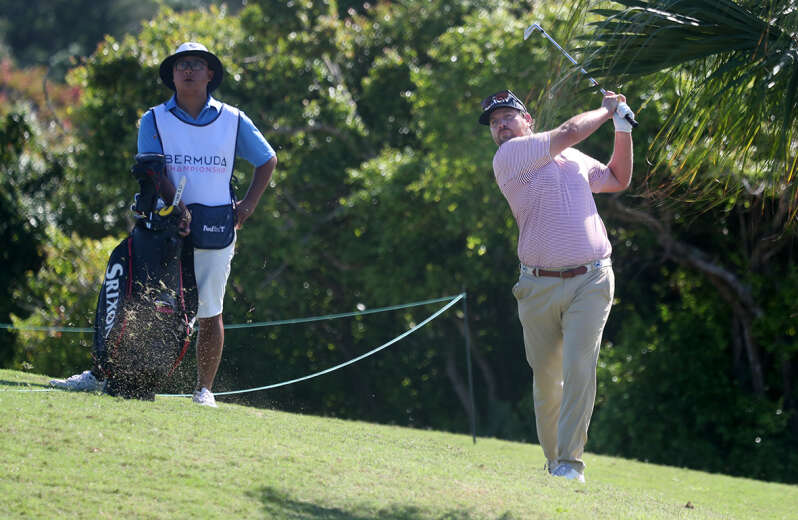 Local trio Camiko Smith, Michael Sims and Anthony Phipps all missed the cut at the halfway stage of the Bermuda Championship yesterday as high winds made it challenging for players to shoot low scores again at Port Royal Golf Course.
If Thursday was a day for some of the best players in the world to use the par-71 Southampton layout for target practice, yesterday left a good many humbled as the elements played tricks with their minds and left scorecards in disarray.
Smith retained interest until he made the turn where a run of eight straight bogeys made a mockery of his promising first day, and he finished well out of contention at ten over par after an 81.
But the local hero was not the only one to suffer.
Defending champion Brendon Todd will not be around for the weekend after he played the back nine in four over to finish three strokes south of the expected cut. And overnight leader Peter Malnati, after a blistering 63 on Thursday, came back with a 74 to drop to joint sixth at five under overall.
The specifics of the cut will be determined this morning when the five left out on the course when play was suspended because of darkness complete their rounds.
Other big names not around for the weekend include Henrik Stenson, who withdrew because of an ankle injury, and Harold Varner III, whose struggles in the wind as he ballooned to a nine-over 80 to finish out of the picture at seven over were reminiscent of that nightmare final round at Bethpage Black last year when he was in the last pairing with ultimate champion Brooks Koepka.
It was not all doom and gloom, as a few players managed to do well in the conditions.
Kiradech Aphibarnrat, of Thailand, who had the day's lowest score of five-under 66 to to leap 74 places up the leaderboard into a tie for sixth.
He is just three strokes off the pace set by new leaders Ryan Armour and Wyndham Clark, who sit on eight under.
"I arrived this morning and was like ʽare you kidding me, are we going to play in these conditions?'," Aphibarnrat said, obviously grateful afterwards that they did.
"I play a lot in Europe and the difference is here I don't have to wear four or five layers!"
Clark, from Denver, had a two-stroke lead at one stage as he got his round to five under, but bogeys on two of his last three holes brought him back to the field.
Kramer Hickok, from Dallas, is one stroke back after a 68.
"It was really tough today and I didn't have any blemishes until the end," Clark stated. "Yesterday, I feel like I left a lot of shots out there when I shot five under. Today, until hole seven [the 16th], I didn't feel like I left any shots out there."
"Overall, I'm pretty pleased with how I played."
Sims had the lowest round of the three Bermudians in the field, adding to his opening round of 73 with a 74 yesterday. Phipps added an 85 to his opening round of 76 as he finished bottom of the field among those who completed their rounds.
The local trio were all two over after the first nine holes, with Smith and Phipps having to face the windy conditions on the back nine. Sims played his back nine first and started with a birdie on No 10 before losing three strokes with bogeys on 12, 13 and 15, He had a one-over 37 on the front nine from two birdies, a bogey and a double bogey.
"It didn't go as well as I would have liked, obviously, but there is a reason why these guys do it every single week," Sims said.
"I'm just so thankful for this opportunity. How fortunate am I to have the opportunity to have two PGA Tour starts in my backyard? This is where I grew up playing; Frankie Rabain was my teacher when I was a kid.
"I knew it was going to be tough because it is windy on that [south] side, but they set the course up for the wind, too. It was playable and conditions are what they are."
The par-three 16th was right on the wind and for yesterday's second round a closer tee was used, as well as the pin brought forward on the green. Sims shot par while Smith had a bogey and Phipps a triple-bogey six.
"They brought the tee up and made it very playable," said Sims, who noted that 13, 14, 15 and 16, along with the 8th and 9th, were also tough to play.
Smith, after a birdie and three bogeys on the front nine, had a disappointing back nine.
"It was windy, but I have to take the good with the bad," Smith said of his first PGA Tour experience. "I had a good day yesterday, but today wasn't so good.
"The winds were up, which was tough for everybody. I just let a few shots slip away from me, which caused me to make bogeys, and that was pretty much my score.
"I know I can compete with these guys. I would welcome the opportunity to get off the island for a longer period of time and actually do it, rather than do it halfway."
Phipps, who resides in Winter Garden, Florida, also found the course very tough, shooting four bogeys, a double bogey and two triple bogeys in his back-nine score of 47.
"It was tough, I misjudged the wind on a few shots which cost me, although they weren't really bad shots," he said.
"I'm definitely going to try again. I had a good time and I'm looking forward to next year."
Gates will not open to the public for the third round until 8am.