Qualifier medallist Michael Sims hopes it's three times a charm at Butterfield Bermuda Championship
Updated: Oct 15, 2021 08:14 AM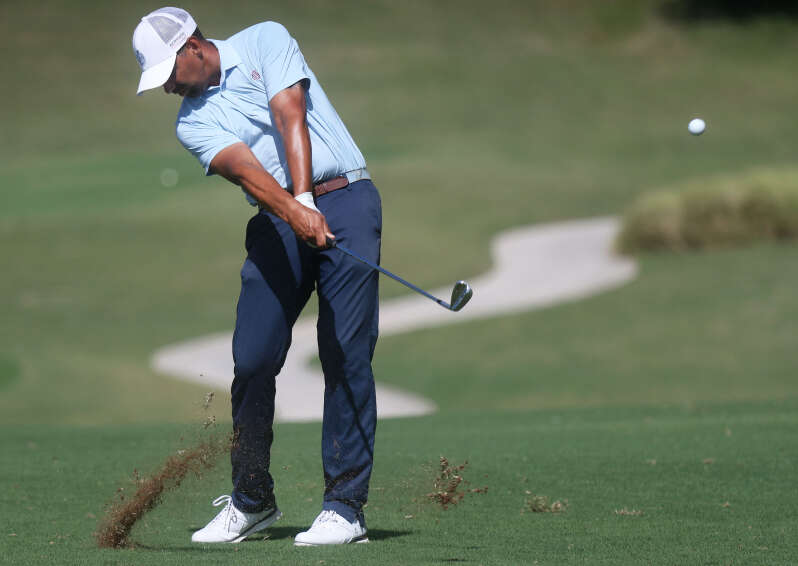 Michael Sims achieved a remarkable treble after qualifying for a third successive Butterfield Bermuda Championship at Port Royal Golf Course yesterday.
The former Web.com Tour player carded one-over 72 for the second straight day to finish four shots clear of nearest rival Camiko Smith, the defending champion, at 144.
Professional Chaka DeSilva and amateur Damian Palanyandi finished third and fourth respectively to clinch the remaining spots up for grabs in the 36-hole strokeplay qualifying event.
"Three in a row; that's really cool," Sims told The Royal Gazette. "It's really nice and it feels good, too.
"I played really well, which was nice. It was stress-free whereas the others were not."
Sims and Smith began the final round tied at the top of the leaderboard at one over with a four-shot advantage over the chasing pack.
Sims, 42, snatched the lead for good after rolling in the first of two birdies at the par-five 7th to make the turn at one under, even for the tournament.
He also birdied the par-four 10th to stretch his advantage to four shots after Smith fell off the pace.
Smith dug in and managed to get back to within two shots of the lead to keep things interesting.
However, a triple bogey at Port Royal's signature par-three 16th all but handed Sims the title.
"We were pretty far ahead of everyone, so my thing to do was just play conservative aggressive, if that makes any sense," Sims added. "Just not make really stupid decisions.
"If I got out of play, put it back in play. That was kind of my thought process. There was no need to take any chances."
Smith, who carded a five-over 76 to finish at six-over 148, was equally as delighted to qualify for the second straight time for the PGA Tour event.
"It feels good," he said. "I came out here to try and medal, but mission accomplished.
"It's a relief to get through, finish second. It was a bit shaky out there, but I managed to hold it together.
"Made a big screw-up on 16. But I knew I had 17 and 18 and had to par in. I accomplished that, so happy to finish second and get a spot in the event."
DeSilva's round of 73 allowed him to finish at eight-over 150, giving him a place in the main event for the first time.
"This is my first time qualifying and it has not sunk in yet, actually," he said.
"I'm pretty sure I am going to be very nervous and happy at the same time. But I feel very proud and excited."
Palanyandi also carded 73 to finish one shot back at nine-over 151.
"First time qualifying and I am very excited," he said. "I am just overwhelmed, really.
"My nerves were coming and going, and I am just happy to close out pretty strong and happy to get the job done."
The trio now join compatriot Brian Morris, the Ocean View Golf Club head professional, who was granted a sponsor's exemption to appear in his first PGA Tour event from October 28 to 31.
No local player has ever made the cut at the Bermuda Championship, a hurdle that Sims hopes to clear.
"Let's make it three times a charm and actually be competitive for the weekend," he said.
"I want to be competitive. The goal is not just to make the cut but be as competitive as possible, and I think two good rounds takes care of that.
"It will take two good rounds and then see where we go from there."