Inaugural Rosewood Cup hailed a major success
Created: Dec 14, 2022 07:45 AM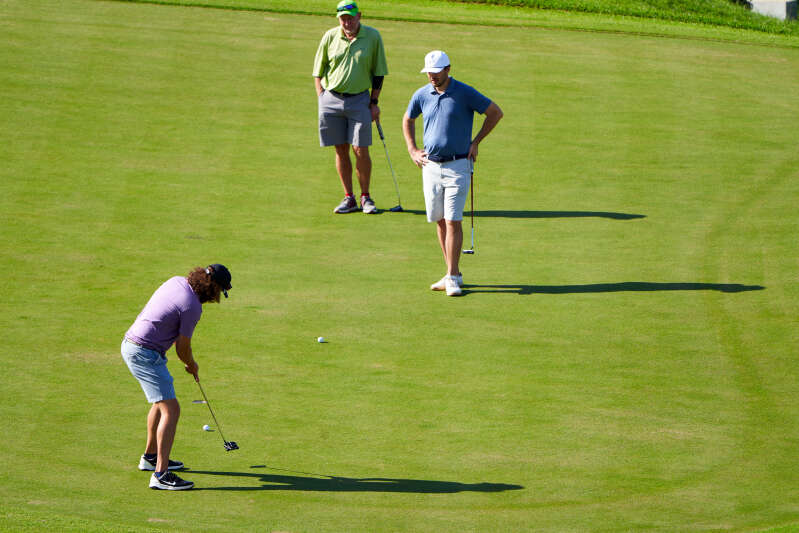 Dwayne Pearman Jr, the head professional at Tucker's Point Golf Club, has hailed the success of the inaugural annual Rosewood Cup.
The tournament featured a mixture of club members and non-professional players, as well as a host of international entrants, competing in teams of two over two days, starting with a 2-Ball Shambles format and followed by a Best- ball format on the final day of competition.
At the end of a hard fought two days it was the team of Brian Lynch and Michael Kenny who mastered the mixed weather conditions to scoop the top prizes of hotel stays at Rosewood sister properties in the Virgin Islands, St Barth.
Malcom Gosling and Adam Petty settled for second place, ahead of the team of Josh Cabrera and David Smith.
Pearman, the commissioning leader of the Rosewood Cup, was delighted with how the event turned out and proud to be able fulfil a longstanding ambition of hosting the tournament at the club.
"We've always wanted to host a big tournament and it was a really great weekend and everything worked out exactly how we hoped it would," he said.
"Building up to the tournament there was a lot of nerves because it was our first one but thankfully everything ran really smoothly on and off the course, and all of the different departments from the club and hotel worked brilliantly together.
"We had a bit of a mixed day of weather on the first day of the competition but it actually worked out well because it was a bit of a leveller and brought everyone close together in scoring. The last day was completely different but the competition remained exciting and went right down to the end.
"Unfortunately no one managed to win the car with a hole-in-one but we had a lot of exciting shots and really good attempts. The whole three days of the event and two days of golf were tremendous. I've been involved in a lot of tournaments but this was the best if ever been a part of."
After the first instalment of the tournament ambitions have now turned to the event's continual growth with the aim for greater participation particularly from overseas competitors.
"The foundations have definitely been set after the success of this year's tournament," he added. "This was only our first one; everything went really well and I'm already looking forward to next year's event being held.
"Going from here I feel as if the event can only get bigger and better with more competitors and visitors taking part and that's really exciting."
The Rosewood Cup organisers have also formed a partnership with The Family Centre, an accredited non-profit organisation dedicated to improving families' lives on island, with all proceeds from a silent auction being donated.