Louis Rafael 'Kid' Corbin remembered at Black Golfers Week
Created: May 01, 2023 07:30 AM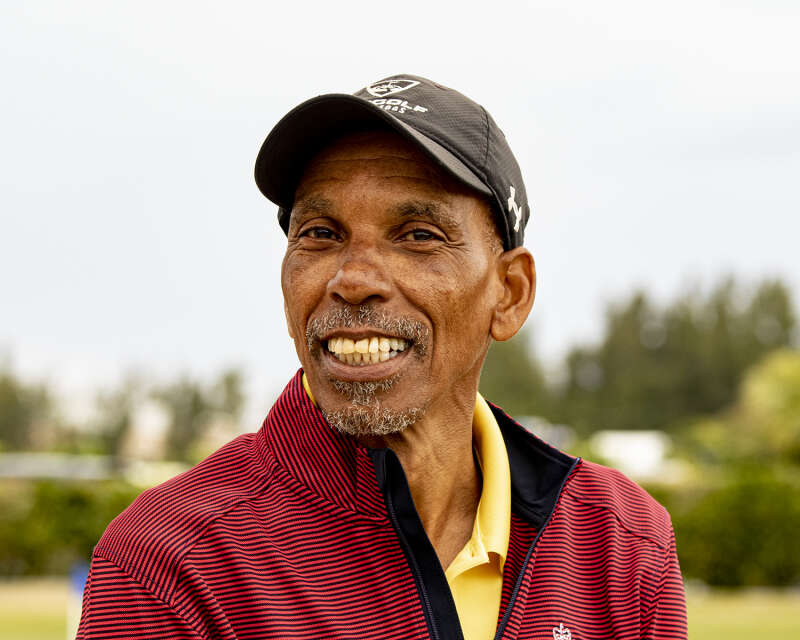 "What you leave behind is not what is engraved in stone monuments, but what is woven into the lives of others." – Pericles
With the memory of the fearless trailblazer etched upon the hearts and minds of participants, Saturday's Louis Rafael "Kid" Corbin Golf Tournament flooded Port Royal Golf Course with 116 golfers carved into 29 four-member teams.
As a testament to the influence and reach of the late professional golfer, who found ways to compete professionally in a sport legislated to specifically exclude Black people, the event included several visitors to the Island, something noted by Government backbencher Neville Tyrrell.
"I think this event offers great value, not only to me but to Bermuda, because it has attracted a lot of influential Blacks from off the Eastern seaboard, which is really what we're after, getting more Blacks to come to Bermuda," said Tyrell, who was teamed with Larry Brangman, Simon Hendrickson and Alvin Harvey.
"And not just Blacks, of course, but specifically that's what this event is about. Playing in the Kid Corbin event, I know his history, so I definitely want to support it.
"I definitely think that Kid Corbin was a brave man. During those days you could have lost your life for doing what he did, so I definitely think that he's a hero."
For Andrew Trott-Francis, the bravery and persistence of Corbin enabled him toward a golfing career, with Trott-Francis standing as a teaching professional at Port Royal, much as Corbin did at Devonshire Golf Links -- now Ocean View Golf Course -- in 1933.
"I am a Bermuda Professional Golf Association member and we accepted Louis [Kid] Corbin as an honorary member last year and when we did that I actually started to do research and got the memos on Kid Corbin and what he had to do to pave the way for Black golfers, like myself," said Trott Francis.
"So to play in this event, especially the inaugural one, was really special to me.
"I started playing golf late in life, but the impact golf has had on my life is something I now share as a golf professional with anyone who is willing to learn the game.
"The most important thing about golf to me is the integrity part. That's what my life is based upon, being honest, integral, reliable and dependable.
"So, playing in the Kid Corbin classic and meeting and networking with other Black golfers that are interested in a sport that is deemed to be not a Black sport, this is huge and monumental. Played annually it will have a huge impact."
Meanwhile, Alvin Harvey, a former star player in another sport not typically recognised for the involvement of Blacks, that being rugby, noted the overall progression of Blacks since the days of segregation.
"This is a great event," said Harvey. "It shows how much we have progressed over the years.
"Black people have acquired equity amongst their peers. This is a great community event. People that are out here playing I do it for the joy of sport and friendship and it's great.
"I enjoy sports. I enjoy showing others that the sport is for everybody and that there should not be any barriers in sports. It's about one person testing another to see who wins at the end.
"For me it's a wonderful opportunity to come out and meet some friends and make some new friends."
Kim Swan, one of Bermuda's most accomplished pros, told of how Corbin, a native of St George's risked all in travelling overseas in pursuit of his love that was golf and breaking down the established barriers.
"It's very significant recognition of a man that's least known, who's done things that allowed others to move forward," said Swan, who competed on both the Canadian and European professional tours. "Louis Corbin's is the shoulders many of us, particularly in the Black community, we stand on when it comes to golf.
"But not only in Bermuda, Louis Corbin was a Bermudian, who at the age of 16 in 1923, left on the SS Victoria and the significance of that is this is that he grew up in the St George's community, where there were three golf courses prior to 1925.
"He grew up playing in this community in the Wellington back road area, just like many of us who came even from the White Hill community.
"When there is a golf course in your community you are all going to get a job in it, learn how to play golf on it, or make some money because of it.
"And he did all of those things, but he used to teach golf and because he was from a family who were very literary and very prominent in a time of segregation and gravitated towards golf, he was able to was able to write and articulate, in much the same way we are doing here today, and catalogue his experiences.
"There are a lot of players that play today who have family members connected with Corbin's era in the 1930s and 40s.
"When it comes to integration, integration in sports such as golf would not have taken place if it was not for people banging down the door. And we make the mistake in sports when we celebrate integration in focusing on people who walked through the door.
"We don't celebrate those who were denied, who persevered, who had equal or more talent and Louis Corbin is one of those who gave birth to so many who enjoy the privilege today.
"Bermuda owes a huge debt of gratitude to Dr Jeffrey Sammons, retired professor at New York University, whose research uncovered much of what we know about Louis Corbin."
Meanwhile, winners of the best ball formatted tournament was the quartet containing former Green Bay Packers head coach Mike Sherman, who was teamed with Trott Francis, Jevon Roberts and Ola uwan Ajanaku, finishing at 15-under-par.
The longest drive competition was won by Jared Dillas, while closest to the pin was Will Hadrell.