Pandemic may trigger healthier lifestyles
Created: May 15, 2020 09:00 AM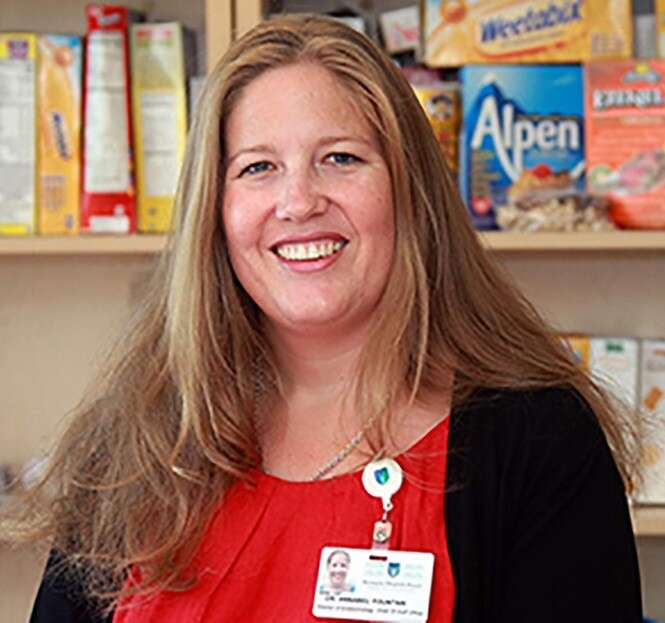 The coronavirus pandemic could be the catalyst for people to live healthier lifestyles, the chairwoman of the Bermuda Diabetes Association said yesterday.
Debbie Jones added that international experience appeared to show that people who were healthier were better equipped to battle Covid-19.
She was speaking after NHS England figures revealed that since March 31, diabetes was a pre-existing condition in more than one quarter of people who died in hospitals in England after they came down with the disease.
Ms Jones said: "Unfortunately I think a lot of people, not just in Bermuda but around the world, don't appreciate how important it is to be healthy, they don't appreciate the importance of drinking water as your beverage of choice."
She added: "When you're eating or drinking a lot of high-fat, sugary foods it's causing your diabetes to be worse and that puts you at greater risk for coping with something like Covid-19."
Ms Jones said: "What I have tried to say for a long time, to everybody, is that this is such an opportunity for Bermuda to come out of this as a healthy country."
NHS England statistics showed that of 22,332 hospital patients who tested positive for Covid-19 at the time of their death, 5,873 — or 26 per cent — had diabetes.
The figures were collected between March 31 and Tuesday.
Ms Jones said that more could be done in Bermuda to enforce daily exercise and water-only drinks policies in schools.
She added: "We have an opportunity to say, let's turn this around and let's try and get the country healthy so that in the future when another pandemic happens, people are much healthier and can handle it better."
She welcomed an apparent increase in residents growing and eating their own vegetables.
The Government's 2014 Steps To A Well Bermuda survey showed that about 12 per cent of respondents reported having diabetes and that these people "tended to be aged 65 years and older".
It said: "There were no significant differences by gender, race, education or income." The statistics showed that 14.4 per cent of black people who took the survey, 10.2 per cent of white people and 9.1 per cent of "mixed and other" people had at one time been diagnosed with diabetes.
A government spokeswoman said last night that pre-existing conditions were recorded for all deaths, not just those related to Covid-19.
She added: "If a person has a pre-existing condition, they are more susceptible to Covid-19 but, as in life, in death a person has the right to confidentiality and privacy.
"We have had very few deaths and revealing whether they had a pre-existing condition and, if so, what, would be unfair to the families and loved ones of those we have lost."
Annabel Fountain, an endocrinologist and diabetes specialist, said that socioeconomics affected people's ability to foster healthy lifestyles.
She explained: "You can't really blame people for being obese, for eating unhealthily or not exercising if you have all these other social factors that mean that, first of all, they have two or three jobs just to make ends meet because Bermuda is so expensive, therefore they don't have time to cook and they don't have time to exercise and they are extremely stressed.
"Stress actually is a significant factor ... in increasing your glucose through increasing cortisol." Kim Wilson, the health minister, said on Wednesday that the impact of Covid-19 was harder on the black population.
She added: "The causes are not fully understood anywhere, but it is generally believed that it is due to underlying health and socioeconomic disparities."
Ms Wilson said then that 57 per cent of Covid-19 cases were black people but 72 per cent of hospital patients with the disease and 88 per cent of people who had died of it were black.
Dr Fountain disagreed with commentators who claimed that a breakdown of Covid-19 statistics by race was unnecessary.
She said: "It's important and if we found out when we did the stats that there was no difference, that would be important too, but if there is a difference then we need to acknowledge it and we need to act on it.
"Even if everybody had free healthcare and free medication that would not repair or prevent all of it because there are so many other layers of it.
"People live multiple generations in a home and generally speaking the population is less healthy — in the black population because they have more chronic disease.
"We have to acknowledge it and we have to act on it, but it's not going to be the answer to everything."
Dr Fountain said that information about people who died with Covid-19 should be used to help shape future public health policies.
She added: "We as a country need to make sure that people who have got these chronic diseases, not just diabetes, can have access to healthcare."
Dr Fountain said: "They must be able to afford the medications they are prescribed to control their condition and that's, I think, one of the big disparities that becomes magnified in a country like Bermuda or the US where the cost of medication means that people don't take them and the cost of accessing healthcare means that people don't go."
The government spokeswoman said changes such as structural alterations to the healthcare system were launched to "drive down costs for Bermudian families".
She added: "Now, across Government, we are working not just to get our people back to work, but to use this as an opportunity to build a better more inclusive economy.
"From a health perspective, we recognise that driving down the cost of healthcare while retaining quality of service means that more people will be able to avoid making choices like rationing their medicine or delaying necessary but expensive medical procedures.
"We recognise that driving down costs on healthy food items, as we tried to do by slashing duty on various food items, gives Bermudians more affordable, healthier choices which could help reduce some of the chronic health issues that have plagued our community."