Expert calls for new high-security clinic
Created: Feb 21, 2018 08:00 AM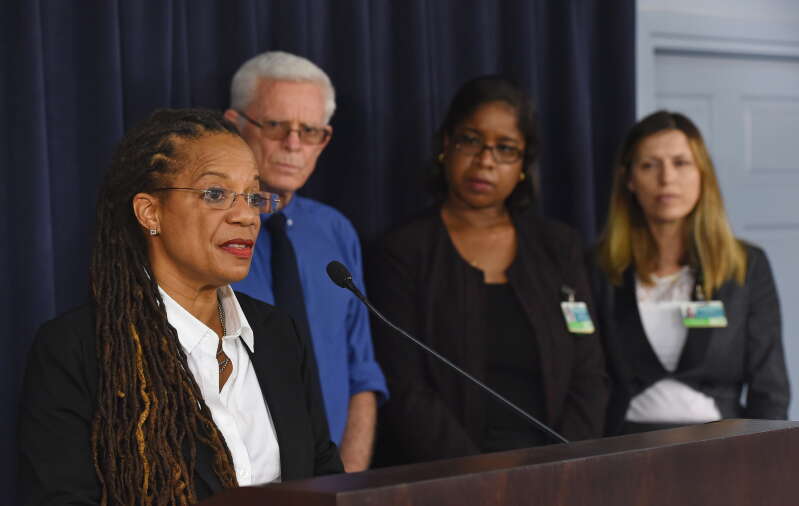 A mental health expert has called for a high-security clinic to treat criminals with psychiatric problems.
Tiffanne Thomas, director of Therapeutic Consulting Services, said a specialist unit could better treat people with mental health problems who have been charged or convicted of serious crimes.
Ms Thomas, who acts as an adviser to defendants with mental health problems, said: "Longer-term initiatives that I am hopeful would be implemented would include, but not be limited to, a forensic mental health unit or facility which would be needs-based and could provide specialised care to persons who have mental illness and are charged with, or convicted of, serious offences which require immediate custodial sentences.
"Our present landscape does not allow for the specialised treatment of this population."
Ms Thomas was speaking after Kim Wilson, the Minister of Health, launched a public consultation into changes to the Mental Health Act.
Proposals included community treatment orders to allow for treatment outside hospital and clarification of the role of the next of kin.
Other new measures are designed to test mental capacity and ensure treatment consent is obtained.
The changes were said to be the first part of a review of mental health law.
Ms Thomas welcomed the changes, which she said marked a move towards a more person-centred approach to treating people with mental illness.
She added: "It is refreshing to see that there is an awareness and a proposed emphasis on providing community-based treatment in instances when it is deemed clinically appropriate."
Ms Thomas said other countries had closed psychiatric hospitals and moved to community-based treatments in the early 1960s.
Cathy Sousa, a counsellor with Benedict Associates, also welcomed the changes.
Ms Sousa, who is also chairwoman of the Bermuda Counsellors Association, said: "The admission of people to the hospital when they are suffering a mental health crisis is both a complex and sensitive matter and any changes that facilitate this process in a way that safeguards patients and families is both positive and necessary progress.
"The question of a person's competency to consent to treatment has been a significant issue for many family members and I'm sure I speak for a number of families when I say that formalising a procedure for evaluating mental capacity is most welcomed.
"There is no doubt that all of the proposed changes have been long awaited and, if enacted, will enhance the provision of services and create more satisfactory procedures for caring for patients and their families."
Susan Jackson, shadow health minister, supported most of the statement, but said: "One of my big concerns is that not only are we dealing with dated legislation, but that we are also finding that individuals who are most exposed are often times young adults.
"Statistically, we find that our young black males in particular are most often detained rather than treated when in crisis and are having to sometimes navigate throughout the system without the support that they need."
Ms Jackson said mental health is often not addressed until people find themselves in a crisis.
She added: "If we as a community are able to say 'I'm not happy, I'm not emotionally where I would like to be', then that will lead to real healing. I would certainly challenge the Government to remember to focus on the educational and awareness components."
There have been repeated calls for a secure specialist unit to treat people with mental health problems.
Jeff Baron, the former national security minister, revealed in 2016 that a committee had been set up to look at long and short-term solutions to deal with the lack of a secure treatment unit.
Plans included sending prisoners with mental health problems to England for treatment, with three candidates identified.
Bermuda Hospitals Board said in March that "complex legal considerations" still needed to be addressed before the prisoners could be transferred to St Andrew's Healthcare in Northampton.
A health ministry spokeswoman added in December that negotiations with the clinic had not been concluded and that no transfers had taken place.