Commissioner: helpline list to be published
Created: Apr 03, 2020 09:00 AM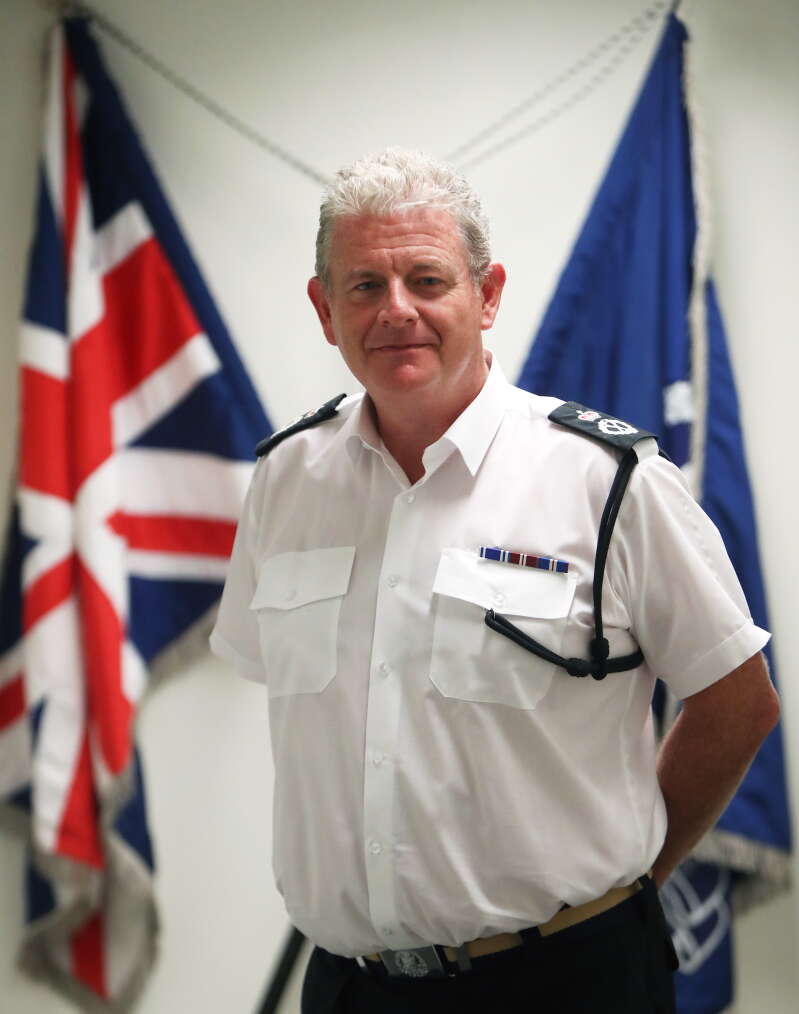 The Commissioner of Police asked members of the public yesterday to look out for each other as the island faced a 14-day lockdown.
Stephen Corbishley said people should make sure they could contact others who were alone or at risk and that a list of helpline numbers would be published.
He admitted: "Clearly, the shelter in place proposals are going to be extremely challenging for us all, but we need to work as a community, because it's simply the best way forward to stop the spread of Covid-19 across Bermuda.
"I recognise that everyone will be affected as we go forward for the next 14 days."
Mr Corbishley said: "I also recognise that there will be a number of people that are worried or even scared about what will take place.
"There are people in Bermuda that sadly suffer domestic abuse, violence and other forms of coercive behaviour and the fact that they may find themselves in a situation with someone for an extended period could present risk to their wellbeing or safety.
"We are doing considerable amounts of work with partner agencies, to make sure that we look after these people and we are publishing helplines that people can contact should they have a worry, including within this is the Bermuda Police Service's vulnerable persons unit, that can be accessed at any time."
Mr Corbishley added that the information was expected to be published in The Royal Gazette in the next few days.
He said: "I encourage people to link up with those that they trust and reach out to organisations if they are worried or indeed, scared. There is help and support there for them and the BPS is committed to protecting everybody over the next 14 days."
He added: "There are those in our community who suffer other forms of vulnerability.
"These may include mental health issues or dependency, whether it be drugs or alcohol — again, we're publishing contact numbers for people to be able to reach out."
Mr Corbishley said: "We encourage local residents to check on people if they think they need support and sometimes those that are vulnerable don't realise their situation, and I encourage people who see risk with individuals to contact helplines on their behalf.
"We have police resources, including detectives, working throughout the period of the shelter in place, and the BPS will be able to respond to all situations. But what I want to achieve is the prevention of any crime or people suffering, as opposed to dealing with it when a situation has occurred."
Mr Corbishley added that there was an opportunity today for people to make sure they had contact details for others who might be vulnerable, including those who lived alone and seniors.
He said: "A telephone call once a day is a small effort for one person, but it's a big reassurance for another."
Mr Corbishley said it was hoped that as well as telephone numbers, the contacts list would include options for text messages.
He added: "What we've got to recognise is that when people are confined to one location there will always be periods of tension or of falling out.
"Families need to work out how those tensions can be managed, whether it be around getting some fresh air immediately outside the house or doing something constructive, and working out collectively as a family how everybody's going to work together to get on."
Mr Corbishley said: "If somebody fears for their immediate safety and they're not able to make a telephone call because of the situation, if it's at all possible, leave the house, get to the nearest place of safety and contact the police because we will not seek to punish anyone who is suffering a crime."
He added that the BPS worked closely with the Department of Child and Family Services and that arrangements for teams to make visits throughout the island if needed were in place.