Covid-19: eight new cases, only one linked to overseas travel
Updated: Nov 24, 2020 06:57 PM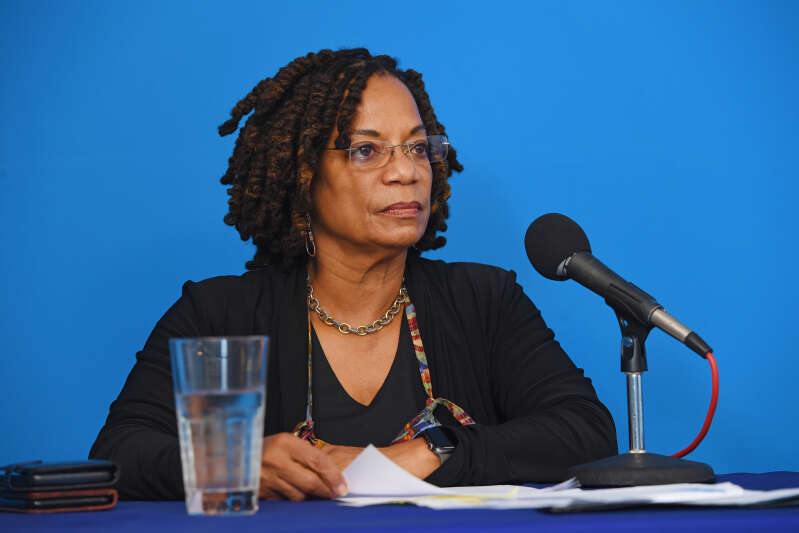 A total of eight new cases of the coronavirus were identified over the weekend and all but one had no link to travel, the Minister of Health revealed last night.
Kim Wilson said the positive test results were among 2,044 that came back to health officials between Friday and Sunday.
She added that the case that came in from overseas was a visitor who arrived on an Air Canada flight from Toronto on November 6 and tested positive on the Day 14 test.
The minister said the individual had been in quarantine because they were a close contact of someone who tested positive on their arrival test from the same flight.
Ms Wilson added: "The remaining seven new cases had no link to travel.
"One of those new cases is classified as local transmission with a known contact.
"In other words, this was a resident who had close contact in a social setting with a known case under investigation.
"The remaining six new cases are related to a workplace setting."
She said that two of the six cases were under investigation.
Ms Wilson added: "Four are also residents classified as local transmission with known contact having had close contact in the same workplace setting."
She confirmed that the eight new cases — two of which were announced over the weekend — were all adults.
Bermuda has had 235 total confirmed cases and 22 are active, although none are in hospital.
A total of nine people with Covid-19 have died and 204 people have recovered from the coronavirus.
The latest cases bring the total number "under investigation" to three.
Ms Wilson said: "Persons remain under investigation until a linkage is found or up to 28 days, whichever is longest.
"If no linkage is found, these persons will move to local transmission with an unknown contact or source."
Although the country status is "sporadic cases", the minister said it was likely to change to "clusters of cases".
She added: "This is because some of our active cases are within well-defined clusters and have not been directly linked to imported cases."
Ms Wilson highlighted the importance of mask-wearing, physical distancing, covering coughs and staying at home if unwell.
She said: "Imagine that everyone outside of your household is a potentially incubating carrier of Covid-19.
"Would you shake their hand? Would you share a meal with them in a tight space with very little ventilation?"
Ms Wilson added that more focus was needed on "education bubbles".
She said: "Even if a school class is separated from another it does not count as a bubble if they all play together at lunch time."
The minister said "additional rigour" was needed on workplace guidance and that information was available on the government website.
She added that remote working should be encouraged and the use of team "bubbles" should be considered.
Ayoola Oyinloye, the Chief Medical Officer, outlined quarantine requirements after three schools and a nursery were affected by restrictions over the weekend.
He said: "For the avoidance of doubt, if you have been asked to quarantine please stay at home for the period of time that you have been asked to quarantine.
"Because this involves children, we expect that the caregiver would need to quarantine with the child."
Dr Oyinloye confirmed that the quarantine applied to all members of a household unless the child who was in one of the affected classes and a caregiver could separate themselves from the rest of the family.
Ms Wilson said that there was a "mass frenzy" on social media over the weekend about information on possible links to coronavirus cases.
She added: "It's critically important for members of the public to recognise that there are protocols in place and that the Ministry of Health team will be the ones to communicate to those persons affected what steps need to be taken.
"If you do not hear from the Ministry of Health team, don't rely on social media."
David Burt, the Premier, said earlier today that the Cabinet will examine the possibility of "additional restrictions" tomorrow.
He tweeted: "The information reaching my office is that precautions around the country have not kept up and thus it is likely that there will need to be stricter enforcement.
"The Cabinet will consider additional restrictions tomorrow to prevent any outbreak to ensure our economy stays open."
• To read the minister's statement in full, click on the link under "Related Media".