Close to $1m paid to Premier's fintech adviser for Covid-19 technology work
Updated: May 14, 2021 12:40 PM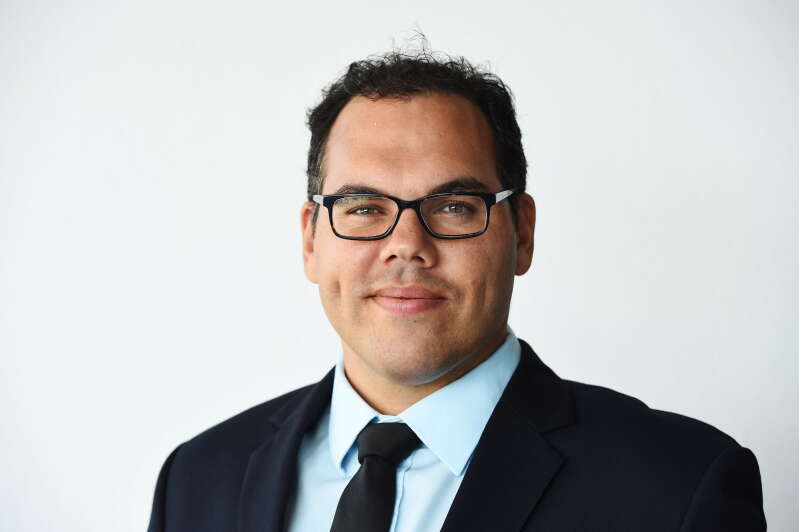 Almost $1 million was paid to a company owned by the Government's chief fintech adviser for technology to help tackle the coronavirus crisis.
The news was revealed in a list of health ministry spending on coronavirus-related contracts.
A notice published in the Official Gazette listed eight contracts worth a total of $2.2 million related to Covid-19.
Two of the contracts were for an estimated total of $922,646 to Respartner Ltd, whose founder and chief architect is Denis Pitcher, the chief fintech adviser to the Premier.
Respartner was estimated to receive $521,668 for Covid-19 schedule, testing and lab portal development and maintenance.
Another $400,978 for the Covid-19 traveller authorisation portal development and maintenance was listed.
A $269,734 payment to Gavi, the Vaccine Alliance, a global health organisation which has supplied the island with Astra Zeneca vaccines through its Covax centre was also made (see sidebar).
The other contracts were:
⋅$493,009 to Helix Laboratory for Covid-19 testing between March and August last year.
⋅$264,000 to the Cayman Government last May for Covid-19 testing kits.
⋅$153,620 to Bioanalytical Instruments for Covid-19 "Kingfisher equipment and laptop".
⋅$72,854 to Diana Liacos, the health ministry's Covid-19 contact tracing and case management coordinator, between November 1 last year and March 31.
⋅$52,983 to GET, a security firm, to supply staff at the Perot Post Office test centre in Hamilton between August and December last year.
There was also a $503,520 contract with the Bermuda Land Development Company for a five-year lease on a building from April 1, 2019 to March 31, 2024, as well as the Covid-19 contracts.
Public authorities must publish notices of contracts worth more than $50,000 under the Public Access to Information Act.
The Ministry of Health notice, published on Tuesday, listed 15 contracts with a total value of $4.4 million.
It is not known if some of the contracts which do not mention Covid-19 were to do with the pandemic.
The ministry has not yet responded to questions about the contracts, including a query about why the amounts for Respartner were estimates.
The Pati notice included a $350,000 contract for legal advice to the Chancery Legal law firm which started in November last year and had no end date.
Mark Pettingill, Chancery Legal's founder and director, last week criticised the Government's plan for all non-immunised travellers, including returned residents, to quarantine for two weeks at their own expense at a designated centre from June 6.
The ministry also had a contract with its former Permanent Secretary Kevin Monkman.
The retired civil servant was paid $108,931 as a consultant on infrastructure and IT management between January last year and this year.
The biggest contract was for $604,620 for a five-year building lease for the Department of Health's premises on Hermitage Road in Devonshire.
Vaccine supplies
Bermuda is expecting another shipment of Astra Zeneca vaccine from the Covax centre, run by Gavi, the Vaccine Alliance.
The island can also ask Britain for more free supplies of the Pfizer vaccine if needed.
The island's vaccine programme started in January, using Pfizer shots donated by the UK.
The first shipment of the Astra Zeneca vaccines arrived on April 6.
The contract with Gavi for $269,734 listed in the Official Gazette gave a start date of September 18 last year with no end date.
Rena Lalgie, the Governor, said on April 12 that Bermuda had enough vaccine to immunise the entire adult population.
She said more than 77,000 vaccine doses were given by the British government and 9,700 doses of vaccine were obtained "through the Government of Bermuda's association with Covax".
Kim Wilson, the health minister, said on Tuesday that the island's stocks of Pfizer and Astra Zeneca would expire at the end of June.
She added: "For Pfizer, which requires three weeks between doses, we anticipate the last first dose will be administered on June 8.
"For AstraZeneca, the period between doses can be as great as 12 weeks, so we will continue to administer that vaccine until June 30 and administer the second dose when we receive our next Covax delivery."
Ms Wilson said: "We can vaccinate anyone who wants to get vaccinated and we have plenty of supply to reach community protection."
She added: "Bermuda can still receive supplies of the Pfizer vaccine from the UK if we require more."
Ms Wilson said last September that Gavi, a global organisation, was working with the Pan American Health Organisation and that the collaboration gave Bermuda "access to vaccines to support 20 per cent of our population in the first instance and additional access if and when required".