Quarantine protester disputes Government exemption claim
Updated: Jul 15, 2021 08:28 AM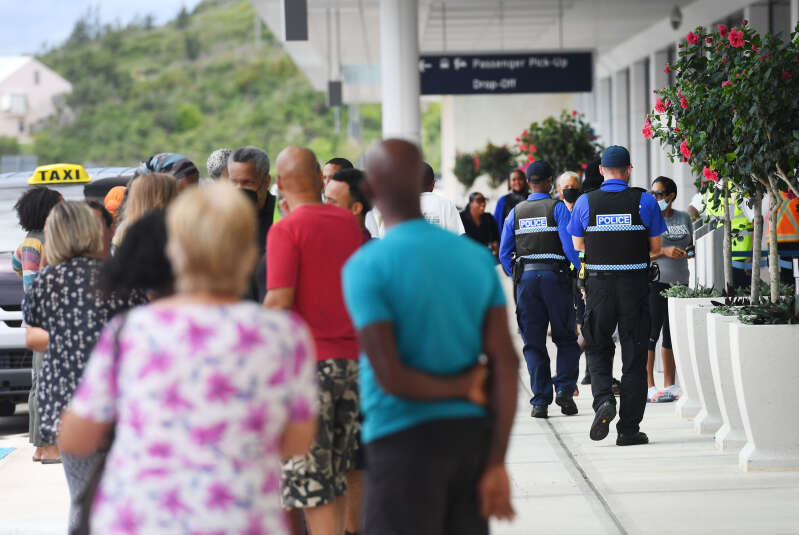 An opponent of mandatory quarantine was allowed to quarantine at home with a monitoring bracelet yesterday after the Government said he fell into an exempted category.
But Antonio Belvedere claimed on social media that he did not pay for or complete his travel authorisation form – only for Government to redo the form and approve it while he was in transit.
Almost 50 protesters gathers outside of LF Wade International Airport this afternoon after social media posts suggested that Antonio Belvedere may refuse to comply with quarantine laws when he arrived on a flight from New York.
Under the legislation, breaking the order to quarantine comes with a potential fine of up to $25,000, or six months' imprisonment.
Before he emerged from the airport, a joint press release from the Bermuda Police Service and the Ministry of Health said: "Mr Belvedere met the requirements of the Quarantine (Covid-19) (No. 3) Amendment (No. 2) Order 2021, when he arrived in Bermuda today.
"He arrived with an approved Bermuda Covid-19 Travel Authorisation form, fell within an exempted category (medically vulnerable) as certified by a licensed physician or psychologist. Therefore he will be required to quarantine at home for the mandatory 14 day period."
Mr Belvedere said after he stepped out of the airport that he could not comment based on the advice of his lawyer.
After hugging fellow campaigner Eugene Dean and another supporter, Mr Belvedere said to the crowd: "Eventually you are going to definitely get a response from me and from my lawyer."
Indicating to his monitoring bracelet, he added: "I'm out, I'm here, I've got to wear this stupid thing but I can go home."
Later, Mr Belvedere later posted on Facebook: "I didn't apply and pay for one at all didn't even do the full TA my TA was denied within seconds and I was stopped from boarding in NYC because of my denied TA.
"I was in the air the govt sent me a Whatsapp stating they redid my TA and exempted me to go home."
In a statement released late last night, a government spokeswoman disputed parts of Mr Belvedere's account.
The statement said Mr Belvedere's initial TAF application was rejected because he was not immunised and had not booked a hotel.
But it said he then sent a medical certificate from his physician saying he could be exempted from the quarantine facility based on medical grounds was received and his TA was updated accordingly while he was in flight.
It also said he paid for the TA when he first applied.
David Burt, the Premier, insisted on Tuesday night that the Government would not budge on the controversial hotel quarantine policy and vowed that the law would be enforced.
The Premier said he had made the Government's position "clear to the Governor, and I wish to leave no doubt in the minds of others who may take it upon themselves to test our resolve".
Police yesterday confirmed they have launched an investigation into a woman who walked into Lindo's Devonshire refusing to wear a face mask as required by law.
Commissioner of Police Stephen Corbishley said the act marked a worrying trend of civil disobedience brought on by frustrations in certain segments of the community with Covid-19 regulations.
The woman, who has not been named by police, filmed herself walking around the grocery store without her mask on.
She was eventually approached by two members of staff who informed her that she would not be served at which point she walked out saying that she and others would boycott the store.
Mr Corbishley told The Royal Gazette: "We are aware of the incident and are investigating it.
"We are here to provide law enforcement and we are currently coordinating with our partners in the Ministry of Health in view of the offence which could result in prosecution, subject to considerations of the Office of the Director of Public Prosecutions."
Mr Corbishley added: "We are starting to see acts of civil disobedience and direct action which is concerning.
"Like many in the community, I am very concerned and shocked by deliberate and direct action which is in contravention of the regulations we have in place. Such behaviour puts at risk members of our community, not least the vulnerable, and I strongly condemn such action.
"It is important we identify and deal with the person as quickly as possible. Any person who considers direct action in contravention of the law will be dealt with swiftly by Bermuda Police Service."
Giorgio Zanol, managing director of Lindo's Devonshire, and part-owner and president of Lindo's Group of Companies, said the woman came into the store on Monday and complained she could not breathe with her mask on.
"A supervisor mentioned it to me, I came down and there was a lady with groceries with no mask on," he said. "I said let her go outside.
"She came in again on Tuesday and was going around the store, I don't think she had any groceries. One of my managers talked to her but she wouldn't listen.
"We said we would not serve her without a mask, it is the law. She started carrying on that she and others will boycott Lindo's. We said go ahead. The law is the law."
A family who made headlines after they refused to go to a hotel to quarantine on Sunday are expected to appear in court to face charges today.
Sophia Cannonier and her husband Michael Watson were issued a summons on Tuesday night and were expected to appear in court yesterday morning through Zoom to answer a charge of breaking an order for mandatory supervised quarantine.
However the matter was adjourned and they are now due to appear today instead.