Front Street bar shuts after positive Covid-19 result
Updated: Sep 14, 2021 11:55 AM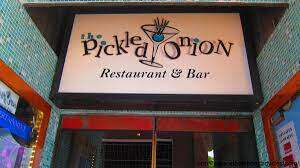 A bar and restaurant in Hamilton has shut up shop on a temporary basis because of a positive Covid-19 test, it was revealed last night.
A message from Front Street's Pickled Onion said: "Due to a positive Covid result from an internal SafeKey testing protocol, we must close temporarily to quarantine those staff who are considered close contact, test non-close contact staff, and to cross-train unaffected employees from our other outlets.
"We will reopen once it is eminently safe to do so."
The restaurant was the latest to announce a closure after a sharp increase in coronavirus infections over the past week.
Other businesses and schools have confirmed similar outbreaks, including The Swizzle Inn, Saltus Grammar School and Bermuda High School.
There have also been unconfirmed reports of outbreaks at Belco and at the ferry terminal in Hamilton.
Health officials announced last Friday that 192 new cases had been detected in tests from last Monday and Tuesday.
The infections raised the number of active cases to 613 and Kim Wilson, the health minister, warned that tougher public safety regulations could be in the pipeline.
The Government is expected to release the latest Covid-19 statistics today.