Covid-19: three more deaths but number of active cases falls
Updated: Oct 02, 2021 07:55 AM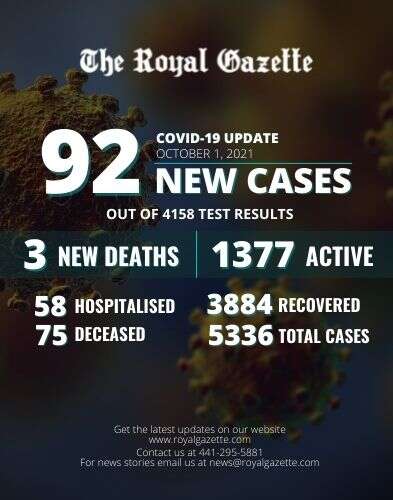 The death toll from Covid-19 climbed to 75 last night after three more coronavirus-related deaths were announced.
There were 92 new positive cases found in 4,158 test results that came back to health officials – a positivity rate of 2.2 per cent.
Active cases continued to fall, down 76 to 1,377 after 1,453 were recorded on Wednesday.
The number of people in hospital also dropped, down from 61 to 58.
But there were 12 patients in intensive care – an increase of one.
A total of 76 per cent of cases classed as on-island transmissions or under investigation were among unvaccinated people.
Ten people have been admitted to hospital and 17 have been discharged since the last update.
The latest figures showed that 93 per cent of people who came in from overseas and tested positive were fully vaccinated.
Variant typing for the virus is not available.
The seven-day average of the real-time reproduction number is 0.68.
Sources for the island's present active cases of Covid-19
Out of 1,377 active cases, 57 were said to have come in from overseas.
There were 304 classified as on-island transmissions, all with known contacts.
There are 1,016 cases under investigation by health officials.
Kim Wilson, the health minister, offered her condolences to the friends and families of those lost after a record week of deaths linked to the coronavirus.
A vaccination clinic will be held in the Harbourview Ballroom of the Hamilton Princess Hotel between 10am and 3pm tomorrow.
More clinics will be held in the hotel next Friday from 3pm to 7pm and next Sunday from 1pm to 5pm.
Ms Wilson said people who wanted vaccination could register online at the Government website or visit the King Edward VII Memorial Hospital vaccination clinic on Tuesdays and Thursdays between 4pm and 7pm, or Saturdays from 8am to 4pm.
Doctors will be available to answer questions.
Ms Wilson added: "Everyone has an individual responsibility to help stop the spread of the coronavirus.
"We are all in this together, and we must all work together to keep our community safe."
For more charts and information on Covid-19, go to Covid-19 In-Depth