Thousands join fight against cancer in Relay for Life
Created: May 16, 2022 07:52 AM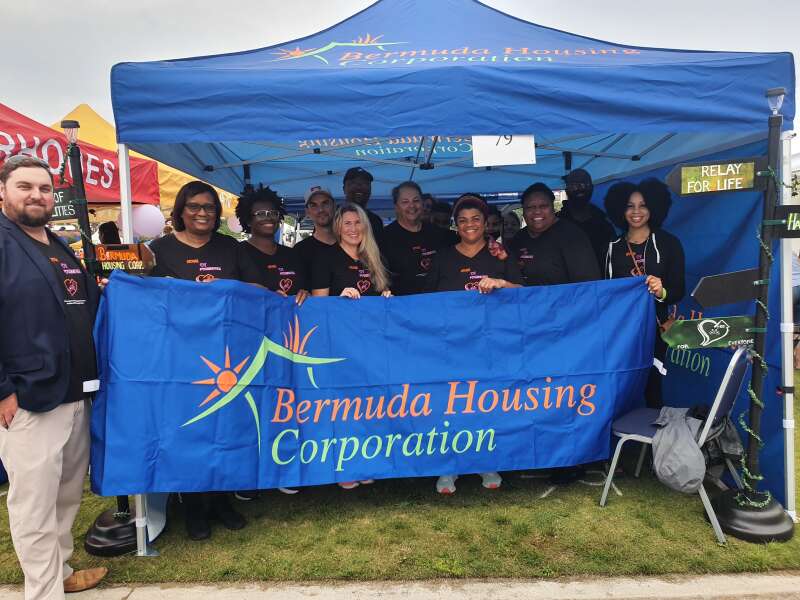 A woman who lost her sister to cancer in March said that while a link had been broken in her own family, the two-day Relay for Life event over the weekend had helped her to form bonds with a new community.
Beverly Ball, whose birthday was on Saturday, fought back tears as she recalled the positive impact her late sister, Alecia Harrell, had on the world.
Walking the "Fight Back Lap" with her son, Kidane Collins, and sister, Pamela Harrell, at the closing of the event on Saturday morning, Ms Ball said: "My sister was like pure sunshine – she would do anything for you.
"She was very funny, she was the life of the party but very family oriented. She was very devoted to her children and she was a hard worker.
"We were a tight-knit family – the link is broken but hopefully by being here we can give someone else support, it has helped banding together with other people."
Relay for Life, which raises money for Bermuda Cancer and Health Centre's Equal Access Fund, made an impactful return to the National Sports Centre after two years of virtual fundraising.
About 1,800 participants in close to 100 teams turned out at the event in honour of those who have been touched by cancer. There was also entertainment, games, competitions and vendors.
Ms Ball said that while she had attended the event in the past, it had even more meaning now she had experienced the loss of someone so close to her.
She added: "It helps being here, I feel closer to her. Even though my sister isn't here any more, it's about fighting for other people because we know exactly what cancer looks like and feels like. Even while my sister was sick, the fight was on for her."
As of noon yesterday, the fundraising count was at more than $350,000. Teams will continue to fundraise until the end of the month.
Deborah Titterton Narraway, chief marketing officer for BCHC, said: "We are extremely happy with the support received thus far."
One of the teams in attendance was the Markel Marvels - a team of employees and family member of international insurance firm Markel.
Team member Tash Clipper said: "We are raising money for very personal reasons this year. My mom was diagnosed with cancer last year and because of funds raised from Relay for Life she was able to have all of her treatment in Bermuda, which made such a huge difference. We didn't have to disrupt our lives by going overseas, it was absolutely phenomenal.
"Then we very sadly had a staff member who was diagnosed. She is now recovering and we are doing it for her as well."
Terri Durrant, an employee of Butterfield and Vallis which had a fundraising team walking the track, said: "We are the Haagen-Dazs Heroes we are selling ice cream to raise funds for BCHC.
"I lost both my parents to cancer and my two best friends. We have done this every year. We have 33 staff members from Butterfield and Vallis or family members of staff members and Haagen-Dazs is one of the products we sell. BCHC Is a charity that Butterfield and Vallis supports a lot and we like to support them in anything they do in the community.
"This goes to their Equal Access Fund but the first year that they did it, it helped them set up their radiation unit."
The Bermuda Housing Corporation was participating in the event for the sixth year. This year the team's theme was "house of possibilities – an opportunity to make a difference in the lives of families challenged with cancer".
Team member Patricia Basden said: "We are just here to support and encourage the entire households of people who are involved in cancer. We can offer time off work for their families when their loved ones are in care, it is important that we allow them time to nurture their families.
"This is an important event because it is a community event and the entire community is impacted by cancer – it doesn't matter if you are male, female, Black, White – everybody is impacted."
Relay for Life opened on Friday with a "survivors' lap", where cancer survivors walked a full lap of the track at the Dame Flora Duffy Stadium led by the Coral Beats Bermuda Brazilian Percussion Group. They were followed by other groups of fundraisers, family members and supporters who walked throughout the night under the banner "cancer never sleeps".
There was also a touching night time display where paper lanterns were lit around the stadium in memory of those lost to cancer.
A total of 97 per cent of funds raised at Relay for Life stay in Bermuda funding equal access to early cancer detection and radiation therapy, while 3 per cent of the funds go towards the American Cancer Society's Global Relay For Life initiatives.
For more information or to donate visit https://www.cancer.bm/
Survivors
Robin Tota was participating in the survivors' lap. She found out she had stage four in November. "I started chemotherapy in December and when I started treatment I was in a wheelchair. Now I am walking," she said proudly.
"I think a lot of it has to do with prayer and treatment. Treatment is not easy, my hands and feet are killing me – it takes a lot out of me. I have a tumour in my stomach, I have cancer in my colon and in my liver, it was already at an aggressive stage when I found out. I don't drink, smoke and it's not in my family line but this is the way it is.
"It is a little overwhelming for me, when the event first started I started to cry. Now, because of this diagnosis, Relay for Life means a little bit more."
Also on the survivors' lap was Ellsworth Smith, a senior who combated prostate cancer. He received treatment at Brigham and Women's Hospital in Boston.
"I am going to get a medical next week but as far as the doctor is concerned I am good, I am clear. I was diagnosed in 2015 and I had an operation which cleared it up. Basically I feel good. I work out and do cycling about four times a week.
"This event makes me feel uplifted."
His wife, Johnette Smith, was there for her husband as well as her sister-in-law, Marshia Smith, who died of cancer in 2019. She said: "Marshia looked after children and was very lively. She loved life and loved her family, she has been a great miss."
Nigel Richardson, Global Hero of Hope for 2022 representing Bermuda, said: "I am 11 years cancer free and I have been promoting cancer prevention especially in men. You will find that women will talk about their health issues more and go to the doctor, but men, especially Black men, they don't go to the doctor and sometimes, by the time they do go, it is too late."