Two in hospital but active Covid-19 cases fall
Updated: Oct 13, 2022 07:57 AM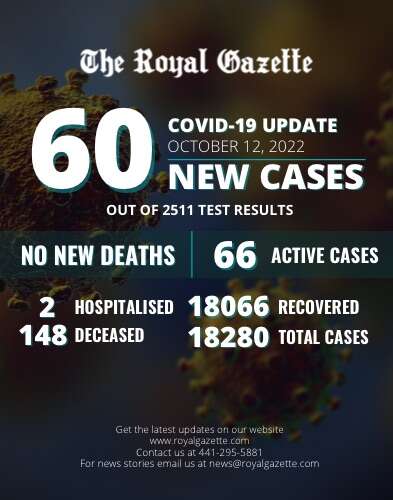 Two people are now in hospital with Covid-19, but the number of active cases has dropped since last week's update, the Ministry of Health announced last night.
There are now 66 active cases, down from 75 last week when the cases had almost doubled from the previous week.
The ministry received 2,511 test results with 60 positive for the coronavirus.
Kim Wilson, the Minister of Health, said that the Government would cease providing Covid-19 updates after November 30 following the end of the Public Health Emergency but added that they would still be available via www.gov.bm.
Of the 66 active cases, 64 are under public health monitoring. There are no coronavirus patients in intensive care.
Since March 2020, there have been 18, 280 Covid cases in Bermuda out of which 18,066 have recovered. The total death toll from the coronavirus is 148.
Of all active cases, 43 are from overseas, 11 are locally transmitted and 12 are under investigation.
Of all recorded cases, 4,172 are from overseas, 14,070 are locally-transmitted and 38 are under investigation.
For age distributions and overall transmission categories, refer to www.gov.bm/coronavirus-covid19-update. The seven-day average of Bermuda's real-time reproduction number is 0.42.
For information regarding other conditions being reported to the Epidemiology and Surveillance Unit, visit www.gov.bm/health-information.