Bermuda records another Covid-related death as active cases rise
Updated: Jan 05, 2023 08:02 AM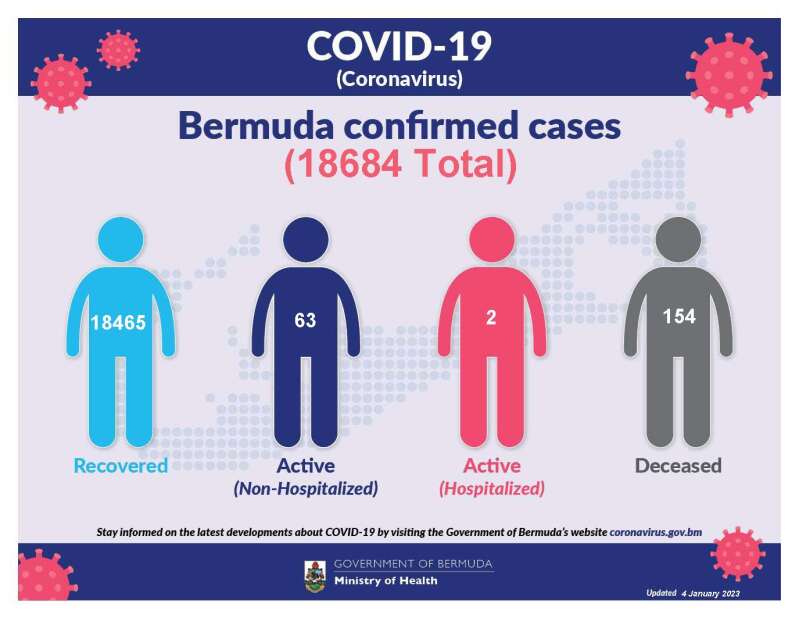 Another death linked to Covid-19 has been recorded by health officials taking the total of Bermuda's confirmed fatalities to 154.
The figures were posted on the Government's Covid-19 "dashboard" online. It showed 65 active cases, including two people being treated in the hospital.
The figures compare to those released last week which listed 39 active cases with seven people admitted to hospital at that point.
Last week also saw another fatality linked to Covid-19 recorded.
With the majority of testing now taking place at home and going unreported, the Ministry of Health has acknowledged that a true picture of Covid-19 cases could not be known.
So far, 18,684 people have tested positive for Covid-19 on the island with the overwhelming majority recovering.
Of the confirmed cases, official details show that 4,240 were imported, 6,154 were transmitted by a known source or contact, 8,234 were transmitted by an unknown source or contact and 56 instances are still under investigation.
The Bermuda Hospitals Board announced last week that two long-term care wards at King Edward VII Memorial Hospital had been put under quarantine after an outbreak of Covid-19.