Lucky to be alive
Updated: Feb 05, 2023 07:26 PM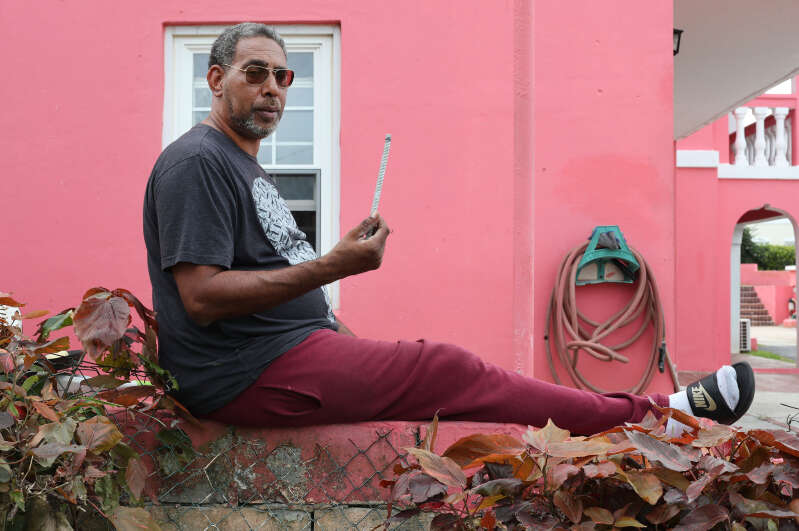 The survivor of a grisly fall that left him impaled through the groin counts himself lucky to be alive — and indebted to the people who rescued him from agony.
Quinn Simmons gave an account on Monday of relaxing at home two weeks ago, flying a kite from his yard on his 51st birthday, when "all hell broke loose".
Taking The Royal Gazette to the scene of his life-changing fall, in which he got skewered on a steel reinforcing rod, Mr Simmons added: "This is the first and last time you will see me near this wall."
A piece of the construction rod remains from where firemen sawed off 26 inches of steel.
The low wall is not a steep drop, and friends and family are astounded when he shares the hospital's scan of the length of rebar lodged into his abdomen from his slip on January 18.
"I tell them this is what happened to me," he said.
Despite the ordeal, Mr Simmons is grateful that the metal stake narrowly missed major organs, leaving surgeons at King Edward VII Memorial Hospital the task of extracting it from his body.
He recalled doctors asking to shake his hand during his three-day hospital stay after the medical miracle.
"Somehow it didn't hit anything. The doctor said it was a couple of inches from an artery. They were shocked."
An account of the surgery is to follow in the Gazette.
Mr Simmons, from North Shore, Pembroke, said he wakes up each morning grateful to be alive, adding: "I think of my old man who passed. He must have said, 'I don't want him up here today'."
For all who helped, Mr Simmons said: "Thank you very much — bless up."
His message to others is "just be careful — be careful about where you are, the way you stand, everything".
"When I was on that thing, my whole life went through my head. I thought I was going to die right there, or go to the hospital and die."
A delivery man with Dunkley's Dairy, Mr Simmons finished his morning route and returned home to enjoy his birthday.
It was a windy day, so he indulged in a favourite Bermudian pastime.
"I knocked off work, came home and put on some music," he recalled. "I had a beer at my mate's house and then came and put a kite up.
"My mate Papa Cann had a kite up. Mine was in his way, so I hopped up on the wall to move it."
Stepping on to the garden wall bordering his property was the moment Mr Simmons's life changed.
"The wire from the fence caught me on my left foot and that's when it happened," he said.
"I went forward and that was it. I thought I had hit a tree stump."
But the impact he felt came from a steel reinforcing rod set along the fence.
It struck Mr Simmons between his legs, and the force of the fall drove it deep into his body.
Getting run through on rebar that narrowly missed his genitals as well as vital organs left him in excruciating pain.
"It went right up into me, up to my stomach. I was in so much pain, ferocious pain," he said.
Mr Simmons said he could easily have been trapped there. The neighbourhood was almost deserted, and his wife, Shermell, was not at home.
"Luckily my neighbour Roberto Dill was in the vicinity. I just give thanks — if it wasn't for Roberto I would probably have died. He just happened to be there, heard me and came. He called 911.
"He held me to keep me level so I didn't fall and make things worse. I hung on to him like hanging on to life, gripping him."
Mr Simmons said he was "screaming — constantly".
He recalls the swift arrival of the Bermuda Fire and Rescue Service, and blurting at them to cut him free.
"They got the rod, somebody was cutting and then they were putting me in the ambulance."
He remembered a man in the ambulance using his nickname, Tallz, and telling him simply: "I got you."
Mr Simmons' memories from there are jumbled: a CT scan of the metal bar lodged in his body, and being told that his wife was on her way — after which he was rushed to surgery.
Waking up in the intensive care unit, he saw his wife with a doctor, and realised he could wiggle his toes.
"I said, 'I'm alive', and I went back to sleep."
Mr Simmons has little notion of what happened in his surgery, but said his hospital stay lasted just three days.
His throat was sore from a camera being inserted, and he had pain where the rebar had been removed, but he felt hungry and keen to get back home.
The fate of the metal bar, which Mr Simmons said he wished to keep as a grim trophy, is still a mystery.
He told the Gazette he might not celebrate his birthday again, but his fondness for kite-flying remains.
"Right now I don't have the future in my head," he said. "One day at a time. Tell you one, thing, I'm not going next to that wall."
He reiterated his appreciation for all his helpers: his neighbour, the fire service and ambulance staff and the team at the hospital.
"I'm lucky — it's an eye-opener."
Mr Simmons added: "The other night I got a call from one of the guys in the fire department asking how I was.
"I said, 'Come see me. I will give you a hug'."