Boden honoured for helping Bermuda breathe
Updated: May 03, 2023 08:27 AM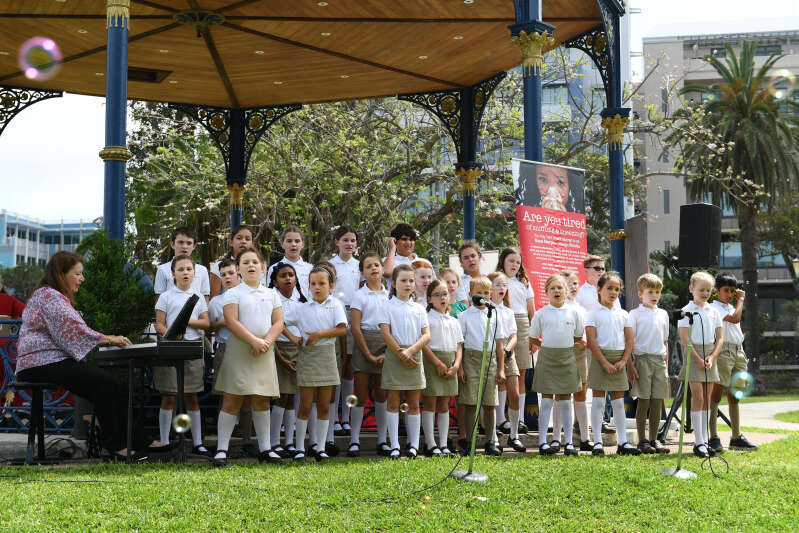 A woman who changed the face of asthma care in Bermuda has been honoured for her dedication and compassion.
Nurses and work colleagues met in Hamilton's Victoria Park yesterday to congratulate Liz Boden, the founder of asthma charity Open Airways, on her retirement from her position as executive director.
They spoke during a World Asthma Day celebration to spread awareness on how to manage the condition.
Debbie Barboza, an asthma nurse for the Department of Health, said that Ms Boden was motivated by her passion and commitment during the 30 years she spent helping people with asthma.
She said: "It's been a privilege to work with someone who is so passionate – and I mean really, really passionate.
"Like waking up at night thinking of new ways to help Bermuda breathe."
Ms Barboza added: "Your dedication, hard work and passion has been an inspiration to me and you have kept Open Airways at the top of its game for more than a quarter of a century.
"You have truly made a difference in hundreds, if not thousands, of people's lives."
The celebration was joined by preschools and primary school-aged choirs, as well as parents and other bystanders.
Attendees heard that Ms Boden had struggled with asthma for most of her life and was motivated to receive a diploma in asthma care at the National Asthma Training Centre in the UK.
She became the centre's first overseas student and used her experience to create Open Airways in an attempt to tackle the problem of asthma in Bermuda.
Tracy Nash, an asthma educator for Open Airways, noted that Ms Boden understood the importance of working with all medical professionals to combat asthma.
She also commended her for educating 150 healthcare professionals every year with lessons she designed herself.
Ms Nash said: "Liz has truly made a difference. She has achieved lasting results and reduced hospital admissions and emergency room visits for asthma.
"By educating so many healthcare professionals, Liz can retire knowing that her good work will continue."
Asthma affects one in five children and one in ten adults in Bermuda, with environmental triggers such as mould and humidity playing a major role.
Open Airways has been active in primary school classrooms since its inception, teaching youngsters and their parents good care methods, including staying away from household sprays and changing one's pillow every year.
The crowd also heard several testimonies from patients and their caretakers and loved ones, who described how much Ms Boden helped them get their asthma under control.
One patient wrote: "Liz has had the same beautiful, caring personal demeanour every single time I called her.
"She may not have known my name but she made me feel like she knew me personally and cared for my children like she was part of the family."
Another doctor wrote that she was "an inspiration for all in the medical field" for her work and "has done Bermuda proud".
Kim Wilson, the Minister of Health, commended the personal effect Ms Boden had had on her and her family when she took her asthmatic children to see her 22 years ago.
She said: "Liz answered so many questions as a new mom.
"She was patient, compassionate, and calmed me down."
Ms Wilson noted that Open Airways' success had been published in scientific journals as a model for asthma care and that Ms Boden had gone on to speak internationally about the charity's model.
She added: "Of all of these awards and recognition, the most important recognition for Liz and the most important to her heart are the comments from patients.
"One older patient, before coming under the care of Liz, was barely able to walk a short distance down the street.
After Liz's help, that patient completed the End-to-End."
Ms Boden will continue to sit on Open Airways' board of directors.