Bermuda's CAC qualifying hopes hang in balance after heartbreaking defeat
Updated: Apr 16, 2022 08:02 PM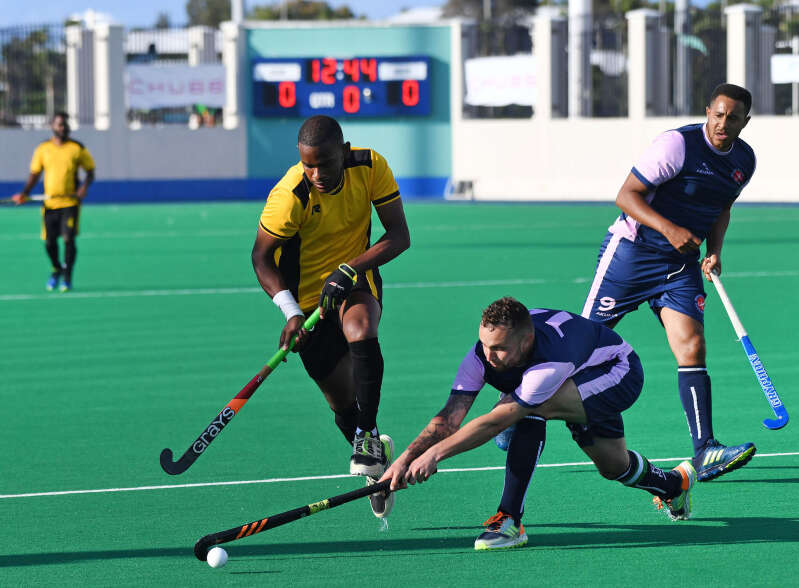 Bermuda 0 Jamaica 1
Bermuda's hopes of qualifying for the Central American and Caribbean Games hang in the balance after suffering a heartbreaking defeat against Jamaica at the Flora Duffy Stadium yesterday.
Twenty-four hours after suffering a 4-1 loss against the same opponents, the hosts seemed destined to come away with a hard-earned point before conceding with just over a minute remaining on the clock.
Bermuda goalkeeper Justin Dill parried Tyrone Vernon's shot from Gian-Paul Haughton's short corner but the unmarked Shemar Gordon was on hand to tap the loose ball into the net.
"It was very unfortunate," Samuel Thompson, the Bermuda captain, told The Royal Gazette.
"We did play extremely well but it came down to the last minute unfortunately.
"We changed our structure around a little bit. "The communication was a lot higher and the passing consistency was a lot higher as well, which allowed us to have a little bit more edge this time than we did the last."
Bermuda created chances to score but again lacked the cutting edge necessary to pierce the Jamaica defence.
"It's unfortunate that we were unable to get a goal," Thompson added. "But our team put in a much as effort as it could."
Rees Young and Aaron Madeiros produced Bermuda's only shots on goal, which were saved by Jamaica goalkeeper Rasheed Johnston.
Dill produced another outstanding display between the posts as he made a string of saves to keep the hosts in the hunt before Gordon made the decisive breakthrough at the death.
Jamaica clinched their spot at the CAC Games in El Salvador next year with the victory, much to the delight of coach Duvaughn Henlon, who praised his players for achieving their objective with a game to spare.
"We are happy with the win," he said.
"It was a hard-fought match and we are thankful. The team has played some very good hockey and we continue to build.
"It's a young team, ten players playing for the national team for the first time, so it's a good showing and I am happy for the guys.
"The coaching staff and management staff has done a lot of work and it has paid off."
Henlon rested some key players at the start of the match who later came on and stamped their authority on the pitch.
"We had to change it around a bit; play a bit more defensive and try and catch them on the counter, and I think it paid off" he added.
"We created a lot of opportunities the first half but we didn't get the goal we were looking for. So we started pressing in the second half looking for that go-ahead goal that we got at the end and deservedly the victory."
Bermuda will now hope Jamaica beat Puerto Rico in their final group match today, which would set up an intriguing showdown between the latter and the hosts for the remaining qualifying spot up for grabs in the final match of the tournament tomorrow.
Bermuda held tournament top seeds Puerto Rico to a goalless draw in their opening match, with Dill producing another sensational display in goal.
SCORERS
Jamaica: S Gordon, 58
TEAMS
Bermuda: J Dill – N Botelho, C Lightowler, A Godet, J Trott, A Madeiros, F Twite, Z Lightbourne-Cann, D Simmons, R Young, R Minors, H Bean, S Thompson (capt), T Smith, J Jackson, M Ming-Woodley.
Jamaica: R Johnston – T Vernon, C Reid, S Blake, G Harding, G Haughton, B Clarke, G McGlashen, N Stephenson, R McCaarthy, P Dawson, S Gordon, R Harris (capt), T Dennis, Z Ellis, T Graham.
Umpire: L Sarabia (USA).