Bermuda's last Sisters of Charity bid the island farewell
Created: Dec 23, 2020 08:00 AM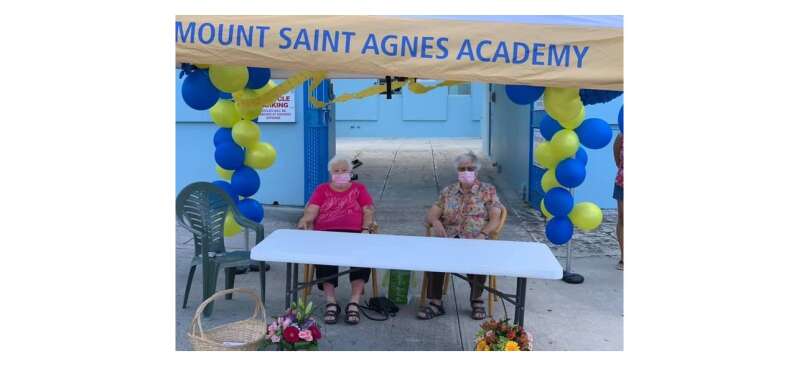 This will be a special Christmas for Judith Rollo and Delores Sullivan, Bermuda's last Sisters of Charity.
Having spent decades here helping the community, the pair will leave the island on Sunday to enter an assisted living home in Massachusetts.
They have emptied and left their house on South Shore Road in Paget and are spending the time before they fly at Grotto Bay Beach Resort & Spa.
A big change for them both but especially Sister Judith, who was sent here on a mission by the Sisters of Charity of Halifax 52 years ago.
"In 1968 we Sisters would receive a little note – we called it a billet-doux, literally sweet note," the 80-year-old said. "Mine transferred me to Bermuda, to Mount Saint Agnes Academy."
She initially taught religion, maths and science to junior high students and, on Monday nights, ran a school that taught English to Portuguese residents.
Her experience was enough to inspire Sister Delores to join her. The pair met during novitiate, the period of training before taking their vows.
"Judith got a little note but by 1985 things had changed – I applied," Sister Delores said.
"I had come down in 1972 to teach religion for a summer and loved the people. I applied a few times but there were no openings, there were no teaching jobs at that point so in 1985 I came down."
The Sisters were co-principals at Mt St Agnes, the island's only Catholic school, for several years. For a while they ran Woodmont Nursery, on the corner of Dundonald Street and Cedar Avenue.
"That was a wonderful time," said Sister Delores, 82. "I got to know a lot of the people and parents and their children are all grown up now, some of them married. I loved it. I loved the children there.
"Bermuda has been a wonderful place, a wonderful experience. And when I say the word experience, I mean a wonderful feeling – we've met so many people, have taught people; we've been in their lives, we've helped a lot of people, some we didn't realise we'd helped them until they came and told us that."
The Mt St Agnes community organised dinners in their honour and last month held a drive-by so people could wish them farewell.
"They had balloons and flowers," Sister Delores said. "It was an excellent idea. It kept people safe."
More than 80 cars turned up; paper and a basket were left at a convenient spot for people to write notes.
"We have all kinds of notes that we read the first night and I've kept them," Sister Delores said. "We'll probably bring them with us so when we're really feeling lonely for Bermuda we'll read some of them."
Upon their retirement in 2005 the Sisters worked as substitute teachers and ministered to the sick and shut-in. Up until March 17 they could be found at King Edward VII Memorial Hospital every Monday and Thursday, offering communion to Catholics there.
"That all just stopped with Covid," Sister Judith said.
What is particularly sad is that there is no one to come behind them, the Sisters said.
"After the 1960s the number of [people interested in] religious vocations dropped off," Sister Judith said. "We know our community's going to die out, probably in the next five or six years. A lot of the communities in the States have already closed their doors or merged."
Part of the reason for the decline, she believes, is that women today have far more opportunities than they did.
"No young ladies want to enter the convent any more. The western world has lost a sense of God, in general.
"I remember one of the [students at Mt St Agnes], now she's a lawyer. I was standing in the lab [and asked her] 'Would you ever think about being a Sister?'
"She said, 'Why would I? I can do anything.' Which is true. When we graduated from high school girls either got married very soon if they'd been courting, or they became a nurse or a teacher or they entered the convent. But those aren't the choices now.
"Our Catholic churches have nowhere near the number of younger people. I had to laugh because with Covid they said the older people should stay home from church but if the older people stayed home there wouldn't be too many people."
Both Sister Delores and Sister Judith came from religious backgrounds and attended Catholic schools where they were taught by nuns and "felt the call".
"I was in Grade 11 combing my hair – which was long – and this thought came to my head: I'm not going to get my hair cut until I enter the convent," Sister Judith said. "I don't know where that came from."
Sister Delores said the thought entered her mind "periodically" but she was not sure until a friend who was considering joining the convent asked that she accompany her while she discussed it with the Sisters.
"So we go up and then she said, 'No, I don't think it's for me.' And the Sister said to me: 'And what about you?' I said, 'What about me?' I hadn't thought about it. So I went away and prayed about it and that's how it came to be.
"I'm not sorry. I've had 61 years and I've had more happy times than not."
Added Sister Judith: "I would do it all over again. The greatest gift to me was my vocation."
At Marillac Residence in Wellesley they will live among roughly 70 Sisters and laypeople. Parting will be bittersweet.
"A few years ago we said maybe we'll look at moving there in 2020, which then seemed aeons away," Sister Delores said.
Added Sister Judith: "Bermuda is like our family at this point. I have only two places I've been missioned and I've been here since 1968."
Tears, they said, would be likely.