Sheila's immunity boost is a hit with Bermuda tea drinkers
Updated: Mar 26, 2021 09:10 AM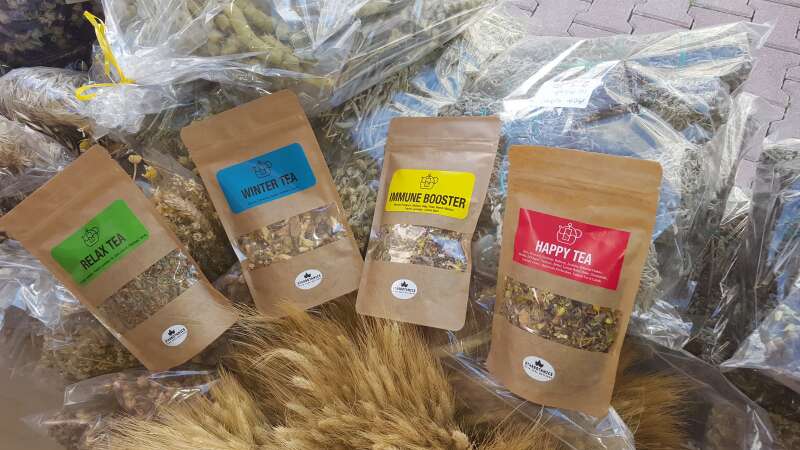 Sheila Gomez was looking for ways to boost immunity last year when she stumbled upon a store selling herbs in Antalya, a city on the south eastern coast of Turkey.
With Covid-19 in mind she thought they would be a nice addition to the wellness packages she was planning to offer as part of her business, Star Botanics.
"Our slogan is mind-body wellness. I was going to put together a gift pack with nice things with that theme and in the gift pack I was going to put a tea sampler set. I started looking for a nice, healthy combination or blend of teas that would be consistent with my theme, and also something that was really relevant.
"And relevant means this: at the time when I was putting together my gift set, Covid-19 was rampant and everybody's fear was about being healthy and keeping healthy. So I wanted something that was relevant to what was happening in the world."
Ms Gomez lives in Antalya on a part-time basis. Her interest in Turkey began with an investment property she purchased in Istanbul sometime around 2013.
"I decided I didn't really like the big city of Istanbul so I decided to take about a month off, because I was living in the UK at the time, and just travel through different parts of Turkey. I started in Antalya and spent a month there and then I went up to Bodrum, Fatiha, Marmaris and over to Georgia as well. I just loved Antalya at the end of the day."
The friendly people, the lifestyle and the temperate climate all appealed to her.
"People live by the beach. Even if they're not in the water they take their chairs out and they sit along the beach, and this is the lifestyle of this community. If you want a little bit of adventure you've got the [Taurus] mountains right in your backyard. You go up in the mountains and you've got these little towns where you can go and have lunch or rent a little place to stay for the weekend.
"Overall it just ticked all the boxes for me and the biggest box it ticked is that it's very affordable to live here. That's a big box for me because I'm a retired person."
She was living there happily when, "by accident", she came across a store filled with herbs from the Taurus Mountains, which are "famous for really good quality soil and very good flora".
"I was walking around in the area and I saw this shop with all these beautiful herbs. You couldn't help but walk in," she said.
The owner was an engineer who took the herbs and created essential oils using equipment he built for that purpose.
"He's been in the business for more than 50 years and he has these mountain pickers, a pool of about 300.
"These people live in altitudes of about 2,000 metres above sea level. It's very remote; everything's so clean and fresh up there. What I like about it is these mountain pickers pick the herbs and they bring them straight to his shop. They go straight from his shop to our bags. So there's no other process in between there. That's why I can vouch for the quality of the product."
Ms Gomez, who does not speak Turkish, arranged a meeting with the shopkeeper, who does not speak English. With help from Milad Hashemi, her partner and translator, she asked if "he could make some teas that would really help with building the immune system".
"I told him that with Covid-19 so rampant I want something that's powerful, a nice powerful blend.
"He went away and then came back and produced these tea blends for me that were just wonderful," said Ms Gomez, who would previously always choose coffee over tea.
"I didn't know tea could taste so good. And it looked so beautiful, the rich colour … It was just amazing and mind-boggling."
She decided to abandon her gift package plan and sell tea instead. Over Christmas in Bermuda, where she was stuck for six months due to Covid-19, it was a hit.
"I had a kiosk in the Washington Mall and my sampler set was supposed to be put in a really lovely box which I had ordered, and the boxes did not arrive in time. So I had my products and I didn't have my boxes. I ended up in the end selling everything as individual items and, believe it or not, tea was one of the biggest sellers; which was just amazing. People would come back and say that was really, really nice. I've never tasted tea that tasted so good."
Through a US company, Ms Gomez "coordinates teas orders from [Antalya] and gets it to them over there". Packets of her tea are at Lindo's in Devonshire and the Bermuda Craft Market in Dockyard. Local doulas are also using the Turkish shopkeeper's herbs for their practices.
"The business is taking off," she said. "I have a partner that works with me in Antalya and the person who supplies the herbs, I've told him about Bermuda, he doesn't have a clue where Bermuda is. It's a funny scenario. We sit down. I don't speak Turkish, he doesn't speak English. We both want to talk to each other and we can't. But it works. It really works."
The teas suit a variety of needs. Among Ms Gomez's offerings are an immune booster, a happy tea and one that promises help with relaxation.
"I want to transform the way people feel about drinking loose-leaf tea. I want them to think about it as a healthy ritual, a ritual that's good for mind-body wellness. It appeals to all your senses.
"Years ago I was very passionate about tennis. I used to eat, sleep and drink tennis. Since then I have never found anything I've been as excited about until now. I'm so excited about this and I believe in it and I know I'm onto something good."
She is now back in Antalya. As a result of Covid-19 Turkey went through a period of "complete lockdowns like every country". That was followed by weekend lockdowns for "a couple months"; Monday to Friday there was a 9pm curfew.
"Just this week they allowed you to go out on Saturdays and just this week they allowed you to eat in restaurants," Ms Gomez said. "Everybody wears a mask. It's mandatory to wear a mask on the street.
"Where I am, it's almost like Covid doesn't exist. You don't see it. You don't hear of anybody dying. And for me, Covid has been good because Covid has made me focus on getting my business together and focus on something that's quite relevant for today.
"I know so many people who are creating businesses by being in lockdown, out of necessity really. This wasn't necessary this was just out of a passion, and it's working."