Photographer seeks islanders he captured 21 years ago
Updated: Apr 11, 2021 05:52 PM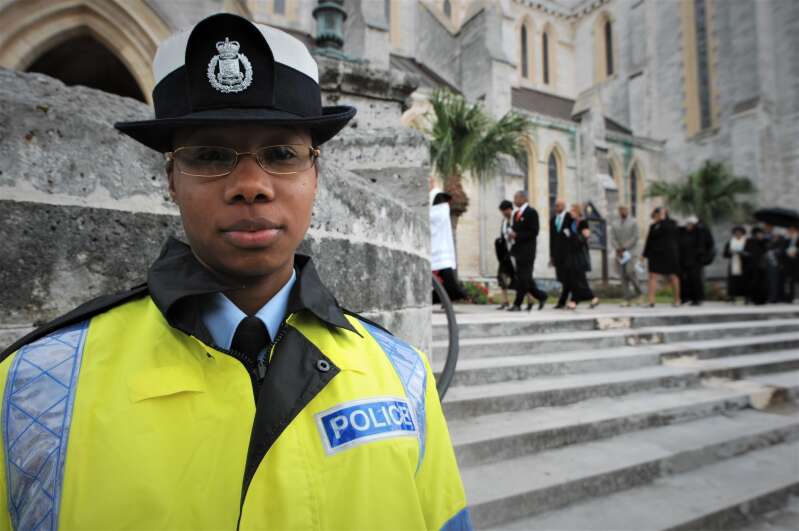 Twenty-one years ago Livio Bourbon fast-talked his way onto the Amerigo Vespucci, a training vessel for the Italian Navy often described as one of the most beautiful ships in the world.
She brought him to Bermuda as part of the tall ships race; he promptly set to work photographing as much as he could.
Last month, while going through some of the many pictures he'd taken on that journey – which also took him to coastal cities in the UK, Spain, Italy, America, Canada and the Netherlands – he stumbled upon the faces he'd captured here: 1,000 strangers who gave up a few minutes of their time to pose in front of his lens.
He's now hoping that, through this story, they will finally be able to see the analogue pictures he took that have since been digitised.
"The pictures I took in Bermuda I developed months after, in Italy," he said. "I never had the opportunity to give one copy to them or say thank you. Through these portraits, through these lives, through these people without names, I became a photographer, I got money, I got the opportunity to travel and now it would be nice to say thank you, this is a present for you."
Mr Bourbon, who has had no formal training as a photographer, got his start in his late 20s while working in Italy in the photo archives of one of the world's leading publishing houses. For two years it was his task to choose "the photographs of other photographers for the books".
Certain he could do their job he bought a camera and secretly began taking pictures and submitting his work. All went well until the owner of the company took notice of Mr Bourbon's photos for a book about "the best archaeological sites in Europe" and peppered him with questions about this "new photographer that he didn't know".
"I invented a name and he said, 'We'd like to speak with him but, first of all, we have to pay him because we paid all the other photographers but not him, not yet.'"
Mr Bourbon was forced to confess – and was immediately fired.
"It was a Friday. On Monday he called me back and he employed me as a photographer. Starting from that moment I spent months and months travelling around the world [taking pictures]."
A year later, invited as a journalist to visit the Amerigo Vespucci in Genoa where she was docked, he "said something that was not true".
"I said my company would like to publish photos or a book of this tall ship. And in the same time I said to the owner of the publishing house: the captain of the tall ship invited me to travel with them to take pictures."
A week later he'd joined as the official photographer.
"Six weeks before I arrived in Bermuda I was working in Europe, taking pictures. I never [thought] in my life that I would arrive in Bermuda, on a trip paid for by the company on-board [the Amerigo Vespucci] as an official photographer for the navy."
The tall ship was here for just over a week. Mr Bourbon, who was then 30, rented a moped and travelled the island during his free time.
"I took so many portraits of people," he said. "I then continued my life as a photojournalist, travelling all around the world. Last week I was searching and looking for some shots of that period in the United States and I found the file, Bermuda.
"I saw, after so many years, all these faces, portraits, people, stories and I said it would be nice to get in contact, to find people I had in front of my camera in Asia, South America, Alaska, China and Bermuda."
He began with Bermuda as it was far from his home in Italy and a place that relatively few people would have visited because of its isolated location.
"I decided to start with one of the first experiences I had in my life, so Bermuda. It is so far, so small, so isolated. It's so difficult to think I will ever go back.
"It's unusual for [the average European to travel to] your island. I said maybe I will never be there again; maybe I will never meet these people again. It would be nice to use these pictures of that time to get in contact with them."
Mr Bourbon would like anyone who remembers posing for him to get in touch, ideally with a more recent picture taken in the same spot. He reached out to the Bermuda Police Service to try and find the female officer he photographed but was told she no longer worked there. He had more success at Lili Bermuda. Having shot the perfumery's owner, Isabelle Ramsay-Brackstone, he was thrilled when she responded to the message he sent.
To widen his efforts he then reached out to The Royal Gazette with the view that "the best way to get in contact with a population is through the media, the newspaper".
"The next ones will be more difficult," said Mr Bourbon who will attempt to locate people in northern India, New York, Ireland, Paris, Cuba and Greece. "I want to do the same but maybe it will not be possible."
Many of the photos were taken after his travels with Amerigo Vespucci ended and a book with images from his sailing journey was put into print.
"I spent six months taking pictures. Then the book was edited and published and starting from that moment I discovered that everything was possible, with a little bit of crazy," he said.
"I travelled. I visited more than 70 countries. I was a photographer for a newspaper and especially books."
For nearly ten years he covered extreme shots – landmines in Cambodia with the international humanitarian medical non-governmental organisation, Médecins Sans Frontières; in 2004, he was the official photographer of the first flight over Mount Everest on a hang-glider.
"Then I became a father and I decided to do this same work with a camera but live a less aggressive life, a less dangerous life. I started to be a photographer of archaeological sites – Egypt, Cambodia, Thailand, Greece, India, Peru …"
The coronavirus pandemic took away his ability to travel but didn't keep him from doing what he loves – meeting people.
"Everyone knows how the pandemic started in China and then in Italy. In one hour by scooter you can travel from one end of your island to the other but in Italy one hour means that it's very close. And I live one hour from Bergamo. And Bergamo, that's the first town [hit by Covid]."
When the Italian government mandated a lockdown, Mr Bourbon volunteered himself as a social worker, skills he hadn't used in years.
"It was not possible to travel, there was nothing to do; people were closed in their houses with a big fear. [In my twenties I worked] with handicapped people, people with [financial] problems, people who were ill or who had mental diseases.
"All those months I was travelling a lot. In my town there was only the army and the police and some people like me, travelling from one house to the other – to old people, poor people.
"Of course I didn't use my camera; I spent a lot of time with people trying to help them. I had the opportunity to use more of my mind than my eyes. But now, I'm looking forward to travelling again."
Contact Livio Bourbon at bourbonlivio@gmail.com or +39 3395932180