Furbert sets up Business Development Committee with $800,000
Updated: Mar 05, 2012 06:19 AM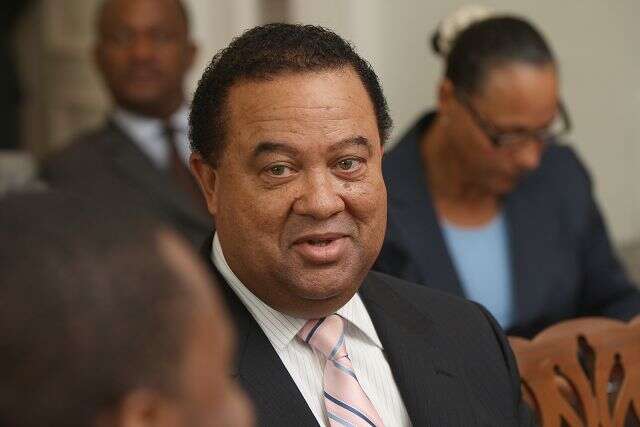 The Government has allocated close to a $1 million to a new umbrella advisory committee overseeing the groups promoting international business to come to Bermuda.
Minister of Business Development and Tourism, Wayne Furbert, announced that a new committee within his Ministry the Business Development Committee (BDC) would receive $800,000 to help streamline the Island's business interests.
The new committee will consist of the heads of Business Bermuda, the Insurance Development Council as well as "relevant groups from the business sector".
"The overarching aim of that Committee is to bring all of the groups together to work towards a common purpose with more efficiency and accountability," said Minister Furbert in a statement. "The Committee will have access to $800,000 which will be used to drive business to Bermuda and assist Business Bermuda and the Insurance Development Council and the other groups with initiatives as the need arises."
In the Government's Budget last month, it was announced that the budget had been cut for two of the Island's top promotional groups on the front lines of attracting international business to Bermuda Business Bermuda and the Insurance Development Council.
The IDC's Government grant decreased from $700,000 to $500,000 and Business Bermuda's budget cut from $2.5 million to $2 million.
In the Budget statement, $250,000 was granted to a new organisation called the Bermuda Investment Managers Association whose aim is to increase the Island's asset management industry.
In total, the overall Government 2012/2013 spend on attracting new business to the Island is $300,000 more than the year prior.
Business Bermuda and the IDC are still smarting, however, from their budget cuts.
"The IDC is the only entity whose sole focus is the promotion of the insurance industry," the group said in response to the Minister's announcement. "100 percent of our efforts are directed to this sector. The IDC believes it is not a time to take our foot off the gas, we must press forward and do even more."
The IDC stated that a majority of its work is done on a volunteer basis and accounting for that saving alone has been "phenomenal".
The group said they have met with Minister Furbert and are confident the Government understands the importance of the sector and the "value of the IDC's ongoing contribution to the economic future of Bermuda".
For the new BDC to be successful, said the IDC, its stakeholders must be able to "identify the initiatives of greater strategic importance and move quickly to seize these opportunities".
Under the new Advisory Committee, said the IDC, they "anticipate greater resources being made available for promotion of Bermuda's insurance industry".