Hi-tech ferry project will draw international scrutiny
Updated: Aug 31, 2022 07:48 AM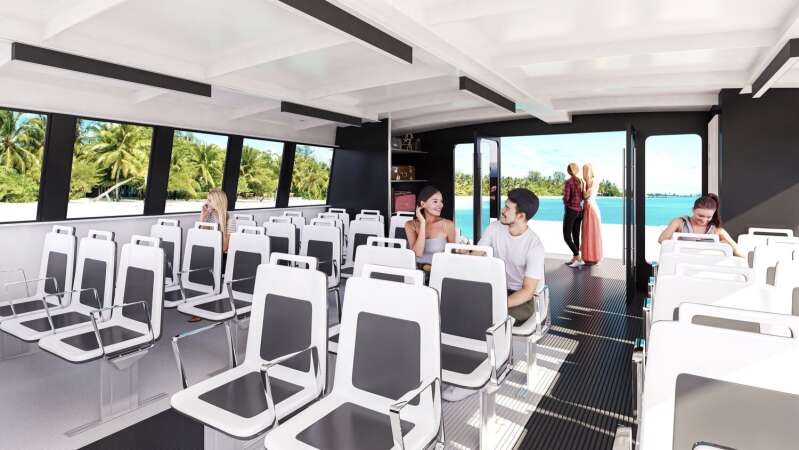 The Bermudian principals of the world's next generation of electric ferries and water shuttles know that the launch will draw a lot of international attention.
And with such global scrutiny, they see a huge benefit in ensuring the financial planning and development is completed in Bermuda.
New vessels may be on the water as early as the end of next year, "eco-friendly small-scale, fully electric, cost-efficient shuttle boats that meet net-zero climate change goals and withstand marine and weather conditions around the world".
Alan Burland, co-founder and vice-president of the Bermuda company, e-Link Commuting Company Limited on St Johns Road, Pembroke, said the company has sought the expertise of a senior naval architect from Team Oracle in the America's Cup.
He said: "We are hoping to have something physically built and in sea trials within the next 12 to 15 months.
"We've already done the modelling for Bermuda waters and the island would be a perfect test, considering our inland waters and areas like North Shore, where it can get pretty choppy."
Company president Andrew Vaucrosson said launch projections are for late 2023, but could be early 2024.
He conceded there was no guarantee the boats would get their first test in Bermuda waters, even though the original idea was for a Bermuda service.
E-Link Commuting is working with overseas organisations to design a unique hull system, a catamaran system to pierce the waves, but also handle the wind.
It involves technology from racing vessels. But they also needed expertise that could take the design and scale it to different sizes for different purposes.
Specialised drive train technology was needed and high-speed battery recharging was critical.
Mr Vaucrosson said: "We would love to launch this here. We would be able to test the boat, give it sea trials in all sorts of conditions in Bermuda waters.
"It would be amazing to showcase Bermuda, with operators from other countries coming to the island to witness it. That would be huge.
"But decisions will have to be made based on where we are with other companies we are working with, timelines and a number of contingencies.
"We have to look at other markets in which the technology will be deployed. In fact, we are in talks right now with groups in two other cities.
"No matter where we launch, there will be intense international scrutiny."
Mr Vaucrosson also believes that even if another jurisdiction emerges as the most useful for testing, Bermuda should remain the business base.
He said: "The key thing is that the concept, the theory, the financing should all be based out of Bermuda and the management team has a strong belief that it ties in with the historical maritime history of Bermuda.
"But it taps into the island's financial wherewithal, the fact that Bermuda is a financial hub. And of course, it also ties in to Bermuda's growing connection to climate risk initiatives, as a solution to the world's climate problems.
"We've come up with a financial model which makes a lot of sense and coming out of Bermuda, we believe, will be the way to go to solve financing issues such as battery costs.
"Buyers, especially those seeking to upgrade their entire fleet, will be cost sensitive. And our model may prove to be useful, especially in terms of their interest in accessing future technological improvements."
An application to form e-Link Commuting Company Limited as a limited liability company was gazetted in May 2020 by Mr Burland and Mr Vaucrosson, together with Neville Mark Mayall Cave and Stephen Charles Olle.
Much of the international interest has been centred on deployment in city harbours, and coastal waterways. There are operators looking to upgrade their entire ferry fleet.
The shuttles might have a capacity for some 60 passengers, a mid-sized vessel. But it would also provide an option for distributing freight by courier companies.
e-Link Commuting Co. Ltd. has been asked to look into package delivery services, providing a waterway link to the last mile of delivery for fulfilment.
Mr Burland said: "We were a long way down the path with our business plan before the pandemic and already had thought out its use in Bermuda – including ideas like providing an inter-hotel service for visitors, including a shuttle from the airport to Hamilton.
"Hopefully, those ideas will come back when tourism returns and hopefully, we will see Southampton Princess back, and other developments come into play"
The companies involved in the project are hoping to ship modular components by container and assemble the vessels at the user end, another plus in the race to get to the finish line ahead of any competition.
In 2019, there were no competitors. But since then, other initiatives have emerged with other concepts, including hydrogen foil vessels.
The company said there are proposed hybrid vessels that are larger for transporting cars and people. In some cases, their designs have not changed, they are just converting to electric.
Mr Vaucrosson said: "But no one will be at the scale of our ELC Shuttle platform – with portable for delivery, high speed charging capability on the water and other advantages.
"We feel that we can come up with a better financial model for the technology. The Bermuda factor – the Island as a financial services hub – will prove to be important."
Mr Burland said this could be the beginning of the redevelopment of the island's maritime industry.
He said: "That's the good thing for Bermuda. It could come back in a significant way, including much more training and that sort of thing."