Wayne Smith to be new Abic executive director
Updated: Sep 27, 2022 08:41 PM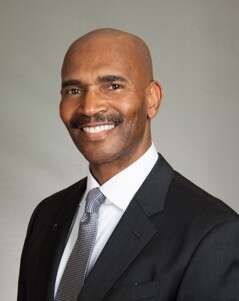 The Association of Bermuda International Companies has appointed Wayne Smith to be the organisation's next executive director.
Mr Smith, whose career has spanned the public and private sectors, will join Abic in October.
During a three-month transition period, he will work alongside Richard Winchell, the outgoing executive director, who will retire at the end of this year.
Mr Smith said: "I am honoured to join Abic and look forward to working with the chair, board, and committees to achieve Abic's mission, goals, and objectives.
"I hope to leverage my skills and abilities to build on the great work done by Richard Winchell during his 16 years at the helm, and I will strive to ensure that Bermuda remains a premier international business centre."
Patrick Tannock, chairman of Abic and CEO of Axa XL Bermuda Insurance, said: "On behalf of the Abic board, I would like to thank Richard for his commitment to facilitating the execution of Abic's strategy to ensure that Bermuda remains an international jurisdiction of choice.
"He has not only been a strong advocate of Abic but also a passionate protector and promoter of Bermuda's value proposition. With his enthusiastic and energetic endeavours and steadfast service as executive director for close to two decades, he has made an indelible contribution to this island."
Mr Tannock added: "We also welcome Wayne as the incoming executive director. We are confident that with his leadership experience, both in government and the private sector, he is ideally suited to the executive director role.
"In that role, he will primarily be responsible for promoting a sound business environment for international business and the community as well as advocating for balanced government policies that maintain Bermuda as a highly regarded domicile of choice while respecting the values and culture of the people of Bermuda."
In his current role, Mr Smith works as head of concierge and engagement services at the Bermuda Government's Economic Development Department, where he provides advisory services, expedites government processes and connects businesses with key government stakeholders.
Prior to that, he established and led the fintech Unit, an entity formed in 2018 to implement the Bermuda Government's fintech strategy.
During his tenure, Abic said, the unit attracted more than 100 companies to Bermuda, including the island's first new bank in 50 years.
Mr Smith also served as interim permanent secretary of the Ministry of National Security during a five-month period in 2018, and prior to that he was postmaster general of the Bermuda Post Office for six years.
Abic said he has worked in banking, public safety, wireless technology, information technology and tourism, including three years as the executive director of the Bermuda Alliance for tourism; working with the board to set the strategic direction for the tourism industry.
He retired from the Royal Bermuda Regiment with the rank of Major in 2008 after 22 years of service.
Mr Smith holds an MBA from Webster University, a bachelor of business administration from Acadia University and has completed the public service executive management programme.
In 2019 he successfully completed the Oxford University fintech programme.