Crystal Cruises heading back to sea under new ownership
Created: Oct 27, 2022 07:44 AM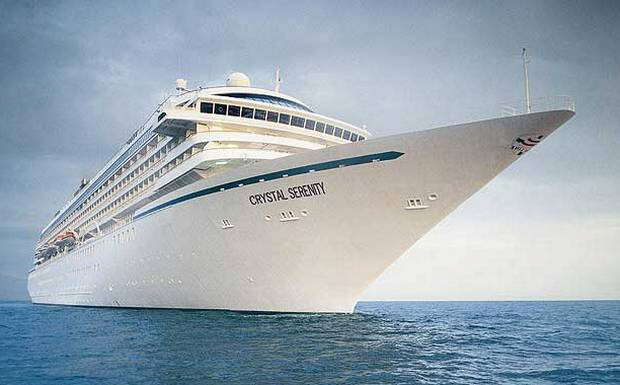 Crystal Cruises, which was left high and dry after its parent company sought court protection in Bermuda, is to sail again under new ownership.
The operator of three ocean cruise ships and five river ships closed its offices on February 11, a week after the Crystal Symphony and Crystal Serenity cruise ships were seized in waters off Freeport, Bahamas, owing to unpaid fuel bills.
Crystal ceased operating only three weeks after the Supreme Court of Bermuda appointed joint provisional liquidators to assist with a restructuring of the indebtedness of its parent company, Genting Hong Kong Limited.
Jack Anderson, president of Crystal Cruises, told Bloomberg at the time: "Genting HK effectively washed their hands of Crystal when they filed liquidation in Bermuda.
"At that point our relationship with Genting was effectively severed and we were cut loose to fend for ourselves."
But now the Crystal Symphony and Crystal Serenity are in Trieste, Italy, for refurbishment by shipbuilder Fincantieri with a view to sailing again in the summer of 2023.
A&K Travel Group Ltd, the travel company owned by Geoffrey Kent, and Heritage -- the industrial holding company chaired by Manfredi Lefebvre d'Ovidio -- acquired the two luxury cruise vessels at auction.
They paid $103 million for the Crystal Serenity and $25 million for the Crystal Symphony, the Bahamas newspaper, The Tribune, reported.
The ships will operate under the award-winning Crystal Cruises brand that has also been acquired by A&K.
Mr Kent is co-chairman of A&K and Crystal Cruises, and founder, co-chairman and CEO of Abercrombie & Kent, the luxury travel company.
Mr Lefebvre d'Ovidio is co-chairman of A&K, Crystal Cruises and Abercrombie & Kent.
The luxury expedition cruise ship, Crystal Endeavour, was purchased by Royal Caribbean Group for $275 million.
It has been renamed Silver Endeavour and will be operated by Royal Caribbean's subsidiary, Silversea Cruises. It is to begin sailing to Antarctica next month.
Crystal Cruises and Abercrombie & Kent will report to Cristina Levis, CEO of A&K, which has partnered with Monaco-based V.Ships Leisure, the cruise ship manager.
Mr Anderson is back as president of Crystal Cruises.
He said: "Geoffrey Kent and Manfredi Lefebvre are icons and innovators in luxury travel.
"With their ownership, leadership and vision for these ships and the award-winning Crystal Cruises brand, we are embarking on a new and exciting chapter.
"We and the entire Crystal Cruises family look forward to welcoming guests again soon."
Ms Levis said extensive refurbishments of both Crystal Symphony and Crystal Serenity "will elevate the customer experience".
She added: "Some staterooms will be combined, creating more butler suites and reducing overall guest capacity. This will bring a gracious new feeling of spaciousness to the restaurants and public areas."
The Crystal Serenity was to have visited the island in May.