KPMG to co-sponsor Caribbean Infrastructure Forum
Updated: Aug 09, 2023 07:51 PM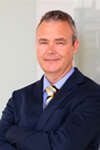 KPMG is a co-title sponsor of the seventh Caribbean Infrastructure Forum 2023, which will be held in Miami next month.
As we move out of the pandemic, KPMG said, the Caribbean is experiencing a new urgency to finance and build economy-developing, resilient infrastructure that can handle both predictable and unpredictable climate, economic and health-related events.
Although infrastructure can facilitate sustainable growth, it added, how are island governments prioritising key projects, and how are governments and regulators creating an enabling-environment for sustainable growth?
KPMG said this also raises key questions about the options for investing, financing and building the next generation of infrastructure across the Caribbean.
In today's market, it added, Carif is more essential than ever.
Steve Woodward, partner, sector lead, KPMG Enterprise, said: "We are delighted to be a co-title sponsor for the 7th Carif event this year. The theme for Carif 2023 is infrastructure as an enabler for sustainable growth across the Caribbean."
He said the agenda will include:
• Incentivising the flow of private finance to sustainable and resilient infrastructure projects along with building project pipelines
• Meeting the evolving infrastructure needs of the cruise tourism and shipping industries
• Understanding how waste-to-energy can address the Caribbean's waste management challenges and how to build grid infrastructure for the future of the Caribbean power sector
• Developing urban infrastructure to increase resilience, revitalise cities, and meet the need for affordable housing
Additional workshops will focus on:
• Sustainable finance: exploring sources, structures and innovations that could supercharge the delivery of Caribbean infrastructure
• Creating and implementing effective national development strategies
Vicky Hitch, senior manager, sector lead for infrastructure, government and healthcare at KPMG in Bermuda, said: "KPMG has a longstanding dedication to supporting island governments in enhancing their infrastructure for both the present and future.
"We are thrilled to host workshops which will consider, in detail, the important topics of sustainable finance and national development strategies.
"To add a global perspective and bring key learning from a best-in-class lens, we are bringing our international subject matter professionals to act as speakers and facilitators throughout the event, including our global head of infrastructure, Stephen Beatty, our Asia-Pacific head of infrastructure from Singapore, Sharad Somani, and our global head of healthcare, Anna van Poucke."