Live updates: Furbert again says Government risks being ousted from office
Updated: Aug 31, 2021 07:20 PM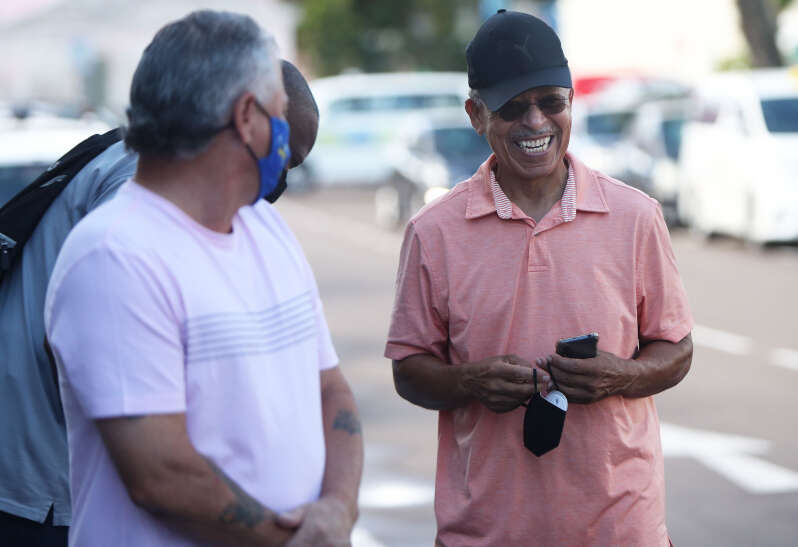 Bermuda Industrial Union members and supporters this morning marched to the Cabinet Office as they continued their two-day protest.
However, ministers are on their summer break and Cabinet was not meeting today, although some GP cars were parked in the grounds.
About the same number of people who marched yesterday – a few hundred – were present.
Chris Furbert, the BIU president, earlier repeated warnings that the Progressive Labour Party government risked being turned out of office because of its actions.
He said: "If you had a dog for ten years and one day, after ten years, that dog turned around and bit you, my advice would be to get rid of that dog."
The dispute concerns a section of new trade union legislation that means that non-unionised members of a bargaining unit represented by a trade union can take part in a vote to no longer be represented by the union, a process known as decertification.
The BIU has argued that only union members who pay full dues to the union should be allowed to vote. Non-unionised employees in a bargaining unit pay half the equivalent of union dues to the union as a service fee and half to the charity of their choice.
The Government has refused to change the law, pointing out that the same legislation has been in place for decades and that all workers, not just union members, should have the right to choose how they wish to be represented.
Mr Furbert said the BIU would be prepared to negotiate if Jason Hayward, the labour minister, would acknowledge and apologise for not informing the union as promised he was tabling the legislation last December.
If he was prepared to apologise and if the Government was prepared to indicate it was open to a compromise on the legislation, the BIU would discuss amendments, Mr Furbert said.
But he said the relationship between the Government and the BIU could not be repaired unless an apology was forthcoming.
Among those present this morning were Progressive Labour Party MPs Zane DeSilva and Derrick Burgess, a former BIU president.
Mr DeSilva, a former Cabinet Minister, said he was there to show his support for the BIU and in a "number of other capacities", which he would not specify.
He also declined to comment when asked if any Government MPs who supported the union had attempted to act as peacemakers between the two sides.
Mr Furbert claimed that four or five Government MPs had backed the BIU but did not name them.
Also in attendance were several members of the Bermuda Fire Service, which has its own union.
They said they were there in a personal capacity and were not members of the BIU.
They said they had informed their management that they wished to attend the protest to show support for a sister union and had been given the go-ahead.
Mr Furbert led the march to the Cabinet grounds but, after being told that the regular Cabinet meeting was not being held, members marched back to Union Square.
Mr Furbert at first accused Cabinet of "hiding".
He said: "They had to face us yesterday – they didn't have a choice because we were there waiting for them."
He later accepted it was possible that Cabinet was not meeting today because it was still on a summer break.
He said: "They want to talk to us, but on their terms.
"It is incumbent on the Government and the BIU to sit down and resolve this issue. It can't be that Government has it all one way – there has to be a mutual solution.
"What's happening right now is Government is saying it has to be all their way – they are in control and they are in charge because they're the government.
"If that doesn't sound like some sort of dictatorship then I've got it wrong.
"You are trying to dictate all the terms. It's like a big bully.
"This is your base that you're meant to be protecting. Are you really sure you want to hang your hat on this piece of legislation?
"It is time for them to recognise that we have an issue here and be man enough to come to the table and let's have some dialogue."
Mr Furbert said there will be no protest tomorrow, but members would vote this afternoon on what action to take.