Red Priest liven up classic music tracks
Created: Feb 24, 2020 08:00 AM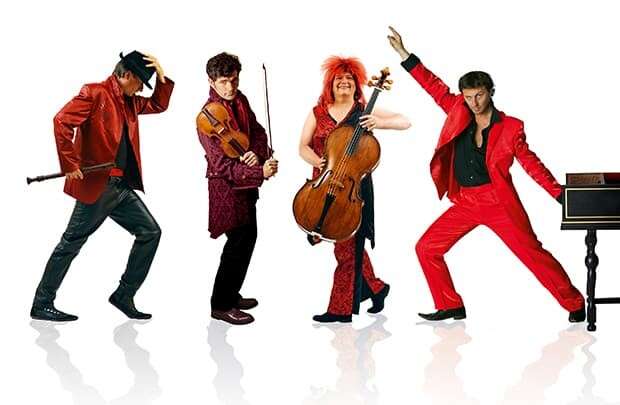 Red Priest at the Ruth Seaton James Auditorium
Bermuda's own Violin Sisters, Naphisa and Sari Smith, opened this evening with their subtle and energetic interpretation of the Allegro from Vivaldi's Concerto for Two Violins in A minor.
A good choice for an opener, for during his lifetime (1678-1741) Antonio Vivaldi was nicknamed The Red Priest because of his red hair, the name chosen by the quartet of virtuoso musicians who then took the stage.
Red Priest are a combination of pure showmanship, technical perfection, Pied Piper hypnotics and modern expertise. Recorder artist Piers Adams's playing was incisive, urgent, perfectly phrased, crystal clear, intensely physical and drove the melody at dizzying speed.
When the demands of the music exceeded the range of the instrument he was playing, he simply reached into a pouch to fetch the one that met them because he was equally at home with bass, treble, tenor, sopranino and alto instruments.
To open, Vivaldi's Concerto in A minor, taken at a tempo which could only be described as Mach 2. Interestingly, at this speed, Vivaldi's chord structures and modulations came to the fore even more than the melody itself and gave us a glimpse into the music's deeper structures. Violinist Adam Summerhayes not only provided expert support through the ensemble pieces, he performed two of the most challenging and technically complex violin solos ever devised: Locatelli's Labyrinth and Tartini's Devils' Trill Sonata. Cellist Angela East not only underpinned the whole evening's music with expert bass but also played — on the cello — the hugely demanding violin part of Eccles's Adagio and Presto in G minor. I believe this is a world first.
Finally, keyboardist David Wright gave us the beautifully crafted solo from Bach's Fifth Brandenburg Concerto. Surely, in this massive keyboard improvisation (a first in western music), thanks to Red Priest, we get a glimpse of Bach at his most playful and creative. And this is apt: playfulness and creativity are the essence of these unique musicians.