Lockdown adds to domestic violence burden
Created: Apr 14, 2020 09:00 AM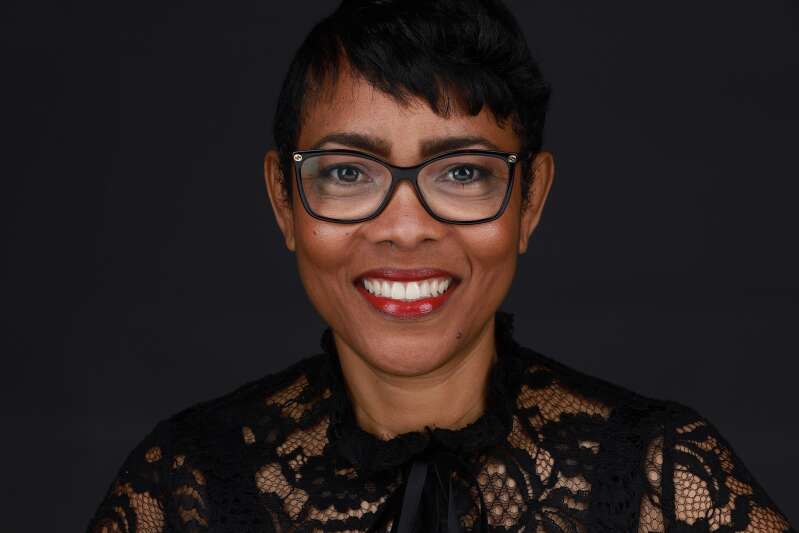 The pictures aren't ones you post on social media.
They show black eyes and bruised faces; victims of domestic violence, their spirits are often crumpled.
Tina Laws is one of those that they send their pictures to.
A domestic violence counsellor, she believes measures to protect her clients should have been considered when Bermuda decided to restrict residents' movements. As it stands the Covid-19 lockdown has added another burden to a vulnerable group by shuttering them with their abusers.
The therapist has received 41 calls from people desperate for help since March 23, shortly after remote working started to become the norm.
"Prior to the pandemic the calls would range between two and four per week. [It's] a huge increase," said Ms Laws, whose counselling and coaching business, Under Konstruction, has been helping victims of domestic violence since 2016.
"They send me all the pictures — of black eyes and bruised faces. I can't give them to anyone. Some [are] seeking individual support, others group support; some are looking for an immediate way out, others just want support until they feel strong enough to leave. We need to let these victims know that if they walk away, they don't have to fear the police being called. We need to raise more awareness of this issue. We need to work together before we lose lives, not just to Covid-19 but to domestic violence."
She believes that people with mental health issues, such as depression, post traumatic stress disorder, anxiety and insomnia, are particularly suffering now, with abusive actions driven by a long list that includes increased alcoholism and substance abuse, loss of employment, being stuck inside for long periods of time, the absence of family of friends who might otherwise diffuse arguments and the demands of home schooling and caring for elderly parents.
Her calls have come from people suffering physical, emotional and sexual abuse.
While most are in their 30s and 40s, there have also been teenagers in need of her help. Eighty per cent are female.
"There are many children being subjected to watching the abuse," Ms Laws said. "Now that they are shut in they don't have the freedom to talk to school counsellors or get out of the house to release themselves from it. Often they are stuck in the middle being the mediator. They are also subjected to more abuse — not just physical but also sexual."
She said Covid-19 has given abusers a whole new arsenal of threats and intimidation. They threaten to inform authorities if the person leaves home and convince them police will not be sympathetic if they are caught.
"If a woman is being abused where is there for her to go during Covid-19?" Ms Laws said. "We've made facilities for people coming back from overseas. Is there somewhere for women experiencing domestic violence? And what about the abuser. Where does he go if he's removed from the home during Covid-19?"
She'd like information about support services such as the Centre Against Abuse's 24-hour hotline number, 297-8278, and e-mail address, info@centreagainstabuse.bm, put up in the few places that people can go during lockdown ­— grocery stores, gas stations, pharmacies and doctors' offices. She'd also like to see their staff trained to deal with requests for help from domestic violence victims.
"There could be a code word set up so that they can ask for help without attracting attention from the people around," Ms Laws said.
Based on her advice, some of her clients file complaints with the police and seek support from Centre Against Abuse but the reality is that there is little Ms Laws can do on her own.
"Due to my confidentiality policy, I am not at liberty to reach out to anyone or breach it unless I witness or have reason to believe they are in danger," she said, adding that the information can be communicated by telephone, social media or in person but can only be forwarded if her client makes the request.
"As a victim of domestic violence one must first feel comfortable and secure. Also, as many have already sought other services in our community they may feel embarrassed, uncomfortable or just not ready to speak with other organisations. And for some, they just don't see or hear enough marketing about domestic violence and the community to feel comfortable enough to trust that they will get the help they need. I must report that several have received support — groceries etc — from the Women's Resource Centre. They have been a huge help and resource tool for many of my clients [with] not just abuse but counselling, food, etc."
Should an emergency arise she advises people to run to safety as soon as possible.
"Go to a neighbour and ask them to call the police," she said.
In the meantime it's important that people do what they can to relieve their stress: go for a walk if the abuser will allow it, doodle, try to think positive thoughts.
"This situation will not last always," Ms Laws said.
Tina Laws will launch a four-week webinar series at 8pm tomorrow aimed at helping women with career planning, developing their careers and dealing with such issues as unhealthy relationships. A recording will be available for people not able to join at the designated time. To register: 234-3688 or refocustogethernow@gmail.com. Contact Ms Laws on tinalawsconsulting@gmail.com or 538-8857