Lifeguard takes on lionfish
Created: Sep 09, 2020 09:00 AM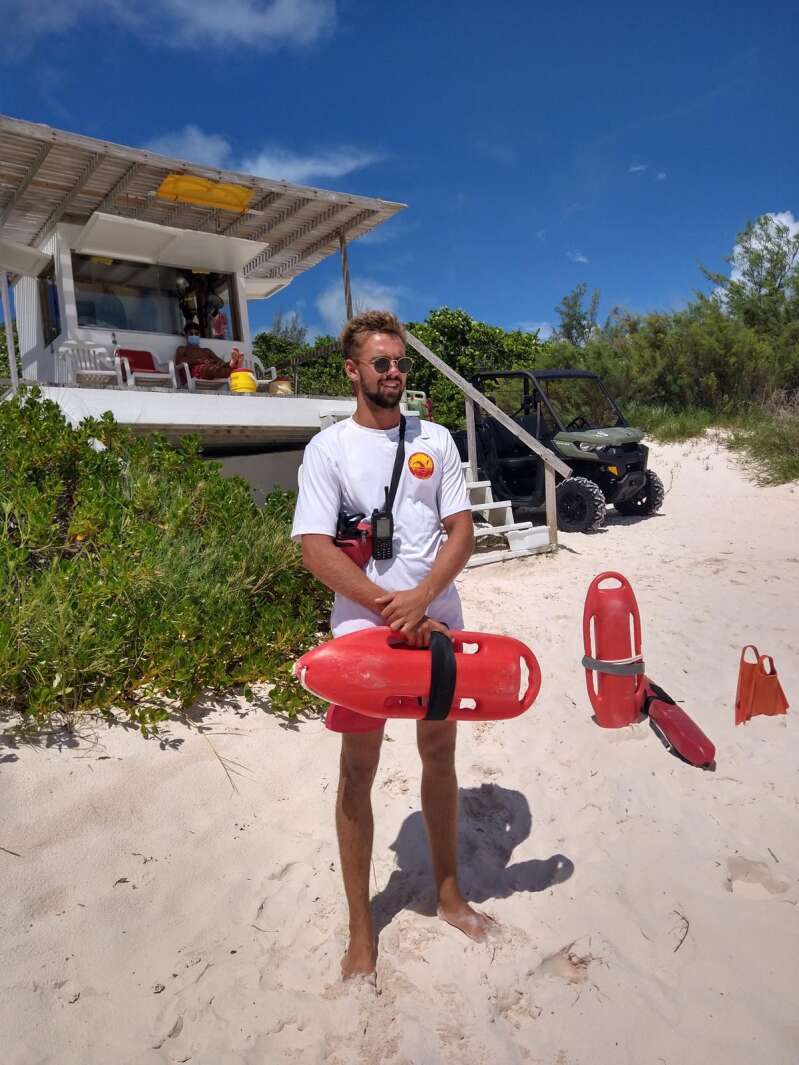 With their numbers on the rise, the hunt for lionfish is on.
Expect to see people with diving masks on and spears in hand as they search the island's reefs for the predators over the coming days.
Lifeguard Townsend Jackson organised a two-week cull as part of the Bermuda Lifeguard Service's community outreach, partnering with Bda Spirits for prizes.
"Lionfish are very bad for our reefs because they prey on adolescent fish, they eat them before they reach sexual maturity and are able to reproduce — and they don't have a predator," he said.
"So they can just sit on the reefs, eat as much as they want and continue to harm our environment without having any natural predator that will balance them out. It pretty much is up to us to make sure that happens."
Although an unusual time of year for such an event, he was inspired by a cull the Bermuda Lionfish Task Force organised in February.
"It was the most that they've ever seen. I think they [caught] around 900 in the month. They hadn't seen numbers like that before.
"So it's obvious that the numbers are rising and, despite efforts of people like myself and the Lionfish Task Force here in Bermuda, there doesn't seem like there will be a way to completely eradicate the presence of lionfish. But we'll try to diminish those numbers and I think a higher frequency of cullings is one of the things that will definitely help."
The event, which is open to anyone with a valid lionfish licence, kicked off on Friday at John Smith's Bay with lifeguards present to ensure water safety.
Although people are free to search for lionfish anywhere and at any point over the two weeks, additional events monitored by lifeguards will take place, weather permitting, tomorrow at Elbow Beach and on the final day, September 19, at Cooper's Island Nature Reserve.
"The tournament is island-wide. You don't have to be at any of the events, they're just events run by the Bermuda Lifeguard Service. We'll have water safety present just in case you want to come out and have a good time and dive with a group of people instead of going off by yourself."
His hope was to remove "as many lionfish as possible" before the competition ends.
"Our goal is just to cull lionfish in general," Mr Jackson said.
"A lot of the lionfish tournaments that happen will happen more in the winter or in calmer periods but, as we've been seeing, there are lionfish present when the waters are warm as well. So there should be, I think more frequent cullings that happen to the lionfish on our reefs in Bermuda.
"This one is run through me, not the entire lionfish culling organisation in Bermuda, so the amount of people will likely be a little bit smaller. I don't expect us to hit the numbers that they hit. It's just nice to see everyone involved and working together to fight this menace that we have on our reefs."
He has been a lifeguard since 2016, although he missed last summer because of course work he was doing at Canada's Dalhousie University.
Back on the beach this year, he thought a lionfish tournament may help educate the public a bit more about the Bermuda Lifeguard Service.
"Every year we like to do some sort of community outreach event," he said.
"Usually we'll do things at the aquarium — like a water-safety talk to a camp — or we'll do beach clean-ups, stuff of that sort. And I just thought this was a good idea to get more people involved that are [not lifeguards].
"Anyone can get involved and help out. It's free to get involved and there's a sponsor prize from Bda Spirits."
Once a lionfish is caught, the information must be documented within the two-week period to qualify for three prizes: $200, $100 and $50 worth of merchandise from Bda Spirits.
"You have to submit it to me with your lionfish permit number as well as a photo and the location of the catch," Mr Jackson said.
"You have to also document where you caught it on the actual lionfish.bm website just to make sure we're doing everything by the book and so people can know where there have been lionfish sightings in Bermuda and go back and continue to cull at those locations where they have increased numbers of sightings."
• To get a lionfish licence, look for the Bermuda Lionfish Culling Programme on Facebook or e-mail permits@lionfish.bm. To sign up for the lionfish tournament, visit mrtjackson68@gmail.com or call 535-6365 on WhatsApp