Nine children was no problem for Ayers, 91
Created: Nov 25, 2020 08:00 AM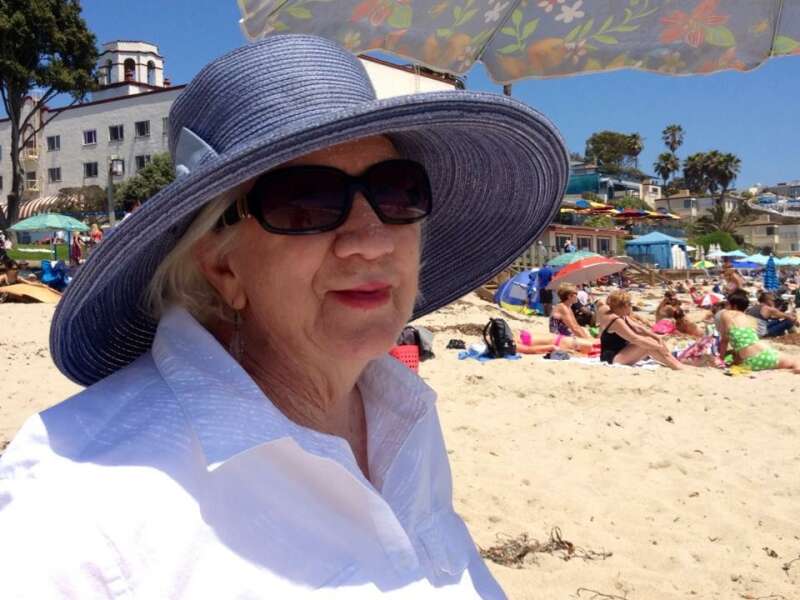 Dorothy Ayers has many fond memories of Bermuda, the place she once called home.
The 91-year-old was born here but pulled elsewhere – first by her parents, Robert and Cecily Henderson, and then by her husband Leo.
The latter, a lieutenant in the US Navy, travelled frequently. As a result the job of raising their nine children – Janie, Ray, Mark, Kim, Susan, Scott, Meagan, David and Matthew – was largely hers alone.
Fortunately, she was up to the challenge.
"I actually wanted to have a dozen like my grandmother, Harriott Giavalie Ray," laughed Mrs Ayers, who lives in San Diego, California but regularly visits Bermuda to see family.
"I spent my life on my knees saying prayers in the middle of the night when my children got sick."
Her parents met after her father arrived from the UK in the 1920s to work as a police officer.
The family lived in Portland Square, near the oil tanks now stationed at the gates of Dockyard.
Mrs Ayers fell third in their line of children – behind Donald and Joan and ahead of Gordon and Rosanne. When she was eight years old her parents moved the family to Middlesex.
"When it came time to leave for England there was bad weather," Mrs Ayers said. "It was October 1936. We were told we had to take this tug out through the reefs to the ship."
In order to get on, everybody had to walk the gangplank.
"Everyone was hanging on to everyone else, and the swells were making the ship list back and forth," she said. "But we did make it aboard."
They returned to Bermuda after two years. Her brother Donald was being pressured to join the Royal Air Force and her father, guessing there would soon be another war, wanted the family to be safe.
"It was a wise move but he left family in England and his father died in the blitz," Mrs Ayers said. "He had a large family too."
This time they headed east, living in Tucker's Town and on Harrington Sound before eventually moving back to Dockyard.
"My father loved the Dockyard," she said. "He joined the Dockyard police. His brothers also came out and worked as police officers."
She and her siblings loved to sail. Mrs Ayers swam competitively in races held at the old Eagle's Nest Hotel in Pembroke.
"We would swim against Saltus Grammar School and everyone else," she said. "The boys were bullies. They would push us girls. And they would come along and say 'Oh, you can't swim'. And then we would take away first prizes."
At 11 she started typing and shorthand classes on Saturday afternoons. The following year she left school and was put to work.
"I was a signal girl," she said. "I guess I got the job because I had a little bit of knowledge. I knew how to type pretty good, although I was just a learner. I was not required to do shorthand. I worked doing ship-to-shore dispatches about victualling, which is all the foods and such that went to the ships when they came in.
"Down below the victualling yard, they had huge barrels of rum. All the sailors in the British Navy got a shot of rum every day."
In the evenings she went to the Bermuda Commercial School in Paget to learn secretarial skills.
Her first job when she graduated was at the Wartime Supply Commission on Reid Street.
"I was writing out ration cards," she said. "It was after the war but people were still on rations."
Mrs Ayers ultimately joined the US Navy base in Southampton because "it paid better money".
It was while working in the Supply Department that she spotted her future husband.
"He was just walking through the office. I thought he was awfully good looking. That was my downfall," she laughed.
Later, she spotted him at a dance and they started talking.
They married on February 24, 1948, and moved to the United States soon afterwards.
Originally from Charleston, South Carolina, Lt Ayers served in the Second World War, the Korean War and the Vietnam War. He was referred to as a "mustang" as he enlisted as a seaman apprentice and went through the ranks before being honourably discharged. He also played an active role in the atomic testing on Johnson Island in the Pacific.
The Ayers family moved through Texas, Illinois, South Carolina, Washington State and California; for eight years they were stationed back in Bermuda.
Wherever they lived, their children were always well organised.
"I put a chore chart on the wall and everyone had a colour," Mrs Ayers said. "My children grew up to make their beds, sweep the floor, put the trash out, feed the animals, all with me. I worked alongside them.
"They never told me they were bored. We had home schooling during the summer. We did that the first hour of the day, so when they went back to school they would be top notch."
She described herself a disciplinarian, but not mean.
"I trained the first two so the rest of the children didn't get away with anything," she laughed. "They were a wonderful bunch of children."
She returned to work as they got older, working as a social services assistant in a hospital. Her husband died in 2011.
Throughout Mrs Ayers's life, singing was her passion.
"Singing was what kept me alive," she said, explaining how she had always joined a choir wherever she lived. "If you played a note, I could hit it. I could sing bass and first soprano. I could hit a high note of C, and also sit with the men and practise with them. I could sing a good bass. I didn't know you weren't supposed to be able to do this until years later."
Mrs Ayers would love to hear from people in Bermuda who remember her and her family. E-mail her son David: dayers_@hotmail.com.
Lifestyle profiles the island's senior citizens every Wednesday. Contact Jessie Moniz Hardy on 278-0150 or jmhardy@royalgazette.com with the full name and contact details and the reason you are suggesting them