Nurturing a love of music and movement, for 25 years
Created: Dec 14, 2020 08:00 AM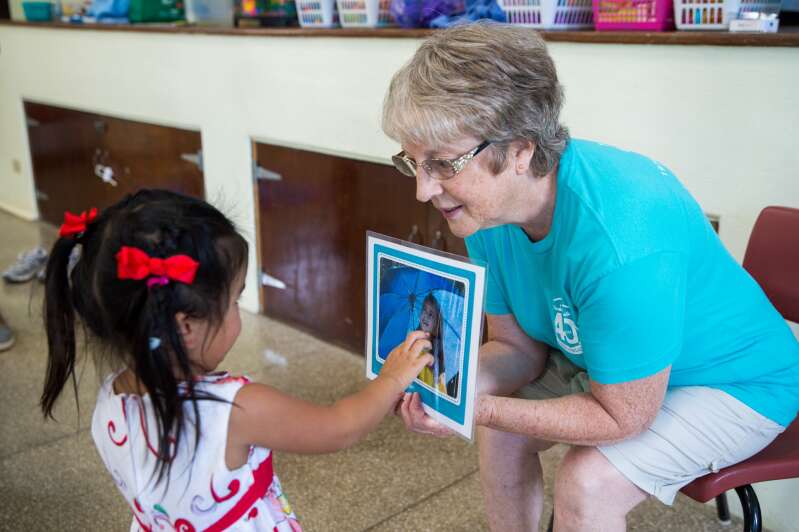 On Friday, Suzanne Dunkerley sang a final song on Zoom with her students, most of whom were too young to understand she was saying goodbye.
Covid-19 had hastened her planned retirement from Kindermusik with Suzanne, the music appreciation programme she started 25 years ago. Classes will resume in January with Alexandra Lima at the helm.
"This has been really hard," Ms Dunkerley said. "We had planned a 25th anniversary party in June and then that was obviously unable to happen. The party would also have been the time to announce the gradual transition of the teaching to Miss Allie and my plan to retire in June 2021.
"Announcing my earlier-than-planned retirement and saying goodbye to people via e-mail, phone or Zoom has not been ideal, but has had to happen that way. This past week I have been holding some fun classes via Zoom for families that I have had enrolled in the last couple of years, as a way to say goodbye. While we still haven't been able to do so in person at least we have been able to see each other via a screen."
The former Menuhin Foundation teacher launched Kindermusik with Suzanne on the back of the success she'd had with her daughter and the children of a small group of friends.
"Because the other parents knew I taught violin they suggested I do some basic music with the children," she said. "At that time my youngest violin students were six to seven years old and doing music with three year olds was a completely different prospect."
A friend suggested Kindermusik. What she found most appealing was that it allowed her to "have such fun with children". Parents were especially receptive as there wasn't much in the way of activities for babies and preschoolers in Bermuda then.
"I trained to become a Kindermusik teacher during two consecutive summers in the US and started teaching my daughter and four friends in 1995. The following year I ran two classes as there were now siblings old enough to start and it just gradually grew from there. Word of mouth spread that I was teaching Kindermusik and I added more classes as the demand grew."
The weekly lessons were suited for newborns, and children up until age seven. It exposed them to "singing, dancing, laughing, instrument playing and storytelling", with the classes backed by "Kindermusik International's team of early childhood music experts as well as the latest research on how children learn best".
Parents were provided with "tools, tips and resources" on music and movement and have access to Kindermusik material they could use at home.
For every year since 2002 Ms Dunkerley has been awarded Top Programme status for her classes, placing Kindermusik with Suzanne in the top five per cent of the more than 5,000 Kindermusik studios around the world.
With the lockdown in March, she moved her classes out of Stephenson Hall, at Centenary Church in Smith's, and began streaming them live from her home.
"I had not even heard of Zoom in early March so it was a steep learning curve but, once we figured out how to use it, it worked well," she said. "Obviously in-person classes are ideal but Zoom classes still incorporate all the Kindermusik elements."
The lessons didn't demand that children focus on the screens; they could instead rely on the instruction provided by parents who had the option of being on or off camera.
"One of the core components of Kindermusik is adult and child bonding and that works equally well on Zoom as it does with in-person classes," Ms Dunkerley said. "One of the advantages of the Zoom class during lockdown and beyond was that working parents were able to more easily attend the classes. One father was able to participate with his 6 ½-year-old son, which he could not normally do with his work schedule.
"In the older classes, the children learn to play the glockenspiel, dulcimer and recorder – and the father learnt them all during his son's classes. When the son graduated from Kindermusik in June the father was able to play the same pieces as his son. We hear so many negatives about Covid but to me – this was a real bonus."
It was one of the many highlights Ms Dunkerley experienced during the programme, along with seeing the development of children who spent the entire seven years with it.
"I really love teaching children and the past 25 years of teaching Kindermusik have been so rewarding and fulfilling," she said. "But I am really happy that Kindermusik will still be available in Bermuda as Miss Allie starts her own programme, Kindermusik with Bermuda Kids, in January.
"I started violin lessons when I was ten years old and music, in one form or another, has been a large part of my life for over 55 years and always will be. Retirement will enable me to pick up the violin more than I have done recently. I might even learn a new instrument! I also love photography and am looking forward to spending more time doing that. I'm not quite sure what's going to happen next because everything is still so uncertain at the moment. I'm going to take the opportunity to step back, take a deep breath and take some time to think about future possibilities."
Her goal now, as it was 25 years ago, is to expose children to "a love of understanding of music" – something she feels that Kindermusik does.
"It also introduces them to movement, to creativity, to exploration, to thinking outside the box, just finding ideas and working on them," she said. "I think my intent was never to be creating a lot of little musical prodigies but to give children a love for music as well as for exploration and being creative through music.
"As adults when we play instruments we know how those instruments are meant to be played. We have a preconceived notion as an adult of this is what I do with that particular instrument. With children, if I put out a selection of instruments they will combine them in completely unexpected ways and I encourage them to do so. I don't necessarily tell them this is meant to be played like this, but rather, 'Oh, I wonder what you can do with this?'"
For more information on Kindermusik with Suzanne visit kindermusikwithsuzanne.kindermusik.com. For classes with Alexandra Lima in January, e-mail info@bdakids.com