Love on the River Thames
Updated: Dec 18, 2020 10:15 AM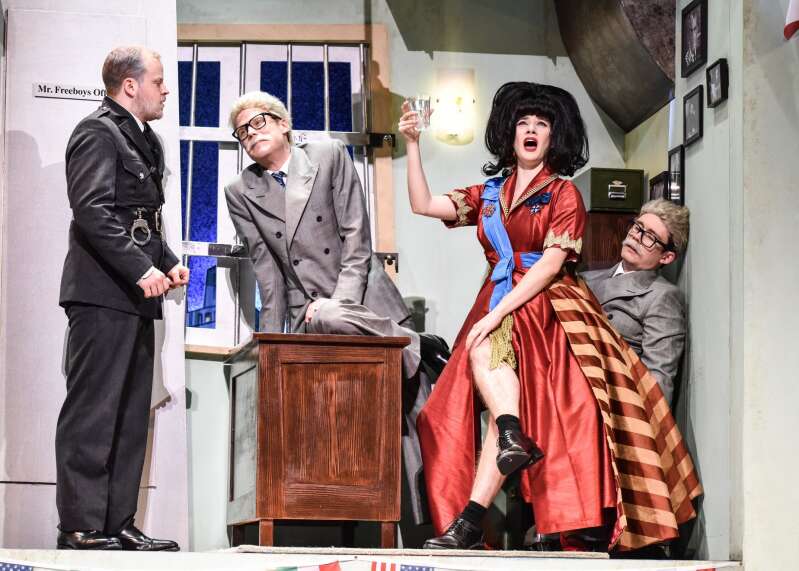 Julia Frith was performing in a lead role in a West End production.
Her husband, Adrian Kawaley-Lathan, was enjoying his job with the Bertha Foundation, a social justice organisation also in London, England.
When the pandemic threw up challenges the newlyweds decide to tough it out on a houseboat on the River Thames.
"Even before we were married in August we always talked about living on a boat," Ms Frith said. "When we went into lockdown and I wasn't working and Adrian's office closed, it seemed the perfect opportunity to try it out."
Like stage actors everywhere, she lost her job when Covid-19 made theatre-going impossible.
Initially, she embraced the chance to sleep regular hours like "normal human beings".
"But after two weeks I really missed the stage," Ms Frith said.
She'd played Caprice in The Comedy About A Bank Robbery at the Mischief Theatre since August of last year.
"It was very silly and really fun," said the 25-year-old who landed the role right out of university. "It was the ultimate dream come true."
Since then her feelings have been up and down.
"Sometimes I think I hate the world and will never work again," she laughed. "Then I wake up the next day and think, 'Oh it's fine. Things will work out as they should.'"
The couple moved onto the river boat two months ago, thrilled that the rent was half the price of a one-bedroom apartment in London.
"We're renting it until February," said Ms Frith. "It's a beautiful wide beam - 10ft wide and 55ft long. We've got a lovely kitchen, living room, big windows - so lots of light - an office for Adrian, a bright shower room and a bedroom with lots of storage.
"It doesn't feel like being on a boat. Actually, the layout makes it feel spacious and open."
Despite that, they have given up the idea of having a tree; with winter ahead they have taken on "loads of firewood".
The boat is powered by a fuel-efficient diesel engine, and heated with a wood stove. Normally, river boats on the Thames without permanent moorings have to move every two weeks; thanks to the lockdowns brought on by Covid-19, the Bermuda couple is able to stay put in an area called The Pond, near Paddington.
"It is one of the most beautiful spots on the river near London," Ms Frith said. "There are swans outside."
She has been saddened by the impact that Covid-19 has had on British theatre, especially now when Christmas pantomimes are usually popular.
West End shows reopened at 30 per cent capacity for two weeks before London returned to a strict lockdown on Wednesday after coronavirus cases soared.
"Earlier this week we went to see a friend's performance in a Christmas pantomime," Ms Frith said. "But he has only been able to do four shows before closing again.
"Many theatres are really relying on their patrons to get through this."
Mr Kawaley-Lathan ran his own company, Rockfire Productions, until three years ago when he sold it and moved to the UK.
He has worked as the creative director of the Bertha Foundation for the past year.
"He is creating these programmes for people around the world to apply for funding so they can connect activists and lawyers together and create documentaries from grassroots communities," Ms Frith said. "So it is not like people from overseas coming in to tell the stories of people they don't know very well. It is the people themselves telling the stories."
After spending the summer in Bermuda, the couple returned to London on November 4, the day before the second lockdown went into effect in England.
"We came back for Adrian's work because his office opened up," she said.
The office quickly closed again, and her husband resumed work from home.
The pair got to know each other well in the 2012 Bermuda Musical & Dramatic Society production of Aladdin when Ms Frith played the beautiful princess.
"Adrian came on to do the choreography at the last minute," she said. "We had been friends for a long time and our friends were also friends. Our families had also known each other for ages.
"We worked at Rockfire Productions together for a while just as friends, until we fell madly in love."
Both free divers, they miss Bermuda's warm waters but England offered other opportunities for them both. Having auditioned, Ms Frith is hopeful she will soon return to the stage.
"It takes time," she said. "I won't know for months if I got the part. But I just to have the auditions and say, 'I am available. I am here. I am ready to go if you want to go tomorrow.' I think that is really important."