A hand brilliantly planned and executed
Created: Aug 06, 2022 07:58 AM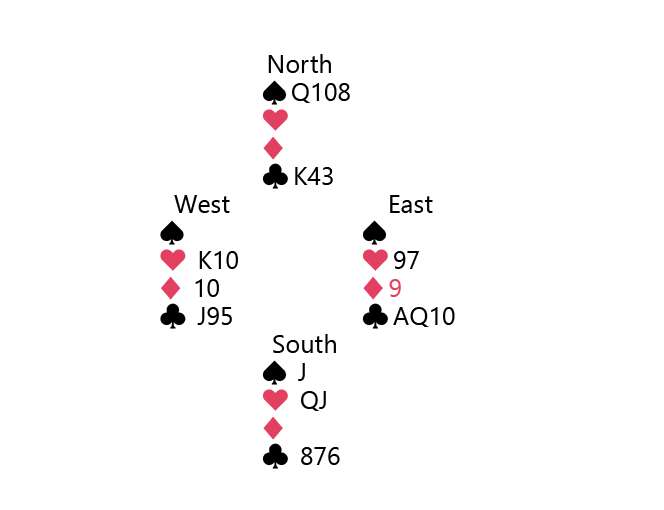 This week's hand saw a variety of results at the table even though the opening bid at each table with the South hand was 1NT (15-17).
See the hand in Figure 1.
At a couple of tables the North hand got carried away and drove to slam which was not pretty! North's hand is an attractive one opposite a NT opening bid but it is still a 12-point hand opposite a 15-17/16-18 NT so partner would have to be super maximum for the slam to have any chance.
At some other tables North made the bold, and reasonable decision to play 3NT, and on a heart lead made ten tricks for a great result. Most tables, though, saw North make a transfer bid to spades and South ended up as declarer in four spades.
A lot of West's led a trump and now it was up to declarer to work his way to ten tricks on a hand where all of the key cards – heart King, diamond Queen, or club Ace were lying badly for declarer. One declarer, however was up to the task!
He won the spade in dummy, drew the last trump with a spade to his hand, and then led a diamond to the Jack. This lost to the Queen and East switched to a sneaky looking 6 of hearts. Declarer, however, had a plan and rose with the Ace, played a diamond to the King, trump back to hand and cashed the diamond Ace throwing Dummy's last heart to reach this position (see Figure 2).
Declarer now played the heart Queen and when West covered ruffed it and returned to hand with a trump to play the Jack of hearts and discard a club – now declarer lost two club tricks but was already home and dry with ten tricks.
Was declarer lucky to find West with the heart King? Not really, because if East plays low on the heart declarer throws a club from dummy and this is the position when East wins the heart King.
Now any lead by East gives declarer his contract – a club would set up the King, a heart would allow declarer to win the jack and throw a club from dummy, and a diamond would allow declarer to ruff and throw a club from dummy.
Brilliant planning and execution!
BRIDGE CLUB RESULTS
Monday, August 1
1. Molly Taussig – George Correia
2. Joe Wakefield – Joyce Pearson
3= Wendy Gray – Richard Gray
3= Linda Abend – Felicity Lunn
Tuesday, August 2
1. Malcolm Moseley – Mark Stevens
2. Katyna Rabain – Louise Payne
3. Benjamin Stone – James Fielding
Wednesday, August 3
1. Wendy Gray – Richard Gray
2. Jane Smith – Gertie Barker
3. Magda Farag – Sheena Rayner