New coffee shop to open in Hamilton Princess
Updated: Feb 28, 2020 08:06 AM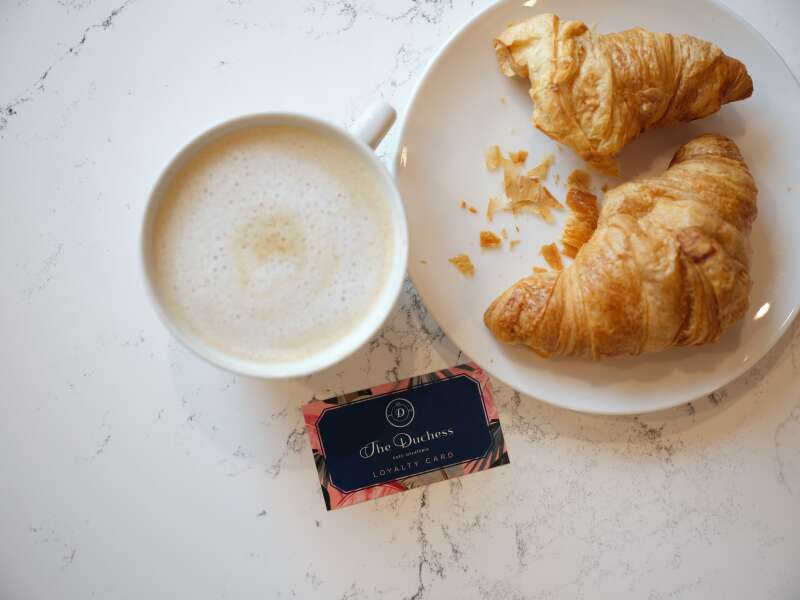 A new coffee shop opens its doors inside the Hamilton Princess & Beach Club on Monday.
It is called The Duchess, and it has created four new jobs for Bermudians.
The café will offer a range of teas and coffees, pastries, cakes, homemade gelatos, and lunch options. It will be open from 6am until 3pm, with extended opening until 5pm from April through October.
The café has been designed by BotelhoWood Architects with support from Bermuda Interiors, P&M, BAC and SoundDecision.
It features the hotel's signature pink in ceiling stripes, the banquette seating and piping on the chairs. The space also has a retro twist.
The café, like the hotel, takes its name from Princess Louise, Duchess of Argyll.
With sustainability in mind, the café will offer customers hay straws, bamboo cup holders, wooden cutlery and stirrers. Locally sourced ingredients continue to be a priority for the hotel, with the locally made baked goods and salads made with produce from Wadson's farm and J&J Produce, and roasted coffee from Devil's Isle.
"We are incredibly excited to be opening The Duchess Café and Gelateria at Hamilton Princess & Beach Club," Tim Morrison, general manager at Hamilton Princess & Beach Club, said.
"We have something for everybody: freshly made pastries, delicious coffees, breakfast and lunch for those on the go and fun milkshakes — made with our very own house made gelato. It's the perfect place for the whole family and we look forward to welcoming our guests and community to The Duchess."
Examples of offerings include savoury breakfast sandwiches, Italian Prosciutto Baguette, Pressed Pulled Chicken Focaccia, Low Carb Grilled Salmon Salad, as well as the signature Duchess Cake (funfetti with strawberry buttercream), Bailey's Chocolate Cake, Marcus' Carrot Cake and Guava Cheesecake.
The Duchess' website will go live on Monday at: https://www.thehamiltonprincess.com/dining/duchess/ and it can be followed on social media at @DuchessBermuda on Instagram.