Small businesses lukewarm on relief plan
Created: Apr 17, 2020 09:00 AM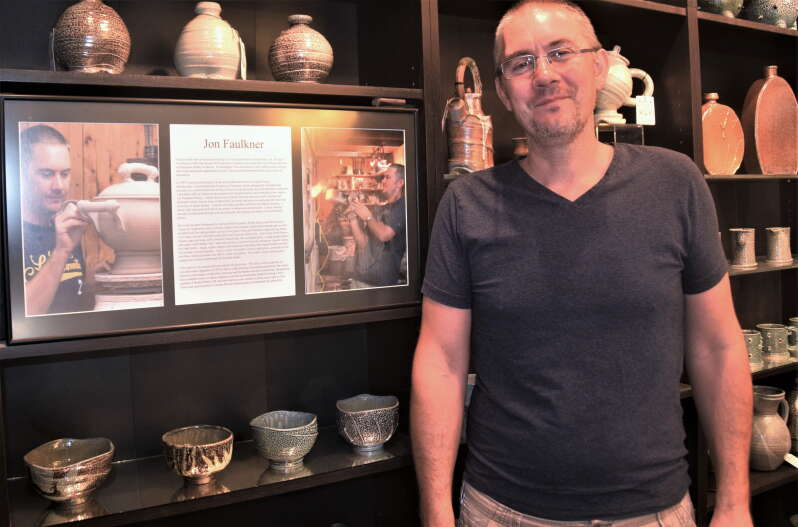 Government's new economy stimulating measures received a lukewarm response from some small business owners.
On Wednesday evening finance minister Curtis Dickinson announced an assistance programme that includes $12 million from the government to back loans and grants for small and medium sized businesses, administered through the Bermuda Economic Development Corporation.
Kristen Carreiro of ModBlu on Reid Street in Hamilton, said she would not benefit from the Government's proposal, as it stands.
"I borrowed money four years ago and am still paying it back," Ms Carreiro said. "I don't think it is wise, from a business perspective, to put myself further in debt."
She thought the proposal might better help people who were in the process of starting a business.
"It might help people who have maybe been sitting on a business idea for a long time, but have been nervous about securing funds," she said. "It might help people who have lost their job and want to start their own business. It might help some businesses who feel they do need a bit of a boost through these next couple of months and have confidence in their revenue streams."
She accepted that Bermuda is in unchartered territory.
Ms Carreiro said the "saving grace" would be if ModBlu, a clothing boutique, were allowed to make deliveries.
"I started a website almost a year ago in June," she said. "When restrictions started in March, we were doing kerbside pickups and so many deliveries. But I understand why we can't do it. It is definitely hard."
Rebecca Singleton of clothing retailer TABS Bermuda, on Reid Street, also said being allowed to make deliveries would be beneficial.
"I appreciate all the efforts that the finance ministry, BEDC and all the other individuals are making to help small businesses get back on their feet," she said. "For my business, I need to find a way to operate in this new environment."
Her biggest concern was around distribution and how to get the product to customers in the safest way possible.
"Consolidating efforts through a local delivery company, like the Bermuda Post Office or Sargasso Sea, would be a way to keep local retail going," she said. "Most of us are online now and if we can work together to distribute our products we can continue to operate."
She said the injection of cash would get some small businesses through in the short term.
"But because no one knows how long the Covid-19 crisis will last, we need to adapt our business models accordingly.
"I hope we can work together to find a sustainable solution to help all small businesses operate in some capacity," she said. "I believe contactless distribution should be one of the first considerations."
Clothing retailer Terrylynn Doyle of Strictly Vintage by Terry, on Court Street, was waiting to learn about the finer details of the proposal.
"I really can't afford to take out a loan right now," she said. "I might need help with my rent. There is such a level of uncertainty. I am lucky in that it is just me. I don't have any employees. A lot of businesses in North Hamilton were already struggling before Covid-19 hit."
Jon Faulkner called the small business stimulus package "terrible".
"Government have basically told the private sector to go out and get a loan," said Mr Faulkner who runs Jon Faulkner Gallery in Dockyard. "I'm appalled with this."
Mr Faulkner said it looked as though small businesses would be put into huge amounts of debt while the Government and quangos, did business as usual.
"Where are the tax cuts? Payroll tax, land tax, import duties?" he said. "Why are they not urging commercial landlords to lower rents? Many Government employees are sitting at home being paid right now, paid for in part by the small business taxpayer. Small business owners are sitting home not being paid and faced with this terrifying situation."
He thought many small businesses were now faced with either "pulling the pin and shutting down" or getting into a mountain of debt.
"The small businesses needs to know that Government has its back," he said. "Then the small business operator will continue to push their passions and hard work into their ventures.
"I'd rather go bankrupt knowing I had a government that was trying hard for me than pull out early and cut my losses. On one hand I'm really impressed with Premier Burt's handling of the Covid-19 situation, but so very disappointed in Curtis Dickinson's stimulus package."
Sarah Burrows who runs the Bermuda Fudge Company in Dockyard said her business depends almost entirely on cruise ships.
"Without the cruise ships there is no business," she said. "I have closed up. It is a wait-it-out game."
She felt fortunate not to have any loans.
"I have always bought my stock in cash," she said. "Me personally, I am not looking to the Government for anything."
But Ms Burrows thought Bermuda's politicians could follow the way of New Zealand and take a 20 per cent pay cut.
"I think it would be a good gesture if the government MPs themselves, during this period, took a pay cut," she said. "There are an awful lot of people feeling the pain."
But some local entrepreneurs were reserving judgment, until further details, particularly information about the grant side of the proposal, is revealed.