Little Mexico to offer taste of Central America
Updated: Sep 15, 2011 10:10 AM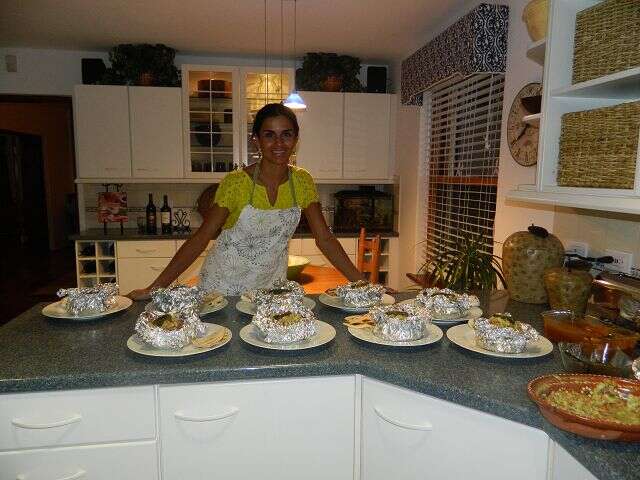 A taste of Central America will be coming to Bermuda with the opening of a new mobile Mexican eatery in Hamilton today.
Little Mexico, which will be located in Wesley Square on the corner of Wesley and Church Streets by the City Hall parking lot, is run by Teresa Humphrey and her husband Emanuel and claims to be the only one of its kind selling authentic Mexican cuisine on the Island.
The launch will coincide with Mexican Independence Day or Grito de Dolores which will be celebrated across the world today.
The business was actually started five years ago with Ms Humphrey selling her wares at the Farmers Market and building up a good following for her fajitas, burritos and salsa.
And now she is planning to fill a niche in the market for fresh Mexican fare prepared using locally-grown produce and Cabo San Lucas regional recipes passed down through generations of her family with dishes to suit all tastes from mild to spicy.
"I want to give everyone the authentic Mexican experience," she said.
"I learnt to cook through my family. My brother is a chef and my mother bakes wedding cakes, so it runs in the family.
"I just thought that there was a need for good authentic Mexican food in Bermuda so I decided to open this restaurant."
Through the help of her family and friends and some hard work, Ms Humphrey has been able to turn an idea into a dream of having her own business and plans to open a fully blown restaurant with a proper kitchen, and Mexican music and atmosphere.
"A number of people have seen the wagon on the street already and have been enquiring about ordering some food and a lot of my clientele have been asking about it, so it is good to see there is some interest," she said.
Among her offerings will be Baja style fish, shrimp and vegetarian tacos, chicken and beef fajitas, beef chimichangas, homemade nachos, fresh salsa and chips, guacamole, fruit salas, banana, carrot-pineapple bread, chocolate flan and fresh mango, pineapple, lime and watermelon drinks.
Little Mexico will be open from Monday to Saturday between 9am and 4pm serving breakfast and lunch.
Ms Humphrey also provides catering parties and corporate events.
For more information contact 533-2327 or visit the website at www.littlemexico.bm