Double closure blow for St George's
Updated: Mar 30, 2012 08:59 AM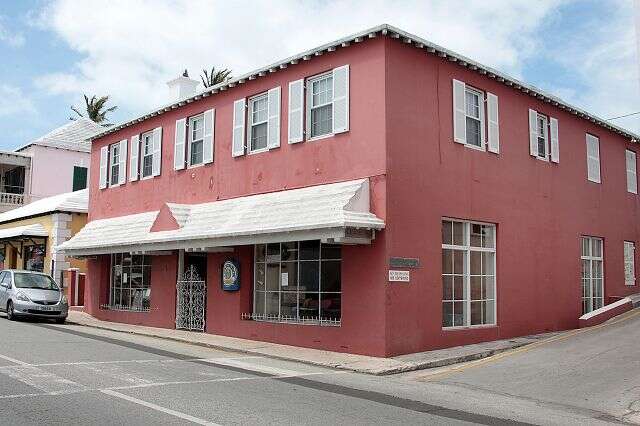 After decades in St George's, AS Cooper's has pulled out of the Old Town and the Cracker Box souvenir store has closed its doors, dealing a huge blow to the World Heritage Site's struggling retail scene.
The shock closures come as St George's braces for a third season without a regular cruise ship and no movement on the proposed Park Hyatt resort (see separate story).
"There was no business. It's simple," Cracker Box owner David Rowntree said yesterday. "We could not cover the costs. The economy and tourism in St George's are dead!"
AS Cooper's managing director Somers Cooper gave a similar reason.
"We really tried hard to make it a viable concern," Mr Cooper said. "But we just can't afford locations that don't pull their own weight in these economic times."
St George's businessman and former Mayor Henry Hayward yesterday slammed what he said was a continued lack of investment by Government in tourism in the historic town.
He said a second mega-cruise ship berth was unnecessarily built in Dockyard "at the expense of St. George's".
"After spending $60 million on the Heritage Dock at Dockyard Government not only does not have the money but does not want to admit it was a mistake in building the dock at the West End instead of making the decision on Town Cut or building a dock in Murray's Anchorage, which was suggested going back to 2008."
Mr Hayward said the
Veendam this season will go straight to Hamilton and not stop in Murray's Anchorage. St George's is scheduled to get five one-off small cruise ship visits this season, with the first calling next weekend but it may get none in 2013.
"The other item that needs to be decided is allowing the cruise ships to open their casinos while in port," he said. "Decisions are being made now for the 2013 cruise schedules. The decision not to allow them to open could mean less ships coming to Bermuda for 2013 onwards."
AS Cooper's, which has long had a St George's presence, moved across to the former Trimingham's space on Somers Wharf when that department store closed down in Bermuda several years ago.
Mr Cooper said when the town had a dedicated cruise ship there was a lot more foot traffic on Somers Wharf.
"Closing the St George's store was not something we wanted to do," he said. AS Cooper's will continue to operate its branch stores in Dockyard and the Fairmont Southampton.
Cracker Box on York Street, known for its large collection of shells and Bermuda souvenirs, had been in business in St George's for more than three decades.
"Over 30 businesses have closed altogether in St George's," Mr Rowntree estimated. "After 34 years in business we decided enough is enough. A cruise ship at the dock and a hotel would solve our problems."
Mr Rowntree said improved transport of tourists by bus and ferry to the East End could have helped, but last season transport was "completely unreliable" with repeated cancellations and breakdowns affecting the schedules.
Mr Rowntree said his store employed two full-time staff and three to four seasonal staff.
He said he and wife Wendy are looking to lease the Cracker Box space and keep their Hodge Podge store in Hamilton open.
Mr Hayward said a large part of the Old Town's problems stem from cruise policy.
He added, however, that Government had not even at the very least supported the building of a waterfront boardwalk as recommended in the Town Heritage Plan.
Mr Hayward said the second cruise ship berth was built "against St George's best interest" and contributed to transportation "chaos" in the West End with several thousand passengers plus a few thousand crew descending on Dockyard at one time.
Making matters worse for the Old Town, he said, the ferry terminal was built in a location - supported by the area MP at the time - but over the Corporation of St. George's objections. Now there is no money to move it to a more accessible and visible location, he said.
"It did not make sense to build the second berth at Dockyard," Mr Hayward said. "What you have now is two large vessels berthing at one end of the Island with 8,000 passengers plus 2500 crew all in one area. When you had smaller ships berthing in St George's, Hamilton and Dockyard you had the same number of passengers and crew however they were spread over the entire Island thereby putting less stress on transportation and giving the passengers a better experience."
Mr Hayward also said: "Although the subject keeps coming up about getting small ships for Hamilton and St George's it is not going to happen.
"The cruise business has changed and the larger the ship the better return it is for the shareholders. This was obvious going back to 190⅞ when notice was given that the
Norwegian Majesty was finishing in 2009. Plans should have been made then as to how St George's was going to be served in the future.
"A detailed study should have been done on Town Cut which was not done until late 20011/12. The results of the study was that to alter Town Cut it would cost $70 million plus losing three Islands on the eastern side of the Cut. Two Rock in Hamilton is going to cost $60 million. There was very little support for losing three Islands in St George's and that is why I have been pushing a berth on the northern side of St George's which could accommodate the largest cruise ship in the world and is within walking distance to the Town.
"It would be nice to have a cruise ship in Hamilton but it is not as essential as in St George's. Hamilton has the International Business etc. St George's has nothing other than the World Heritage designation and its history. Shops are struggling and nothing is being done. Bazarian's time has run out. Either he starts construction or a cruise pier is built in Murray's Anchorage."