Pension investors can trade own funds under new Freisenbruch-Meyer plan
Created: Mar 25, 2014 09:00 AM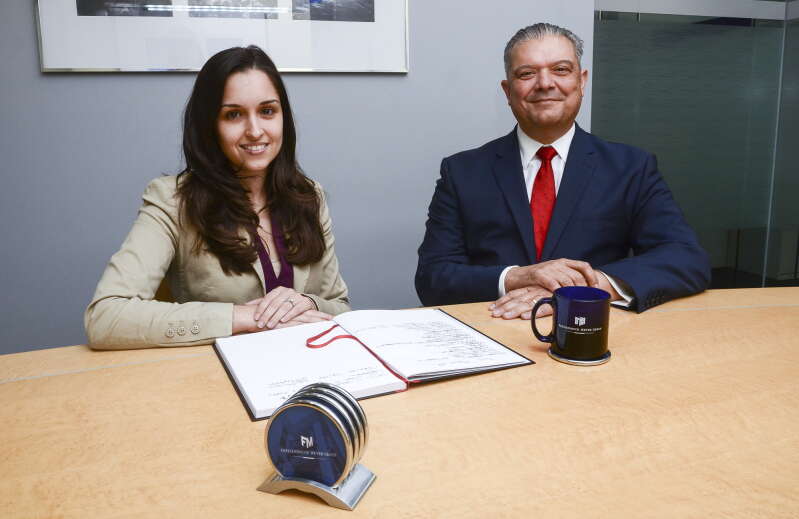 Freisenbruch-Meyer Group Insurance is offering a new kind of retirement plan.
The new offering utilises the Group's in-house funds, which also allows clients to self-direct the investments they hold in their pension plan, trading them at will online.
Administrative vice-president pensions for Freisenbruch-Meyer Group Sarah Araujo said: "Our clients can select the funds they like, and manage the portfolio themselves — which is great!"
Freisenbruch-Meyer Group executive vice-president William Madeiros said: "This is particularly attractive for those who feel comfortable in front of a computer.
"The unique features are — you do this in real time in your own time, you can do it from the comfort of your own home, and the funds are valued daily."
He explained that when they introduce the pension plan, Ms Araujo will personally go and see clients. "Sarah leads our education effort. Immediately following an education seminar, everyone wants to go online and trade!"
She said they meet with clients both when they begin running their pension funds, and also on an annual basis, explaining: "We are saving for retirement — the purpose is retirement. At the end of the day, you want your money to work and do what you should expect it to do.
"And there's nothing to stop you logging on and seeing how your funds are doing today."
Ms Araujo added: "We are unique in that we offer that flexibility for the clients."
Fees are competitive and transparent, said the two executives. "We understand that the industry average is 1.5 percent — at Freisenbruch Meyer, the fees are under that — and we are completely transparent."
Mr Madeiros said the plan is especially attractive for young professionals. "If you have an academic background and you are IT savvy, it helps. We actively encourage this kind of thing."
Freisenbruch-Meyer offer a global service to local and exempt companies, with a range of Bermuda, international, and US retirement plan designs, installation administration, and investment services. They have joined forces with a company called FM International Services NY, Ltd. (FMi) through which they are able to offer US-compliant retirement plans.
Their website states that the companies can offer a 401(k) plan for all US taxpayers and a US non-qualified deferred compensation plan for their US tax paying executives.
Ms Araujo said: "We like to think of ourselves as having real flexibility with our products. We have something for everyone here — which is great."
For information, go to saraujo@fmgroup.bm or call 296-3600 ext 246.