Real estate sales picking up
Created: Oct 26, 2017 08:00 AM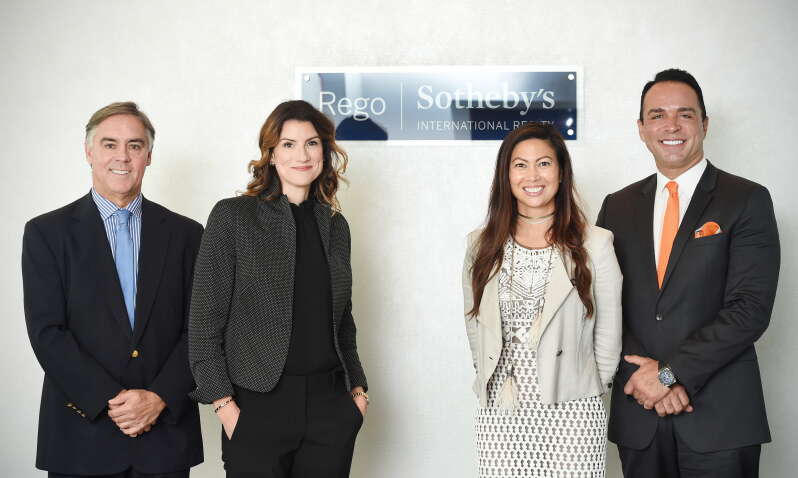 Rego Sotheby's International Realty has been "flat out" over the past three weeks dealing with a sudden pick-up in high-end property market activity.
The firm has built up its sales team in recent months, mainly because of its role in selling new developments, and now has 31 employees.
Principals at the firm could only speculate on the reasons behind the recent uptick in business. Buddy Rego, Rego SIR's president, said there appeared to be some pent-up demand.
"I've had two clients who have been looking at property in Bermuda for close to three years and, for whatever reason, have now decided to commit," he said in an interview.
Penny MacIntyre, partner at the firm, said July's election may have influenced the market.
"With any election, there's uncertainty beforehand and afterwards and people hold off on making decisions," she said. "Now people are making decisions."
This week the firm was visited at its new Front Street offices by executives from Sotheby's International Realty, the global firm with which Rego SIR is affiliated.
Julie Leonhardt LaTorre, who became SIR's new chief operating officer five weeks ago, made Bermuda her first affiliate office call and has been meeting staff and clients during her three-day stay, along with Michael Valdes, SIR's global vice-president of international servicing.
Ms MacIntyre said: "We've had to add people onto our team, particularly licensed agents, because we've got these exclusive arrangements with St Regis, Tucker's Point and we're the listing agents on The Loren."
Such branded developments with amenities were increasing around the world, Ms LaTorre said, and were popular with a the growing cohort of younger buyers.
"We've got a number of big development properties across the globe and we're able to work really closely with the local affiliates, to use local expertise but also to bring our global network and marketing power together to really best assist developers," Ms LaTorre said.
"In the next 30 to 40 years, there's going to be a transfer of wealth from boomers to millennials of something in the ballpark of $30 trillion.
"When you think about that and you think about their desire for branded residences and amenities, the developers are probably responding to that demand that they know will come from the generation inheriting this wealth and making purchasing decisions."
Ms MacIntyre said she was noticing that some younger people were buying higher up the property ladder than had previously been the case.
"We're seeing younger purchasers — some in their early 30s — who've decided to make Bermuda their home base and who have asked to be introduced to philanthropic contacts so they can give back," Ms MacIntyre said.
"This is the ripple effect you see when people come in. They come in with skill sets, capital and the wherewithal to be able to contribute to the community."
She added that the hotel-condo development The Loren, at the site of the former Pink Beach, was attracting a lot of interest, some from people seeking an investment property.
Mr Rego said, going by the past two years of data, about 50 per cent of buyers in Bermuda's luxury property market were from overseas — mostly buyers from the UK, the US and Canada.
But the market could broaden in the coming years, according to Mr Valdes.
"There are migratory patterns of wealth on a global scale," Mr Valdes said. "Two years ago we were talking about the Russians and the Brazilians and today we're talking about the Indians and Chinese, who are buying on a global scale.
"We had a goal to increase our international sales by 20 per cent — and we're on track to do that this year."
He added that Sotheby's was growing fast in Asia, particularly mainland China and India.
Asked about the impact of the America's Cup, Mr Rego said the after-effects were "yet to come".
"I guess most people spent their time in restaurants or on the water, watching the event, instead of shopping for houses," he said.
"But there's no question that many people came her for the first time. And the fact that the luxury market seems to be well up this year — that story is still to be told."
Reform of the tax system has been promised by the new Progressive Labour Party administration, with the wealthy a likely target.
Mr Rego said representatives of the real estate industry had met with government officials and made clear their view that increases in licence fees for overseas property buyers would be counterproductive and could hurt investment in new development, as well as property sales.
"The kind of buyers we're talking about are shopping around the world," Mr Rego said. "They'll look at licence fees and compare those costs with other jurisdictions.
"The Government gets more revenue when there are more transactions."
He also opposed further land tax hikes.
"We had huge increases in land tax with the prior government — exponential increases — so I hope they will look at other avenues of taxation," Mr Rego said.