'Chic and cheap' fashion at backyard boutique
Created: Jul 18, 2019 08:00 AM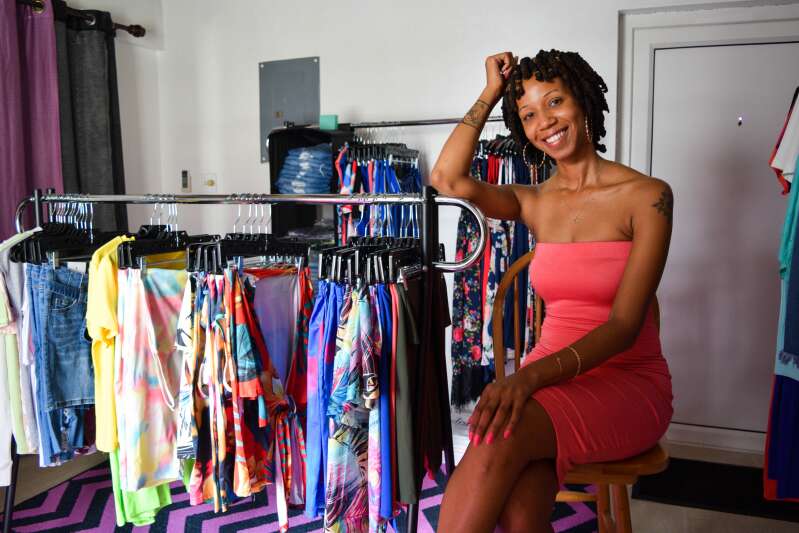 For years, Sharia Whitehurst chewed her nails over whether to start her own clothing line.
Would she be able to obtain funding to start a business? Would she be able to handle it while working a full-time job? Would she even sell anything?
But when she turned 39 in January, she decided it was time to put all her excuses and doubts aside.
"I just decided to get started and do it," she said. "I figured it is better to try and fail then never to try at all."
She launched Pretty Style Boutique on March 1. At first, she ran it strictly as an online store from a studio apartment.
"I had to deliver everything," she said.
After about a month she moved to Parson's Road, Pembroke and was able to open a by-appointment-only showroom out of the back of her home.
She describes the space as "a bit like a boutique store in Soho". Customers can sip mimosas or Prosecco while they browse.
"I have found that Pretty Style is the place my clients check prior to shopping online or simply for a more personal, quiet shopping experience when they don't want to deal with the 'headaches of town'," she said.
For now, things are pretty quiet. Three or four customers come by in the evenings during the week, and about the same amount come over the weekend.
Her dream is to one day have her own storefront.
"I give myself two or three years before I do that," she said.
She was born in Bermuda, but spent most of her early life in the Maryland and Washington DC area of the United States.
She got her first job at 15 at Bath & Body Works.
She trained at Gap, then honed her skills at retail outfits such as Charlotte Russe and Ann Taylor Loft. She moved back to Bermuda at the age of 27 and continued to work in retail, at first for Brown & Co, and later at Calypso.
"Working with my boss, Pierre Dutoya at Calypso, I was taught how to properly buy and price for the market, shipping and logistics as well as various customs procedures," she said.
"I was constantly coached to be better at my job and it is during my time here at Calypso that gave me the courage to finally say that I am ready to step out on my own."
She doesn't see any conflict between working for Calypso during the day and running her clothing business at night.
"It is an entirely different clientele," she said.
She described her offerings at Pretty Style as "cheap and chic" with a price range of $14 to $55.
"My clothing is cool, bright, fun, colourful, affordable and trendy, keeping up with the overseas market trends whether in Europe or the United States," she said.
Ms Whitehurst is determined to offer items unique for Bermuda. A few months ago she noticed one of her labels for sale on Court Street at a higher price.
She stopped bringing in that label and switched to something else.
"I just don't want to get into a price competition," she said. "I want to offer something different. I sell all different types of labels, nothing high end, because again it is cheap and chic.
"Right now I have a variety of cool labels and brands. I do tend to buy things I know I would wear, but as a buyer you have to think of not just what you would wear but also what other people would wear too."
So far she's had good feedback from her clients, many of whom have a range of similar home businesses they frequent.
However, Ms Whitehurst insists she's not adverse to competition and would like to do a fashion bonanza with other similar backyard boutiques.
"The more the merrier, as long as we don't overstep each other," she said.
Right now she's working on brand awareness, trying to get the Pretty Style name out there.
• Showroom hours are Tuesday through Saturday from 6pm to 9pm, and all day Sunday and Monday, strictly by appointment by calling 332-0380 or direct messaging her on Facebook under Pretty Style Life, Instagram under @Pretty_Style_Life or on Twitter @prettystylelife