Consumer confidence in real estate market 'best in five years'
Updated: Mar 10, 2021 04:57 PM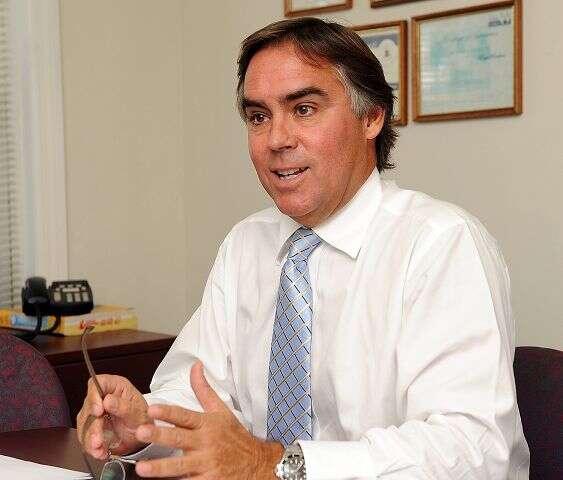 Consumer confidence in the real estate market in the fourth quarter of 2020 was the best it has been in more than five years, an end-of-year report by Rego Sotheby's International Realty has revealed.
Buddy Rego, president of the company, said: "The trends of 2020 spurred the rejuvenation in virtually every segment of our industry with increases in volume of transactions in the last quarter of 2020.
"The market has not experienced this level of consumer confidence in over five years."
Luxury residential home sales were up almost 150 per cent compared to 2019, while sales of "everyman's" condominiums improved 60 per cent by volume, although average prices were lower.
Of 2020 market activity, Mr Rego said: "We were virtually equal year-over-year in dollar and unit volume in spite of not being able to leave our homes at times nor travel as freely."
The company said it had anticipated a "depressed year" for real estate in 2020. Then the Covid-19 pandemic emerged at the end of the first quarter, "enhancing the expectation that market buoyancy and recovery would be non-existent".
However, following shelter-in-place, Rego Sotheby's said "buyer and seller priorities injected much needed momentum into the property market".
The company said those priorities ranged from:
• Flight-to-safety/quality of life by international prospects and locals returning to Bermuda to get out of congested gateway cities struggling with the outbreak exposure;
• Residents needing either more spacious homes to accommodate work-from-home and/or home schooling needs;
• Concerns over job security and potential lost wages driving need for smaller or less costly properties; and
• First-time home buyers with more disposable income in the absence of travelling and vacation spends seeking to buy on the heels of a depressed market.
The company said luxury residential home sales with an ARV greater than $126,000 increased almost 150 per cent over 2019 sales in the number of internationally available homes sold.
In 2020, 42 per cent of the internationally available homes were bought by Bermudians at an average price of $4.5 million, an increase from $3.365 million in 2019. The increase of 34 per cent in the average price is a result of more homes sold at higher price points with the highest being $11 million, the company said.
Fewer homes available only to Bermudians were bought last year based on the 15 per cent decline in unit volume compared to 2019. The average sale price dropped to $885,000 in 2020 from $960,000 in 2019.
The company said Bermudians were getting more value in the market place as sellers adjusted expectations to more reasonable market levels amid the uncertainty of the pandemic.
Rego Sotheby's said sales of "everyman's" condos rebounded in 2020 as "bargain hunters were out in force" for condos with an ARV below $25,800, sparking a resurgence of 60 per cent in sales volume over 2019 though average prices dropped six per cent to $244,000 in 2020.
The company said this marks the first time in the last four years that condominiums have seen an increase in volume sales over the previous year.
In 2020, sales of luxury condominiums with an ARV over $25,800 were down 22 per cent over 2019. The average price was $830,000 in 2020 versus $930,000 in 2019.
Rego Sotheby's said market confidence and better buying opportunities encouraged Bermudians to purchase more than 90 per cent of the condominiums sold – a level the company has not seen since 2012.
Last year saw a decrease in the volume of land sales by 14 per cent compared to 2019. Subdivision of notable lots of land at Riddell's Bay and White Crest Hill created more inventory for this year and next, the company said.
Six commercial properties sold in 2020 compared to seven in 2019. The company said recorded sales may not necessarily reflect all of the actual commercial property trades as corporate transactions occur where shares of companies are transferred to a new company holding the asset.
Rego Sotheby's said 2020 ended with an uptick in demand from owner occupiers seeking to purchase move-in ready or near move-in ready condition properties to properties with potential for repurposing or retrofitting in both prime areas and economic development zones across the City of Hamilton.
During the fourth quarter of 2020, as Point House construction progressed, demand for newly constructed Class A/A-plus office space increased causing a lack of inventory for high end office rentals, Rego Sotheby's said.
Searches ranged from 1,000 up to 30,000 square feet by users who either were relocating locally or international companies establishing a Bermuda presence in the re/insurance sector. Class A base asking rents varied widely from $45 to $90 per square foot depending on amenities, parking, location and views.
The company said the rental market was uncertain at the start of the year as many tenants unable to work struggled to pay their rent, while others delayed moving plans or had no choice but to stay in place after leases expired due to the island-wide shelter-in-place conditions.
Once shelter-in-place was lifted, the company said pent-up demand combined with the start-up of new companies and people being able to travel and move to the island turned the ordinarily quiet fourth quarter into the busiest quarter in the past five years.
Rego Sotheby's said the number of rental transactions completed by its agents and the average monthly rental rates achieved both increased over 2019 activity – replicating a pattern last observed in 2016 during the lead up to America's Cup.
The company said demand is currently high and supply is low in almost all property categories, presenting a potentially advantageous time for owners to place property on the rental market. It added there was evidence of bidding wars, with properties renting quickly and in some instances for higher than the market asking price, particularly for newer or modern properties in excellent condition.
Rego Sotheby's said 'Work from Bermuda' residential certificate holders took up practically all available fully furnished properties. Asking rates for properties sought after by individuals, couples and families ranged from $3,000 and up.
Rego Sotheby's said one certificate holder seeking a rental property has a budget of up to $400,000 per month.
The company said Bermuda's recognition as one of the safest places in the world during the ongoing pandemic continues to attract interest from local and international "lifestyle seekers". Buying opportunities and lower mortgage interest rates have helped stimulate renewed confidence in the property market, it added.
Looking ahead, Mr Rego said: "The buoyancy of the 2021 real estate market will depend highly on Bermuda's continued success in managing the pandemic and the Government's effective real estate taxation and land holding policies."