Expansion at Stationery Store
Updated: Jul 22, 2021 07:59 AM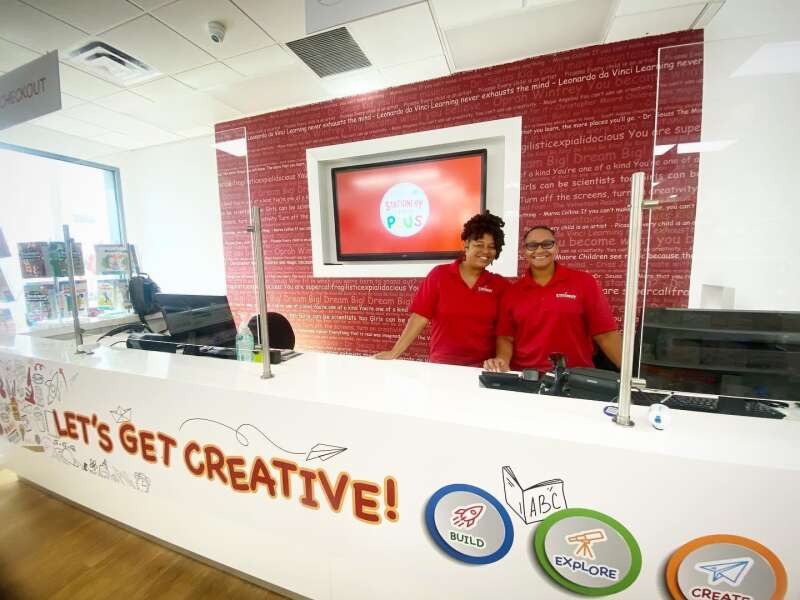 The Stationery Store has launched its latest expansion project: Stationery Store Plus.
The new outlet is located on the first floor of the Roger Davidson building on the corner of Reid Street and Burnaby Street, Hamilton, around the corner from The Stationery Store's Burnaby Street location.
A spokeswoman said: "By expanding our retail space we wanted to be able to inspire creativity ideas for our customers.
"Online retail definitely serves a purpose and we are happy to have our online presence. However, there are still elements of the in-store experience that we feel are not replicated online.
"The ability to see what is available in person and touch and hold the product are still satisfying. We have made significant efforts to improve our in-store customer experience."
Three Bermudian staff have been hired due to the expansion.
The spokeswoman said: "Retail shopping in-store in the City of Hamilton is an important way to get Bermudians back to work. We are very proud to play a part in helping the local economy."
Stationery Store Plus said it features the latest in educational, innovative and creative toys, games, products and crafts.
Highlighting some of the world's most prominent and trusted brands, it said its vision is to create a store that nurtures the minds of children and inspires them to explore the unknown all while learning something new along the way.
The spokeswoman added: "This is truly a passion project for us. The pandemic has had a significant impact on our children's learning and development.
"We want to be able to assist parents by having a wide selection of STEAM (science, technology, engineering, arts and math) products to allow children to learn through play.
"With both our Stationery Store locations we live by the motto 'Turn off the screens, turn on the creativity'."
The spokeswoman added: "Whether your child is interested in coding, sculpting, painting, music, building and more, Stationery Store Plus has something for everyone."
The store also offers a wide selection of products for artists of all ages, it said.
Janée Pitt, customer experience manager, said: "It was very important to us to create a space in our store that specifically caters to the creative minds of Bermuda.
"Our vision was to be a muse sparking creativity and inspiring artists to want to try new things.
"Whether you're a professional, beginner or crafter, we have something here at Stationery Store Plus to keep the creative ideas flowing."
Stationery Store Plus is open Monday to Saturday from 9.30am until 5.30pm and Sunday from 10am until 2pm.
The Stationery Store remains open Monday to Saturday from 8.30am until 5pm.
The Stationery Store and Stationery Store Plus are owned by Bermuda Press (Holdings) Ltd, the parent company of The Royal Gazette.
For more information about the Stationery Store and Stationery Store Plus visit www.stationerystore.bm.