How chef TeAnn keeps things fresh and R.E.A.L.
Updated: Oct 07, 2021 07:47 AM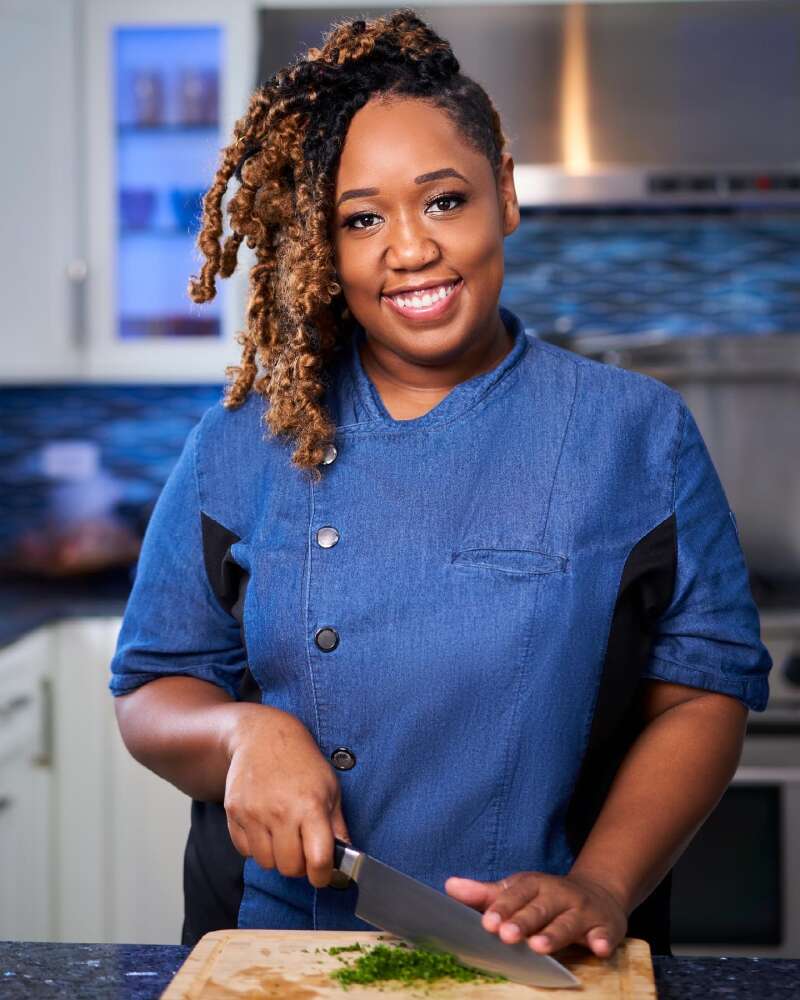 When personal chef TeAnn Hassell tells people that she can make a dairy-free Johnny Bread, she gets doubtful looks.
"They usually don't believe me until they taste it," said the owner of the catering business R.E.A.L. "A lot of times they have to taste it to believe it."
Ms Hassell went dairy free a few years ago to improve her health. Then she started battling inflammation.
"I have made small changes in my diet to cut down on inflammation naturally," she said.
Her investigation into a healthier lifestyle led to an interest in plant-based alternatives such as vegan cheese.
In the process, she found that she also liked helping other people meet dietary goals by making small lifestyle changes.
"It might be growing your onions in your yard or having fresh basil inside or outside the house," she said. "Once you make that first choice to use fresh ingredients, you are more likely to carry that on when it comes to so many other options in your diet."
Ms Hassell shies away from the label "health nut". She eats meat. "I make a good steak," she said. "I make a good fried fish."
She said that what is good for her body might be different for someone else. But, through her cooking and catering, she is trying to make more plant-based meal options available in Bermuda.
"As long as the food is colourful, looks good and tastes good, people often don't notice that there is no meat," she said.
Ms Hassell's cooking journey started in her late teens, when her grandmother Betty Gilbert developed dementia. Ms Gilbert had always brought the family together for Sunday dinners.
"When she started to lose her memory I said we have to preserve this," Ms Hassell said. "I started cooking with her and realised I had a great passion for being in the kitchen. I have been cooking with her since then."
Ms Hassell graduated from the culinary arts programme at Johnson & Wales University in North Miami, Florida, in 2018.
After that, she worked in the banquet department at the Fairmont Southampton Hotel but found that she preferred a more intimate experience. She loves seeing the expression on people's faces when they taste her food for the first time. And she likes getting their feedback.
Ms Hassell formed R.E.A.L. in 2019. R.E.A.L is an acronym for Real Eating Authentic Love. She prides herself on making everything she serves from scratch and from fresh ingredients.
She went full time with it after the pandemic began.
She now cooks for several clients every week, making them meals, snacks and sometimes even school lunches.
"Most of my weekly clients are families," Ms Hassell said. "They all have particular dietary restrictions whether it is allergies or a plant-based diet. They always say I don't want to have to think about what is for dinner every day. They want to just come home and dinner is prepared and they can just reheat it."
She also caters for events of up to 25 people.
"I want to bring restaurant-quality food to your event," she said. "I go to your home and cook there. You might have an Airbnb. Depending on the size of the party, I might have a waiter or two or a sous chef to help me get the food out there."
The pandemic stops and starts have been hard on her business.
"Right now I have not had so much work because people are not gathering," Ms Hassell said. "My regular weekly clients are keeping me afloat. When the Covid-19 cases start to go down, people want to celebrate life. Then they are more interested in having intimate gatherings as opposed to large parties. That is where I am able to come in and thrive."
Ms Hassell is part of Ignite's fourth cohort. She has found the business accelerator programme to be a great help in making her business more organised and profitable.
"It is a true blessing to be in the Ignite programme," she said.
One of her key takeaways from the programme is to put herself at the centre of her entrepreneurship.
"It is about aligning my business with myself and my beliefs," she said. "It is about being mindful that if I am stressed out, then my staff might be stressed out also. Keeping myself in the front of my mind is the best lesson. You can get so lost in the day to day of trying to keep things organised. But if I am not okay, then my business is not okay."
The most challenging thing has been staying motivated.
"Some days I don't feel like doing anything," she said. "But I have to do this because I have to meet deadlines and my clients are expecting things. I don't think we talk about that enough within entrepreneurship. It can be exhausting but it is very rewarding to have the freedom and the life that I want to have for myself."
For more information see www.realbda.com or call 705-9163.