The Stationery Store changes with the times
Updated: Nov 16, 2021 08:05 AM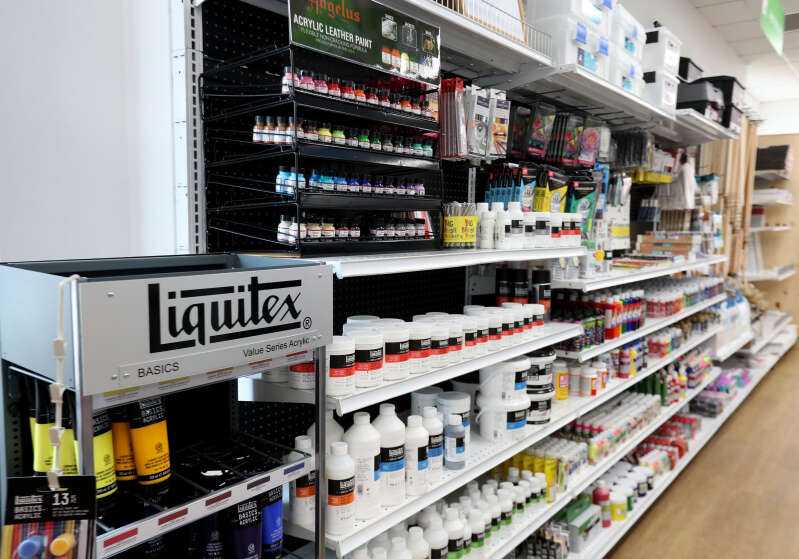 The impact of the Covid-19 pandemic disrupted the business of the Stationery Store, just as it did for many other legacy operations on the island.
Adapting to the rollercoaster of lockdowns, reopenings and restrictions, the shop responded by first introducing kerbside pick-up.
The launch of a website for online shopping, with goods available for pick-up the next day or delivered within two to three business days, followed.
Delivery, free for orders over $50, is arranged by a staff of three at the organisation's warehouse on Addendum Lane, Pembroke.
The website officially launched in May last year.
Janée Pitt, customer experience manager at Stationery Store and Stationery Store Plus, joined the company five months later, and was soon putting her background in marketing, advertising and public relations to good use.
Ms Pitt said: "There was a shift in the buying behaviour of our customers — we were seeing people be more reluctant to come into the store, so letting them know we have a fully functioning website and a delivery process was a top priority."
She said that customer demand was in part due to the increasing trend for online shopping and partly because of the pandemic.
Ms Pitt added: "It's a mix of Covid and convenience."
She said that the introduction of a website required a balance to be struck between the in-store shopping experience and the online service.
Ms Pitt said: "It wasn't a challenge per se, but there were new things to discover. It was a matter of coming up with the proper process and policies and procedures for online shopping.
"People are learning more about our website, and demand is definitely increasing. Especially when we see lockdowns or a spike in Covid numbers, we definitely see an increase in online orders."
The pandemic has disrupted the global supply chain, making shortages of goods an issue for businesses worldwide, including in Bermuda.
That has caused the Stationery Store to adapt, Ms Pitt said.
She added: "Because we couldn't get a lot of things that we used to get, it caused us to look into newer brands and just expand our selection."
The shop's overseas suppliers warned earlier this year that orders for pre-Christmas delivery had to be in by August.
Ms Pitt said: "Lots of companies have put a cap on the quantity we can order. That also caused us to be a bit more strategic as well."
In July, Stationery Store Plus opened on the first floor of the Roger Davidson building on the corner of Reid Street and Burnaby Street.
The new store features the latest in educational, innovative and creative toys, games, products and crafts. It offers a wide selection of products for artists of all ages.
More than 200 people applied for the two positions available at the new outlet, Ms Pitt said.
She added: "That tells a story — people were looking for jobs."
Even the annual Black Friday sales day, set for November 26, has felt the impact of Covid-19.
This year, the Stationery Store and Stationery Store Plus are featuring items on sale each Friday during the month of November.
Ms Pitt explained: "Covid is still around. There is still hesitation by some customers to come into the store.
"In the past, Black Friday created a lot of foot traffic in stores across the island, so our team came up with the idea of Black Fridays to spread out the sales throughout the month so that people are able to get some deals, while slowing the volume of foot traffic in the store."
In the interest of safety, goods to be on sale on Fridays are publicised each Wednesday, thereby limiting foot traffic to customers with specific interests.
The Stationery Store is open Monday to Saturday from 8.30am until 5pm.
Stationery Store Plus is open Monday to Saturday from 9.30am until 5.30pm.
The Stationery Store and Stationery Store Plus are owned by Bermuda Press (Holdings) Ltd, the parent company of The Royal Gazette.