Virgin Magnolia: beauty the natural way
Updated: Dec 21, 2021 08:04 AM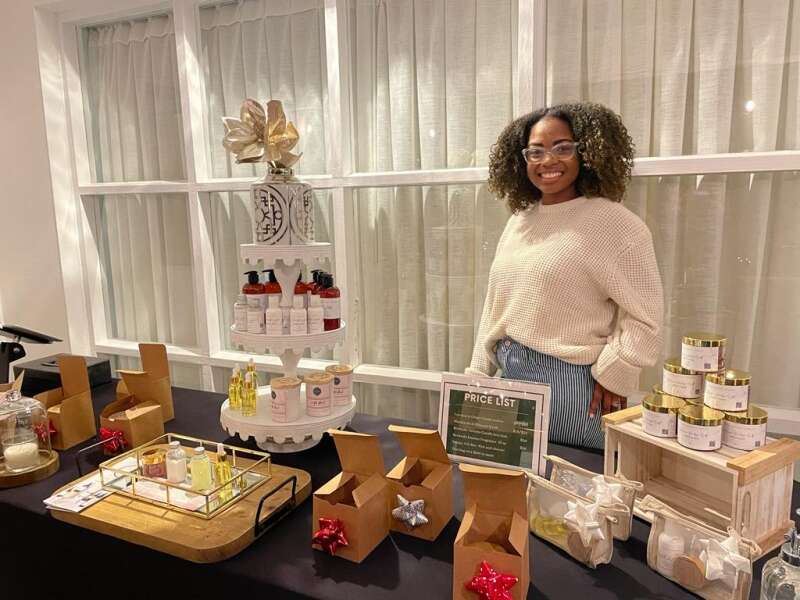 Charann Daniels and her sister, Charmarie Virgin, were always fascinated by natural beauty products.
"We would go for a walk and wonder whether the plants we saw were edible, or whether they could be macerated into an oil that could be used on our hair or skin," Ms Daniels said.
Two years ago the sisters channelled their interest into a natural beauty care business Virgin Magnolia Pure & True Bermuda.
"At the time I was a private chef, working at the Mid-Ocean Club," Ms Daniels said.
To learn how to make the beauty products, she took a two-year online course with Formula Botanica, based in London.
She learnt techniques for making natural hair and skin care products. She bought a scale and emulsion blender and started setting up a home lab, testing on herself and supportive family and friends.
Not everything she tried went right the first time.
"You have to fail a couple of times before you find a great batch," she said.
She sometimes struggled to get the consistency right or the product would grow mould the next day.
"Sometimes you blend things right and then when you add water it opens up room for bacteria to form," she said. "It is about getting the right balance of the natural preservatives and the active ingredients."
They called the business Virgin Magnolia, partly as a play on Charmarie's surname, Virgin. Magnolias also happen to be Ms Daniels's favourite flower.
She is in the process of developing products with magnolia in them.
"Getting the magnolia scent is a matter of mixing," she said. "When we mix fragrances, we want to make sure to source a pure fragrance instead of just using something synthetic."
Their products are available at Luxury Gifts at the Hamilton Princess & Beach Club in Hamilton, and at Lacquered Lounge at 16 Water Street, in the town of St George.
One of their most popular products is Bermuda Essence body oil.
"We collaborated with Lacquered to create the fragrance," Ms Daniels said. "It is amazing for the skin and for aroma therapy. A lot of people are just raving about it and how it makes them feel and how it smells when they come out of the shower."
They have also just released eye masks, to help with puffy eyes.
The sisters had such a great time creating the brand for Virgin Magnolia that a second business emerged VM. Co Marketing and Branding.
It was a way to utilise some of their other talents. Ms Virgin lives in Atlanta, Georgia, and works in marketing, while Ms Daniels lives in Bermuda and has a background in graphic design.
"A lot of people are putting their stuff out there but are not really giving themselves a sense of who they are with their brand," Ms Daniels said.
One of their clients is the St George's Crown newspaper run by Kelli Thompson and her son, Jurae Thompson.
"They want to be a voice for the East End," Ms Daniels said.
Ms Daniels lives in St George's and is passionate about promoting businesses in the old town of St George.
"St George's has a beautiful community of entrepreneurs that have amazing stories," she said.
The sisters' work recently caught the eye of Shoutout Atlanta, a magazine that explores issues relating to creatives and entrepreneurs.
"They reached out to me a couple of weeks ago on my Instagram platform," Ms Daniels said. "At first I thought it was spam."
But when she dug deeper, she decided it was something she wanted to be a part of. She has had clients in Atlanta, and hopes to launch an arm of her business there soon.
"After the article came out there was an influx of views on our website," she said.
The pandemic caused Ms Daniels and Ms Virgin to re-evaluate.
"It showed us that we really want to make an impact on the community," Ms Daniels said. "We really want to help small business owners find their voice, get branding and photography, videography, and whatever else they need to have the brand stand out. That is really more important to us than anything else."
Ms Daniels is proud that in the past two years they have thrived.
"It has been quite a journey wondering what is going to happen as far as the pandemic," she said. "But the small business community banding together and supporting each other and creating more connections with different small businesses and collaborations has been an amazing experience."
For more information see www.vmbeauty.co.