Teaching women to speak up for themselves
Updated: Mar 17, 2022 08:05 PM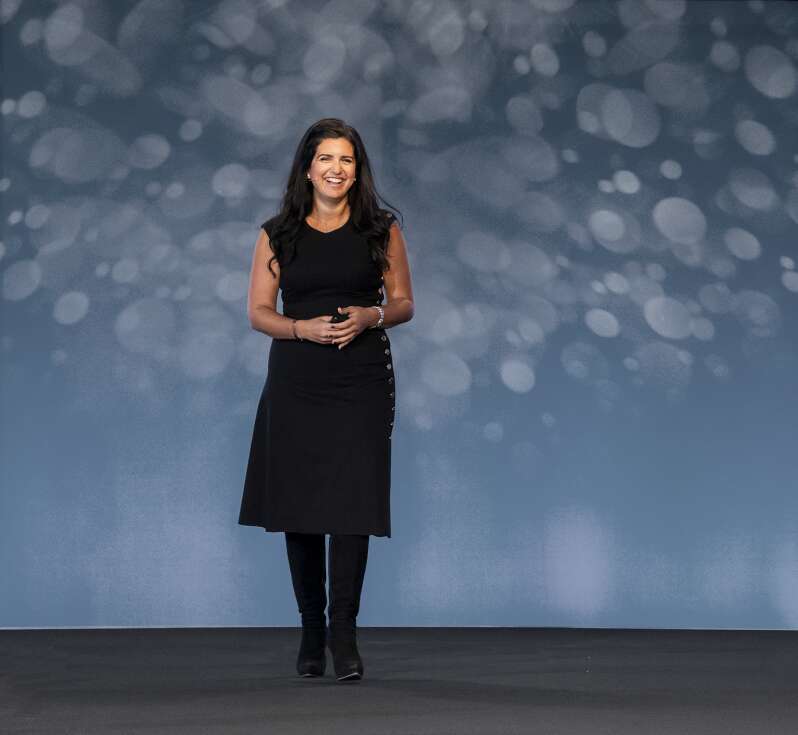 A 2005 Carnegie Mellon University study found that women who initiated negotiations for higher compensation were more likely to be penalised than men.
Studies have also found that men are much more likely to negotiate for a better first salary than women, and that these negotiations can lead to a seven per cent higher first salary.
Renowned speaker and negotiator Fotini Iconomopoulos travels the world helping women to hone their negotiation skills, but rather wishes she did not have to.
"The ideal would be to give the rest of society a course in how to treat women," Ms Iconomopoulos said. "But until people are willing to do that, I am not willing to wait for society to catch up. There is still so much gender bias out there, and women are treated differently in negotiations."
Ms Iconomopoulos will be giving a webinar, Negotiation Skills for Women, for the Bermuda Chamber, tomorrow (Friday).
She is the author of Say Less, Get More: Unconventional Negotiation Techniques to Get What You Want, and has won a number of awards including the 2019 National Inclusion award from the Network of Executive Women.
She frequently works with business executives to help them to achieve their business goals, increase profitability and create a competitive advantage. She empowers their teams through her expertise in negotiation, communication and persuasion. She is also an occasional instructor in MBA Negotiations at the Schulich School of Business at York University in Toronto.
Ms Iconomopoulos said women were sometimes viewed as aggressive when they attempted to negotiate, but her webinar would offer tools to help take the edge off these negative perceptions.
"There are subtle things we can do that will make our lives exponentially easier in negotiation situations," she said. "Some of the tips I will be talking about further in our session on Friday are things like how to ask questions effectively and how to use those to your advantage to be in charge of the situation instead of being considered rude or cold."
She said likeability is often a double bind for women.
"You need to be likeable so people want to deal with you but not too likeable that people take advantage of you," she said. "It is important to understand when likeability factors into the negotiation process."
She said it was not only men who treat women differently in negotiations. Studies have shown that women sometimes do the same thing to other women.
"We all have these subconscious biases," she said. "Unfortunately, we are still not surrounded or overwhelmed by enough role models of women negotiating to normalise it in our subconscious brain. Because we are still not 100 per cent used to it, both women and men are still taken aback, at least at a subconscious level by women who step up and negotiate for themselves."
The workshop is not only for women in the corporate world.
"The workshop is for everyone," she said. "It is for everyday situations where you have to advocate for yourself. Negotiations don't just show up in the board room. It is every time you are having a negotiation with your partner, your children, people you are sharing a bus ride with. You have these situations where you have to advocate for yourself all the time."
Ms Iconomopoulos said that over the course of her career she has received a lot of advice from "old, White men" that just did not work for her.
She remembered one older male colleague telling her to go into a meeting with arrogance, as though she was just a little bit better than everyone else in the room.
"That did not work," she said.
Instead she found that when she was credible and authoritative, but still likeable, people respected her.
"I am told I can still be quite intimidating at times, but I don't have to put on a man's suit to do that," she said. "I don't have to dress like them. I don't have to sound like them to get the same results."
The workshop will be held over Zoom at 3pm. It is open to members and non-members of the chamber.
Member Watch Party tickets are $500, individual member tickets $50, non-member Watch Party tickets are $750 and non-member single tickets $75.
www.bermudachamber.bm or fotiniicon.com.