Four students win Appleby awards
Updated: Jul 22, 2022 02:58 PM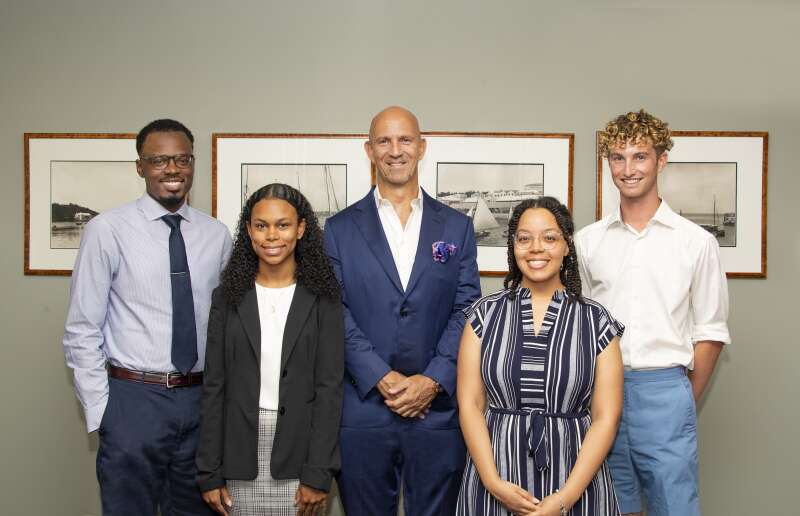 Appleby Bermuda has handed out $70,000 in scholarship funds to local students pursuing degrees in law and business.
Appleby has been providing scholarships and bursaries since 1977 to qualified Bermudian applicants based on academic performance, community involvement and extracurricular activities.
Ryley Tannock received this year's $30,000 Legal Education Scholarship, with the possibility for renewal for a second year, for a Bermudian student studying law who plans to return to Bermuda to practice.
Mr Tannock will be attending University of Law in Birmingham, England, in September, starting his LPC.
He attended Saltus Grammar School and then obtained a bachelor of arts degree in criminology, psychology at Saint Mary's University.
Maya Dean received the Appleby/Berkeley Institute Scholarship, with the possibility for renewal for a second year. This $20,000 scholarship is awarded to current graduating students of the Berkeley Institute.
Ms Dean will be pursuing a degree in management (business administration) at North Carolina A & T State University in Greensboro, North Carolina.
In addition to their 2022 scholarship recipients, Appleby 2021 scholarship recipients are also eligible to receive funds this year for their second year of study.
Education bursaries valued at $10,000 each, were awarded to Thomas Evans and Jada Rogers-Ingemann. The bursaries are for Bermudian students studying at university who intend to return to Bermuda to work.
Mr Evans will be attending Lancaster University in September, pursuing his bachelor of laws with politics degree.
Ms Rogers-Ingemann will be attending University of Kent in September, continuing her bachelor of laws (honours) degree.
Appleby's scholarship and bursary recipients also have the opportunity to apply for summer and winter internships to gain valuable work experience.
Legal Education Scholarship recipient Mr Tannock will be a summer intern at Appleby in both the private client and trusts and dispute resolution teams. Ms Rogers-Ingemann recently completed her summer internship within the firm's corporate team.
Brad Adderley, Bermuda managing partner, said: "Appleby has provided scholarships and bursaries to Bermudian students for almost 50 years. We support the growth and development of Bermudian students interested in a career in law through these scholarships and bursaries, internship opportunities and later through our very successful pupillage programme.
"We congratulate Ryley, Maya, Thomas and Jada on their academic success and look forward to watching them fulfil their education and career aspirations."