Earnings rise for Butterfield
Updated: Jul 27, 2022 07:54 AM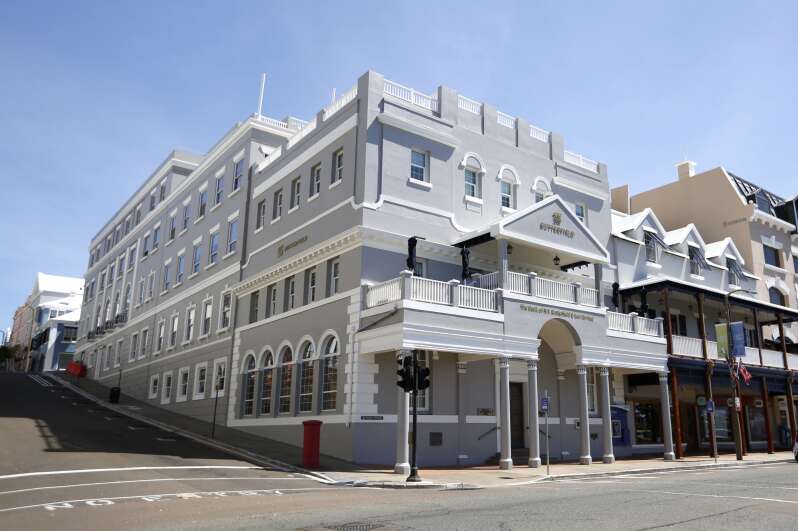 The Bank of N.T. Butterfield & Son Limited has reported net income of $49.1 million for the second quarter of the year.
That is a 10.6 per cent increase compared with net income of $44.4 million in the first quarter of 2022, and a 24 per cent rise compared with the net income of $39.6 million recorded in the second quarter of 2021.
The core return on average tangible common equity for the second quarter was 27.8 per cent, compared with 21.9 per cent for the previous quarter and 18.7 per cent for the second quarter of 2021.
The core efficiency ratio for the second quarter was 60.2 per cent compared with 63.7 per cent in the previous quarter and 66.3 per cent for the second quarter of 2021.
Michael Collins, Butterfield's chairman and chief executive officer, said: "Butterfield was able to build on our first-quarter momentum with continued strong results in the second quarter of 2022.
"Revenue generation was robust, with growth in both interest and non-interest income. As anticipated, non-core commercial deposits have moderated due to client investment of cash and the strong US dollar impact on foreign currency deposits.
"As overall deposit levels normalise further, we expect the bank to return to an organic deposit growth rate of low single-digit percentages annually. Our net interest margin increased 23 basis points and should continue to improve in the rising rate environment."
He added: "I am also pleased to share that Butterfield has recently joined the United Nations Global Compact — the world's largest corporate sustainability initiative.
"Participating in the UNGC reinforces our commitment to ethical and responsible business practices and gives us an organising framework as we continue to develop our environmental and social responsibility programmes, aimed at creating shared value for the communities in which we operate."
Net interest income for the second quarter was $82 million, an increase of $6.1 million, compared with NII of $75.9 million in the previous quarter and up $7.3 million from $74.7 million in the second quarter of 2021.
Net interest margin for the second quarter was 2.26 per cent, an increase of 23 basis points from 2.03 per cent in the previous quarter and up 25 basis points from 2.01 per cent in the second quarter of 2021.
Period end deposit balances were lower at $13.1 billion, compared with December 31, 2021 at $13.9 billion owing to the anticipated normalisation of pandemic-related elevated deposit levels, as well as the impact of foreign exchange translation from non-US dollar deposits following the strengthening of the US dollar.
Deposits continued to remain elevated across all jurisdictions.
Total assets of the bank were $14.3 billion at June 30, a decrease of $1 billion from December 31, 2021.
The bank maintained a highly liquid position at June 30, with its $8.8 billion of cash and demand deposits with banks, reverse repurchase agreements and liquid investments representing 61.5 per cent of total assets, compared with 63.3 per cent at December 31, 2021.
The board declared a quarterly dividend of $0.44 per common share to be paid on August 22 to shareholders of record on August 8.
The current total regulatory capital ratio as at June 30 was 21.4 per cent as calculated under Basel III, compared with 21.2 per cent as at December 31, 2021.
Both of these ratios remain significantly above the minimum Basel III regulatory requirements applicable to the bank.
Butterfield also announced that Michael Covell has retired from the board of directors.
Mr Collins said: "On behalf of the board of directors, I would like to thank Mike for his valuable contributions and insight, particularly as it has related to private wealth and trust. He has been a knowledgeable participant in our board discussions and his guidance will be missed."
Mr Covell joined Butterfield's board in 2018.
He is chairman of the Acolin Group, a Swiss-headquartered cross-border fund distribution business; chairman of the Ascot Lloyd Group, a British financial planning business; chairman of Le Masurier, a Jersey-based real estate investment and development business; and chairman of Sackville Capital, a London multi-asset global investment advisory firm.
After the departure of Mr Covell, Butterfield's board will consist of nine directors.