Entrepreneurs feted at BEDC Business Awards
Created: Nov 30, 2022 07:52 AM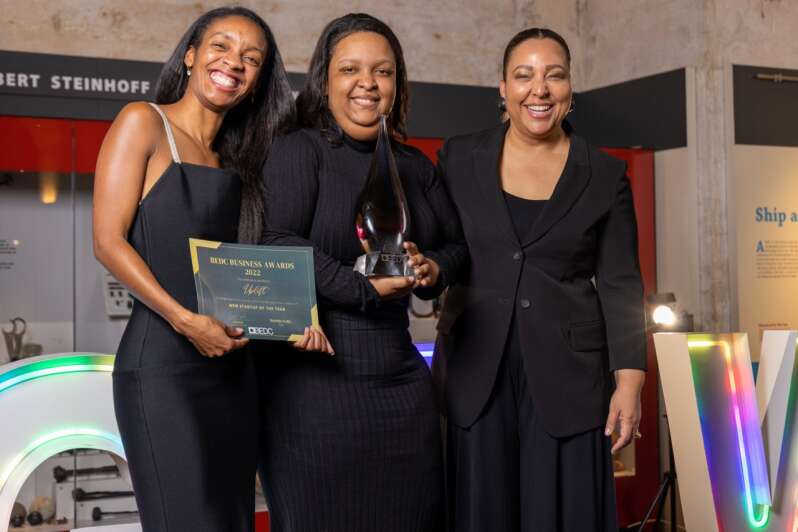 Bermuda's entrepreneurial community has been celebrated at the annual BEDC Business Awards.
Presented by the Bermuda Economic Development Corporation, more than 100 people attended the ceremony hosted by Nishanthi and Nadanja Bailey at the Queen's Exhibit Hall, National Museum in Royal Naval Dockyard.
The awards celebrate entrepreneurs' achievements, growth, and resilience, featuring local businesses nominated by the public in recognition of their success within the last year.
The award winners:
• Entrepreneur of the Year: Joleesa Holdipp of Klassiq Kidz.
• Business of the Year: Soulfood Grill & Cafe.
• Most Enterprising Young Entrepreneur: Aaron Lugo Jr of Lugo's Mighty Mower.
• Family Business of the Year: Hendy's Laundromat.
• New Start-up of the Year: Uplift.
• Vendor of the Year: Culture Wear.
• People's Choice Award: Tobacco Bay.
Sunset Transport took home the BEDC Client of the Year award, which is given to the business that has either paid off their BEDC loan or is current with their BEDC loan, has attended all three BEDC courses, and has a proven track record for growth.
There were also awards for each of the three economic empowerment zones:
• St George's EEZ Business of the Year: Bermuda Linens & Gifts.
• North East Hamilton EEZ Business of the Year: Champion Taekwondo.
• Somerset EEZ Business of the Year: Bermuda Bubble Tea.
Lamone Woods, managing partner of Crimson Multimedia and Channel 82, was the event's keynote speaker.